Van Rhijn, Du Toit break world records in Nottwil
Both athletes set new world records on the third day of the IPC Athletics Grand Prix in the 100m.
28 May 2016
Imagen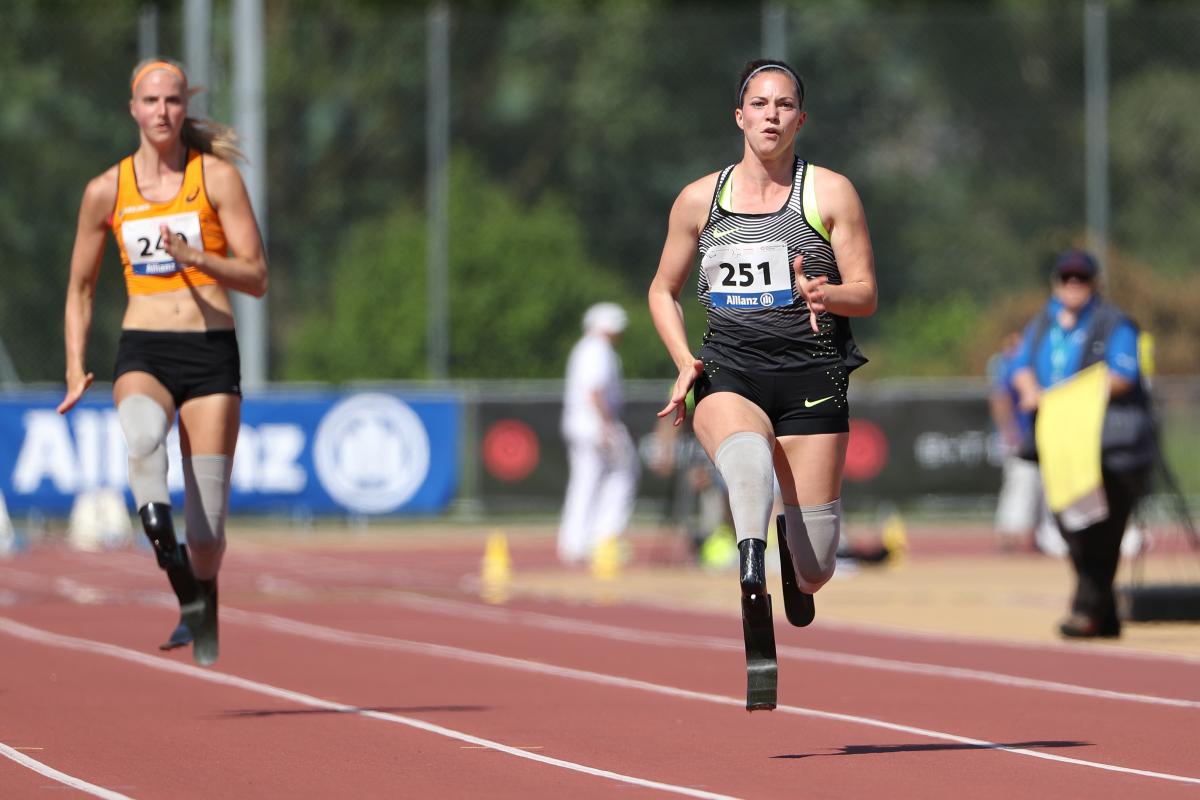 ⒸGetty Images
The Netherlands' Marlou van Rhijn and South Africa's Charl Du Toit added to the world record tally at the IPC Athletics Grand Prix in Nottwil, Switzerland, with new 100m marks on Saturday (28 May).
Van Rhijn has a habit of breaking records on the Nottwil track and she continued that form once again, knocking 0.01 seconds off the 100m T43 mark she set on her way to world gold in Doha, Qatar last year.
Twelve months ago the 24-year-old clocked what was then a world record 12.82 and she dominated the field once again.
"I'm really, really happy, I didn't expect it, it felt really fast but I didn't know how fast. It's really cool that it's faster than ever," said the double world champion.
Watch Marlou van Rhijn's 100m T43 world record here.
South African Du Toit, 23, led from start to finish in the men's 100m T37/38, speeding to the line in 11.43 to knock 0.03 seconds off the previous mark which his teammate Fanie van der Merwe shared with Russia's Andrey Vdovin.
"I'm most definitely delighted," said a smiling Du Toit.
"I enjoyed every moment of it - I was shocked when I crossed the line and saw the time. I didn't expect it, I was hoping to go sub 11.50 so I'm very pleased and very thankful."
South African athletes continued to excel on the track – there were 100m wins for Arnu Fourie (11.06) in the men's T44, Jonathan Ntutu (11.35) in the men's T12, and Ilse Hayes (12.09) in the women's T13.
The USA's T54 athlete Tatyana McFadden dominated the track as she followed up her imposing performance over 400m earlier in the day with wins over 1,500m (3:22.28) and 100m (15.93) in the afternoon session.
After a quick start to the 1,500m McFadden let her opposition take on the race but she was clearly in control, pushing to the front in the final 300m to take a convincing win.
Swiss racer Manuela Schaer (3:23.35) finished second – but the European champion believes that McFadden can be beaten – and that she is capable of just that.
"She's human, everyone can be beaten – the question is how and by who," said Schaer.
"It's sport, we all work really hard, if I wouldn't believe it I wouldn't be here. I feel like I've been working hard but I'm not quite in shape yet for really racing at the front. But I feel like I'm nearly there and I still have time before September."
Events did not all go to form as US racer Gianfranco Iannotta (16.99) got the better of reigning Paralympic and world champion Ray Martin (17.04) to take the win in the 100m T52 and speed to the top of the world rankings.
There was another surprise defeat for the Paralympic and world champion Walid Ktila, who looked out of sorts as he went down to Rheed McCracken in the men's 100m T34.
Australian McCracken took full advantage as he sped to the line in 15.38, with the UAE's Mohamed Hammadi (15.79) in second place and Ktila third.
Belgium's world champion Peter Genyn (20.90) held off the reigning Paralympic champion Toni Piispanen of Finland (21.01) to take the win in the 100m T51, while Kuwaiti Ahmad Almutairi notched up his second win of the day clocking 17.36 in the 100m T33.
Azerbaijan's Elena Chebanu (T12) set a new European record in the women's 100m T11/12, clocking 11.88, and there were records for British athletes too. Sammi Kinghorn notched up her fourth European record in Nottwil so far this week – as she clocked 16.62 to finish second behind Australian Angie Ballard (16.46), while 18-year-old Shelby Watson continued her brilliant form with another win in 19.93 over 100m T33.
Fellow Briton Hannah Cockroft added to her win over 400m earlier today as she stopped the clock at 17.52; Canada's Brent Lakatos also made it two out of two on Saturday with a time of 14.39, just 0.22 seconds outside his world record.
Paralympic champion and world record holder Leo-Pekka Tahti may have missed out on gold at last year's World Championships but he was determined to prove he's the man to beat come the Rio 2016 Games. The Flying Finn sped home in 13.85 in the men's 100m T54.
Korea's Min Jae Jeon (15.12) won the women's 100m T36; Turkey's Kerin Elyaz came out on top in the men's 100m T42/46/47 with 11.82 and there was a win for Germany's Maria Seifert (14.08) in the 100m T37.
There were a number of men's 1,500m T53/54 heats but arguably the happiest man on the track was home favourite Marcel Hug, who won the first heat in 3:00.57.
The world record holder failed to medal over 1,500m at the 2015 World Championships and he was clearly delighted to win what he admitted was a tactically perfect race against a tough field including Thai world champion Rawat Tana and 5,000m world bronze medallist Prawat Wahoram.
"It felt good, everything worked perfectly, I had a good speed as I picked up off the curve," said Hug, who pushed hard past the opposition down the home straight to take the win.
"It gives me a lot of confidence but I still have in mind that there are some months to go until Rio and everyone is working hard."
US world champion Ray Martin made amends for his defeat over 400m earlier in the day as he won the 1,500m T52 in 3:53.74.
Desiree Vranken clocked 4:10.70 in the women's 1,50m T34 and the men's 5,000m T51 was won by Germany's Stefan Strobel in 18:56.92 after South Africa's Pieter du Preez was disqualified.
Out in the field there Morocco's Azeddine Nouiri threw a best of 25.20m in the men's discus F34 and the UAE's F33 thrower Ahmed Alhousani managed 25.15m.
Austria's F54 athlete Kevin Pumpa threw 22.45m and Lithuania's Kestutis Skucas reached 12.07m in the T52 throw.
Competition in Nottwil concludes on Sunday 29 May.
Free images
Rights free images are available courtesy of Getty Images and Allianz at http://mm.gettyimages.com/mm/nicePath/gyisports?nav=pr430558261.
Free footage
Rights free footage from Saturday's action at the Grand Prix will be available from 20:00 via Agence French-Presse (AFP) Forum.