What makes the perfect…100m?
The USA's Jarryd Wallace and Finland's Leo-Pekka Tahti explain how to get the best out of the shortest spring in track and field.
21 Aug 2016
Imagen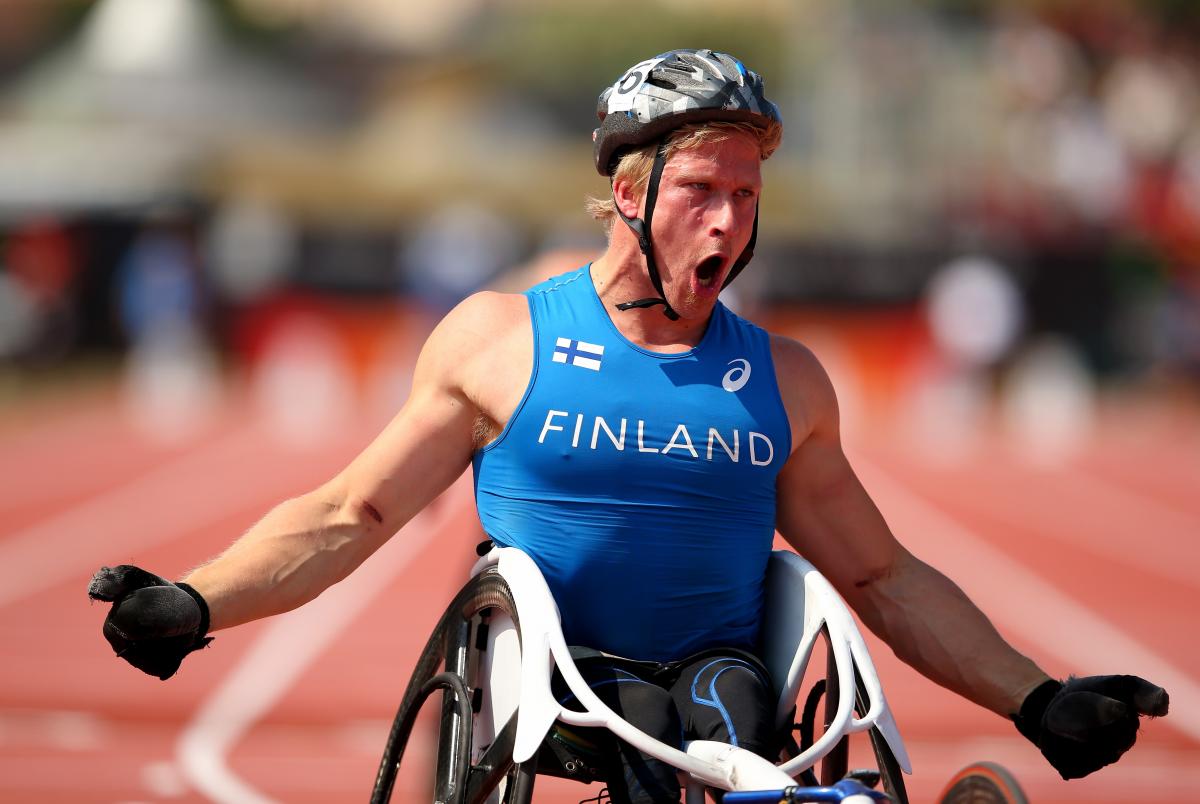 ⒸGetty Images
By IPC
In the final edition of 'What makes the perfect…' we focus on the 100m sprint – and who better to hear from than two of the top sprinters in the world, American T44 Para athlete Jarryd Wallace and Finland's T54 wheelchair racer Leo-Pekka Tahti.
Wallace heads to Rio as a key contender in the highly anticipated men's 100m T44, having won Parapan Am gold in 2015 in what was then a new world record time. Tahti meanwhile will be aiming for a phenomenal fourth consecutive Paralympic 100m T54 title, having won in 2004, 2008 and 2012.
With less than three weeks' to go before the Paralympic Games in Rio de Janeiro, Brazil, the two track stars explain exactly what it takes to execute the perfect 100m.
How do you start the perfect race?
JW: The perfect 100m is a patient start. Most people think you've got to get out really quick in the first 20 metres. It's not the first 20 metres that matters it's the last 20 metres. So have a patient start and a good drive phase then, once you get through the middle of the race when you get to top speed, you've really got to stay tall and get your hips up, and make sure you stay in control.
L-PT: For me the perfect race means that my gloves are in 100 per cent condition. Gloves can't be too hard or too soft for me. It's important to get good grip for your push rim. Most important is your technique - how you feel your push rims, and how fast you can roll your hands after the first three pushes. Your sitting position is also very important - you can't be too far back or too far forwards. You have to feel your body and your racing chair.
What mental focus do you need on the start line?
JW: You want your mind to be clear – you don't want to think of anything. You should be visualising the race on the front end, then as soon as you get on the line you should be smiling and having fun. Your mind should be clear and you should just let your body react. You've got to react to the gun, keep moving your feet – that's why you practise. You've got to be consistent in practise all day long so that when you get to a competition you can just let your body do the work.
L-PT: For me when it is race day it's quite easy to motivate myself. If I'm competing at very small competitions I'm fighting against the time. In the smaller competitions it's difficult to find good opponents, that's why it's very important to win yourself and win the fight against time. During training, I sometimes use mental focus. For example if I have to do a maximum 150 metres I often imagine that there is one of my rivals beside me -Kenny van Weeghel or Yang Liu. That often gives me an extra boost.
What do you need to do during the race?
L-PT: For me I often push 32 - 34 times in 100 metres. The first three pushes are very important to use your strength and power as much you can. After that it's more important to use your speed. Between 20 to 60 metres your hand speed and technique is most important. In the last 40 metres it's important to increase your maximum speed then you need to drop your frequency a little bit and push your push rims for a wider trajectory. It's important to keep your head down all the time. It's more aerodynamic and it's easier to reach your maximum speed.
What do you do in the closing stages of the race?
JW: The last 20 metres you've got to think about keeping your hands up. If your hands are up then your knees are up and the last 10 metres is two or three steps to the line. If you are ahead at 10 metres to go then more often than not you're going to win the race.
L-PT: I just try to take care of my technique. My weakest part of the 100 metres is the last 30 metres. I try to stay calm, keeping in mind that I can still win this race although my rivals are coming closer and closer. If I'm in good shape before the race I know that I'm the fastest guy in the world and that gives me lots of self-confidence during the closing stages.
How important is a dip at the line?
JW: Yeah, there are people around you who dip – sometimes it gives you a hundredth or two hundredths of a second, so it's always good to get that last little bit.
__
Sport fans from around the world can now buy their Paralympic tickets for Rio 2016 from authorised ticket resellers (ATRs)
The IPC's Global ATR is Jet Set Sports, and Rio 2016 tickets and packages can be purchased on the CoSport website.
Residents of Brazil can buy 2016 Paralympics tickets directly from the Rio 2016 website.
Visa International is the exclusive payment card and the official payment system for the Paralympic Games.