Where are they now: Henry Wanyoike
Kenyan Paralympic champion helps blind children through Foundation
10 Jul 2018
Imagen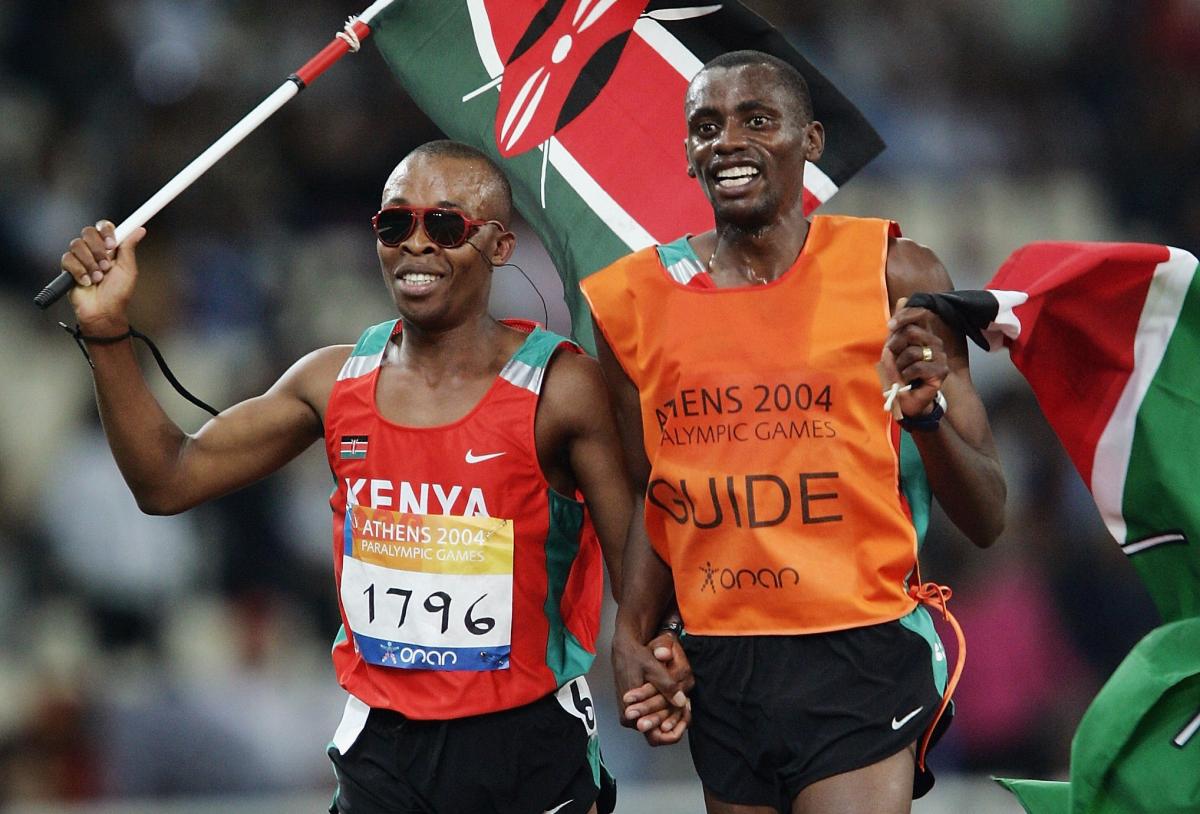 ⒸGetty Images
By IPC
"I feel good when I see the success of people who could end up living a very miserable life and now through the Foundation we are able to change their lives. I'm happy that is it happening so well."
Henry Wanyoike was 21-years-old when he suffered a stroke that caused him to lose 95 per cent of his sight.
Struggling to adapt to life with blindness, the Kenyan suffered depression and for a while was unsure what direction his life would take.
"It was so hard for me. It was quite painful, I was depressed and I was in a great shock," explained Wanyoike.
"I thought it was the end of me, but I thank God now it was a turning point, because so many things have happened since I lost my sight."
Wanyoike began attending the Machakos Technical Institute for the Blind, not far from the Kenyan capital, Nairobi. Over time, staff helped him to regain his independence and adjust to life in darkness.
He was taught how to knit and encouraged to take up running again, which he had enjoyed and excelled at in his youth.
It was during that time that Wanyoike vowed to help other blind people overcome the challenges in their lives.
He explained: "In fact going to that Institution that was my turning point – I was able to be independent and interact with people. I was also able to know how I could get back in to sport."
Wanyoike's highly successful Para athletics career included 5,000m T11 gold at the Sydney 2000 Paralympic Games and 5,000m and 10,000m gold and world records at the 2002 World Championships.
He won double gold at Athens 2004, setting 5,000m and 10,000m T11 world records that still stand today, and excelled on the roads too, winning half and full marathons around the world.
Supporting others
But the desire to help others never diminished and after his track career ended, the Kenyan star set up the Henry Wanyoike Foundation.
"There were so many people who supported me when I lost my sight, so many charities. After my victory in Athens I decided to set up my own Foundation because I wanted to support poor people like the way I grew up," he said.
Since its inception, the Henry Wanyoike Foundation has gone on to improve the lives of thousands of people throughout Kenya. Youngsters with eye problems have received life-changing operations.
"So far we have been able to support more than 12,000 children in Kenya and help them see again," added Wanyoike, who estimates that over 400 white canes, 200 wheelchairs and around 50 walking crutches and 50 hearing aids have also been distributed.
Wanyoike's life now features in the Kenyan primary school curriculum; he works with young people, visiting schools and giving talks around the country – to date, he has visited more than 700 schools.
He has set up a school too – the 'House of Hope', educating and supporting 80 children from local rural areas.
Hope for the future
He also founded an annual athletics event in Kenya, the 'Hope for the Future' run, which saw nearly 11,000 people take part at the twelfth edition in June this year, with the theme of peace and disability.
It is an event particularly close to his heart.
"It is now the second biggest run (in Kenya) after the Nairobi marathon. We bring the community together and raise money for the Henry Wanyoike Foundation - the money raised goes towards community projects.
"I'm happy that now that there are so many new talented runners coming out of this race, and also I'm giving back to my community and bringing the community together.
"I feel good when I see the success of people who could end up living a very miserable life and now through the Foundation we are able to change their lives. I'm happy that is it happening so well."