Where are they now: Katrina Webb
First in a new series catching up with former Para athletes
11 Apr 2018
Imagen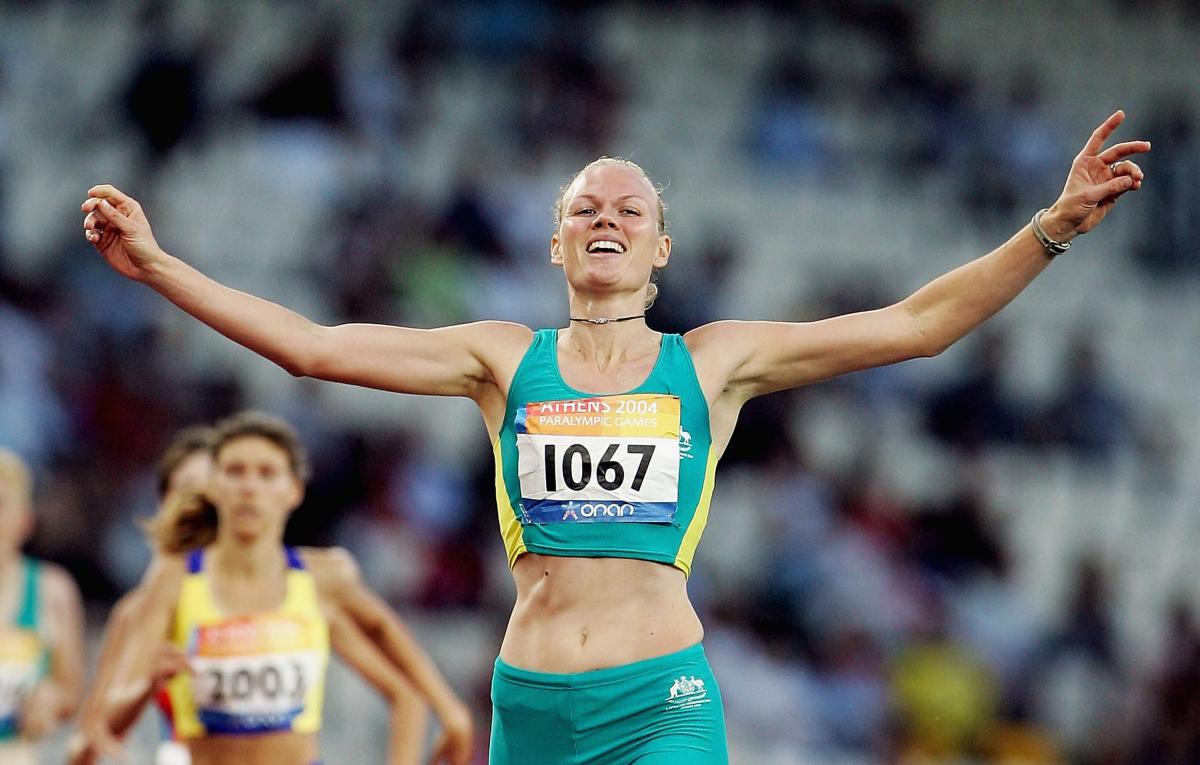 ⒸGetty Images
As a gold-medal winning Paralympic athlete, Katrina Webb knew what it took to be the best. The hours spent training, the commitment; the need to look after and prioritise yourself.
Now, 12 years after her final race at the Melbourne Commonwealth Games where she won 100m T37 silver, the Australian has built a successful career helping and empowering others to be their best.
"Being an athlete, you've got to be really focussed and selfish to get the results," said Webb, who was diagnosed with cerebral palsy aged 18, before going on to win Paralympic golds at Atlanta 1996 and Athens 2004, as well as two silvers and a bronze at Sydney 2000.
"I'm naturally quite a selfless person, I love to help people - when I was an athlete I really had to learn to step in to my ego. Now I'm not an athlete I can do the stuff that I love, which is serving and helping others."
Webb's work as a facilitator, speaker and Paralympic Ambassador takes her around the world – she estimates (no doubt conservatively) that, over the years, she has made 1,000 presentations and actively spoken to 150,000 people across seven countries.
The drive and resilience which served her so well on the track have also helped Webb succeed in her career.
In fact, the 40-year-old's own business – she is the founding Director of Silver 2 Gold High-Performance Solutions – reflects one of the hardest lessons she overcame as an athlete, when she won silver at the 2000 Sydney Games.
"In Sydney I lost gold – or won silver – because I spread myself too thin doing so many things, because I love to help people," said Webb, who carried the Paralympic torch in to the stadium that year.
"I remember sitting down with my sports psychologist afterwards and she said 'You're performing at a silver level in everything that you do.'
"It was my first realisation that there was no way I could keep up the level in everything I was doing. My failure of losing gold, even though it was great to win silver, taught me my biggest lesson – do what's important to you and do the stuff that really matters.
"Silver 2 Gold is all about powering your personal best. I'm able to help people become the leader they want to be."
Webb is also the Director and Founder of newday, an annual summit for 300 ambitious leaders brought together to hear speakers from around the world on 'leading for the greater good of others'. It's a project she now wants to go global – and it's hard to imagine any other outcome.
"Bringing these incredible speakers together on stage for others to have their lightbulb moment - that just gives me the biggest buzz," acknowledges Webb, who was inducted in to South Australia's Sport Hall of Fame last year.
Clearly passionate about helping those around her, Webb, who is married to Olympian Eddie Denis, also regularly spends time in Nepal to carry out her leadership progamme. She has also twice trekked to Everest base camp for charity. But sport – and para athletics – still forms a central part of her working life.
"Every time I speak I talk about the Paralympic movement, because I'm a Paralympian and a proud one, and I'm forever one. I know sport and the Paralympic movement gave me that brilliant platform to do the work I think I'm now destined to do."
Webb is also proud of her work as a Paralympic Ambassador – a role she finds "incredibly fulfilling". In 2006 she spoke at the United Nations, then in 2017 she shared a stage with Usain Bolt and Sir Richard Branson at the Global Transformation Forum in Malaysia.
"But if you ask me what's my proudest business moment, I'd say the stuff I'm doing now," she adds. "It's really not about me receiving an award or being on stage – its creating moments for others."
Inspiring young children is also close to Webb's heart. She has received messages from parents of children with cerebral palsy thanking her for letters she has written to them.
So what advice would she give a current Para athlete?
"My piece of advice is do as incredibly well in your sport as you can, but it's just the beginning. Sport can be the most incredible tool and platform for you once you've finished.
"Those skills are a liftetime set of skills that you can take with you in to your career. Mine just happened to be facilitating and bringing the best out of people – and it's been unreal."