World record holder Hermitage now the one to watch
After coming out of nowhere to break the 400m T37 world record, Britain's Georgina Hermitage believes she will cope with the pressure of competing in Sunday's IPC Athletics Grand Prix.
24 Jul 2015
Imagen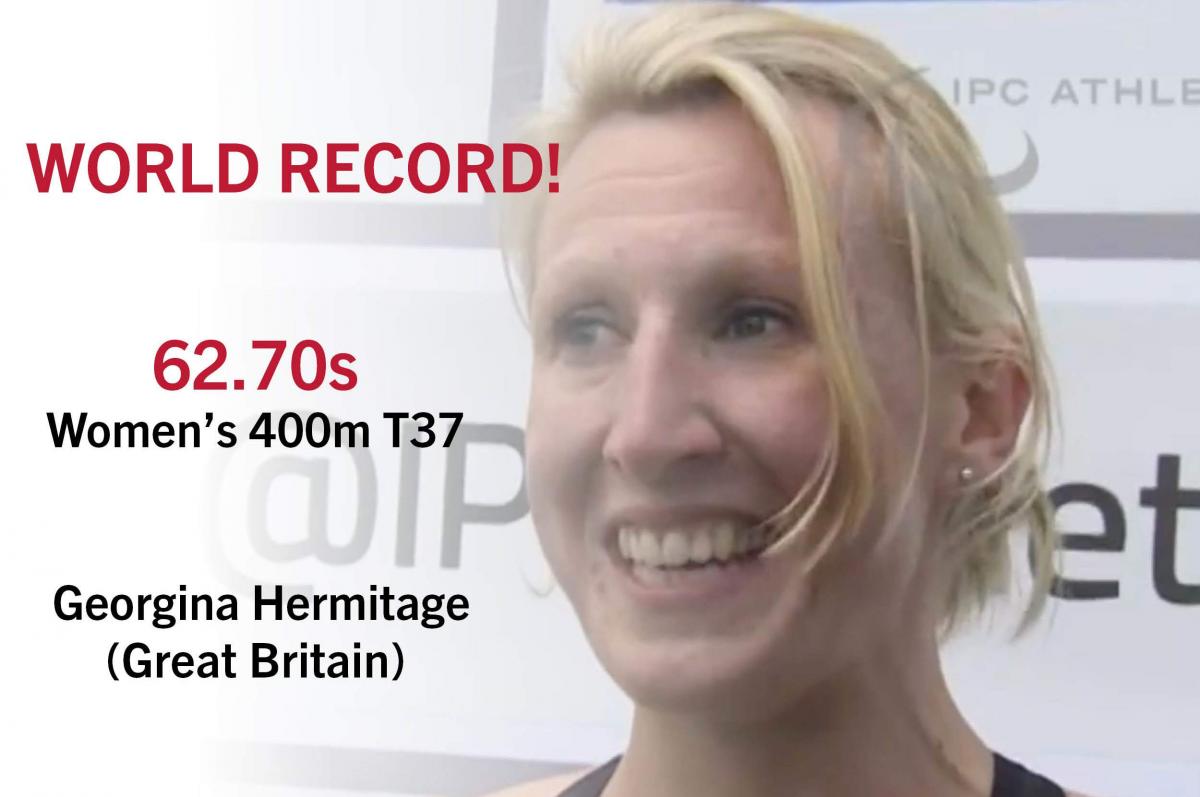 ⒸIPC
By IPC
"I thought I might get close to the world record running in that way but never in a million years did I think I was going to break it by that amount,"
The history of sport is littered with dark horses - competitors who come from nowhere to announce their talent upon an unsuspecting audience on the world stage.
Great Britain's Georgina Hermitage lines up in the IPC Athletics Grand Prix Final in London's former Olympic Stadium on Sunday 26 July having done just that.
Last month the 26-year-old took to the track at the IPC Athletics Grand Prix in Berlin, Germany – and smashed the 400m T37 world record. The Briton stormed home in 1:02.70, knocking more than two seconds off the record previously held by Australia's Lisa McIntosh, which had stood for 15 years.
An impressive achievement by any athlete – but made all the more spectacular as Hermitage missed the whole of the 2014 season through injury – and only raced once in 2013 after the birth of her daughter Tilly in late 2012.
In fact, that race in Berlin was only the fourth time Hermitage had raced over one lap. Her coach Paul McGregor had told her to go out hard from the gun. They were instructions she carried out to perfection.
"I thought I might get close to the world record running in that way but never in a million years did I think I was going to break it by that amount," she said.
Now though Hermitage faces a different kind of pressure – a pressure previously unknown. With any record-breaking performance comes expectation. Hermitage has proved she has got the talent and the ability to face fast; the question is, can she do it under the gaze of an expectant public?
"There is definitely now a completely different feeling - before I went out and it didn't really matter how you did as such, because no-one is really watching you. Now everybody is expecting me to do well and win," she admitted.
"Now, it's like 'Was that a fluke or is there even more in the tank?' My coach said it was the first time I'd actually run the event properly so you've got to hope it wasn't a fluke!"
Hermitage will line up at Sunday's Sainsbury's Anniversary Games against the French 100m and 200m T37 world champion and world record holder, Mandy Francois-Elie and the Russian European 400m champion Elena Tretiakova. But the Briton, who tops the world rankings in the T37 sprints this year, is confident she will take any additional pressure in her stride.
"I seem to thrive more off being an underdog, so now I'm number one over a couple of distances it's a different sort of set up but I'm really looking forward to racing," she said.
"I think I could give Mandy a good run for her money over the 200m. Over 100 metres, she's extremely strong and formidable. But I'm feeling confident about the 400 metres."
In fact, undoubtedly bolstered by her incredible success so far this season, the Briton is now setting her sights on becoming a triple world record holder as she targets the 100m and 200m world records to add to her tally.
"I've watched a lot of [Francois-Elie's] races and obviously she's my next big competition. Of course the dream would be to work towards the 100m and 200m world records. If I can just stay injury-free, I'm most excited about racing Mandy," she said.
Stepping out on to the former Olympic Stadium track will be a memorable occasion for Hermitage, not least because it was watching the London Games on television back in 2012 that provided the incentive she needed to return to athletics.
A keen runner in her youth, Hermitage, who has cerebral palsy, chose not to race in her teens. But all that changed when she watched events unfold at the Paralympic Games three years ago.
"I was involved in athletics growing up but I walked away when I was 14 because my coach at the time asked if I'd ever thought of taking part in para-sport," she explained.
"At that time I wasn't willing to accept there was anything wrong with me so I decided to walk away from the sport. It wasn't until 2012 that I thought about returning."
If her progress so far this year is anything to go by, it was a wise decision. Now, there's just the small matter of stepping out on to the very track where her dreams began.
"This is what I wanted - it's going to be interesting to see how I cope at the Anniversary Games. I've never competed in front of a crowd before so that will be fun. I never thought I'd run there so I can't wait," she said.
The Grand Prix Final will see many great races, performances and big names this weekend but not one more intriguing than to see how the new star on the block performs in her first big test.