World record holder Morrison excited by first full season
After only taking up para-athletics last May, the USA's Rachael Morrison lines up at this week's IPC Athletics Grand Prix as the woman to beat in discus and club throw.
11 May 2015
Imagen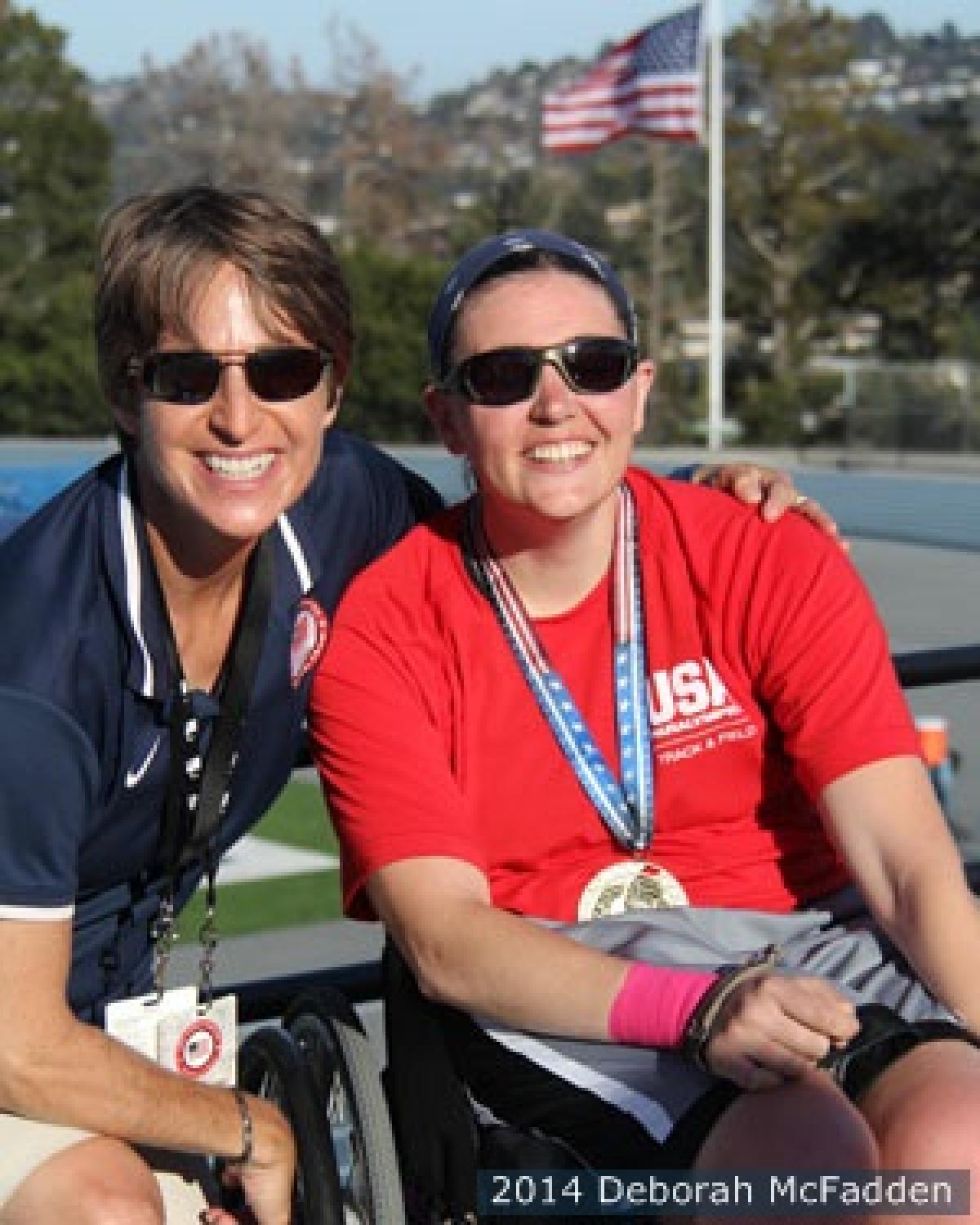 ⒸDeborah McFadden
By IPC
"It's not as much about winning or losing, it's about the whole process."
When Rachael Morrison lines up at the IPC Athletics Grand Prix in Mesa, USA, this week (May 15-16), she will provide living proof that experience does not always count in top-class sport.
Morrison only took up the club and discus throws a year ago, and even then, they were events she stumbled across by chance.
Fast forward to 2015 and Morrison is the F51 world record holder in both events.
So how did all that happen?
Last May, friends encouraged Morrison, who was paralysed in 2012 after suffering transverse myelitis - a neurological disorder which affects the spinal cord - to go along to a multi-sports event in her home state of Michigan.
Initially intending to try out hand cycling, Morrison arrived at the event with no intention of throwing – she did not even know what a club looked like. But after a chat with the classifiers who explained the requirements for participation and classification, she was encouraged to try throws.
Morrison explained: "The classifiers said 'We want to see you throw club and discus,' so I said sure, I don't know what a club is, and I don't know how to throw one either, but we'll figure it out. And it went really well! That was the beginning of the story."
Encouraged by her performance and by fellow athletes that saw her throw, Morrison headed to the US National Championships just a few weeks later, where she threw a phenomenal 18.82m – breaking the club F51 world record which had stood for 13 years.
Then in July came a trip to the Czech Republic, where she threw even further, managing 21.90m, and setting a new global best of 8.60m in the discus F51 for good measure.
With only one winter training and three competitions under her belt, Morrison has little idea what to expect when she opens her 2015 season at the Mesa Grand Prix, which doubles as the Desert Challenge Games – not least because she refuses to think about distances.
"Honestly I don't really want to know because that's part of the fun, just working on form and getting the throw as perfect as I can," she explained. "That's going to determine how far I throw in the end, so by not have the distraction of aiming for a number, I feel like I can look at my throw and improve it more."
She may not be looking at numbers, but Morrison is working hard to improve her performance – and of course improving her personal best would mean another world record.
"Aiming for [a world record] would be great," she admitted. "For me it's just bettering my throw. It might turn in to a better number. But there are a lot of different aspects to the throw that I'm still really learning and putting together.
"I've improved my muscle strength quite a bit and I've been working on different techniques and I really feel that I'm in a very good place for this time in the season. It's going to be a great year."
Morrison's life has changed dramatically in the last 12 months, and her commitment to para-athletics is clear. In February the 27-year-old left Michigan, where she had lived all her life, and headed west to Washington to be nearer her coach Erica Wheeler and her para-sports programme.
Of course this year Morrison also has the chance to pull on the US vest for the first time, as she looks to make the national team for both August's Parapan American Games in Toronto, Canada and October's IPC Athletics World Championships in Doha, Qatar. The 2015 US National Championships take place in five weeks' time, and so a strong performance in Mesa is key.
With no major championship experience – Morrison did not even watch the para-athletics on television at the time of the London 2012 Paralympic Games, or the 2013 World Championships – the American has turned to YouTube to try and help her technique.
She is also aware of her chief rivals – Great Britain's Jo Butterfield and Josie Pearson won European club throw F32/51 gold and silver respectively last year – but Morrison remains unfazed.
"I think it'll be fun – I don't see it as all or nothing - the competition is the fun part. It's not as much about winning or losing, it's about the whole process. I'm a very active person. More active than competitive and I think that stands true today too."
Morrison will be one of 225 athletes from 13 countries who will compete at the IPC Athletics Grand Prix in Mesa, USA, between 15-16 May 2015.