Worldwide Paralympic Partner Ottobock continues tradition at Tokyo 2020
Leading global supplier in prosthetics provides repair services for athlete equipment at Games
27 Aug 2021
Imagen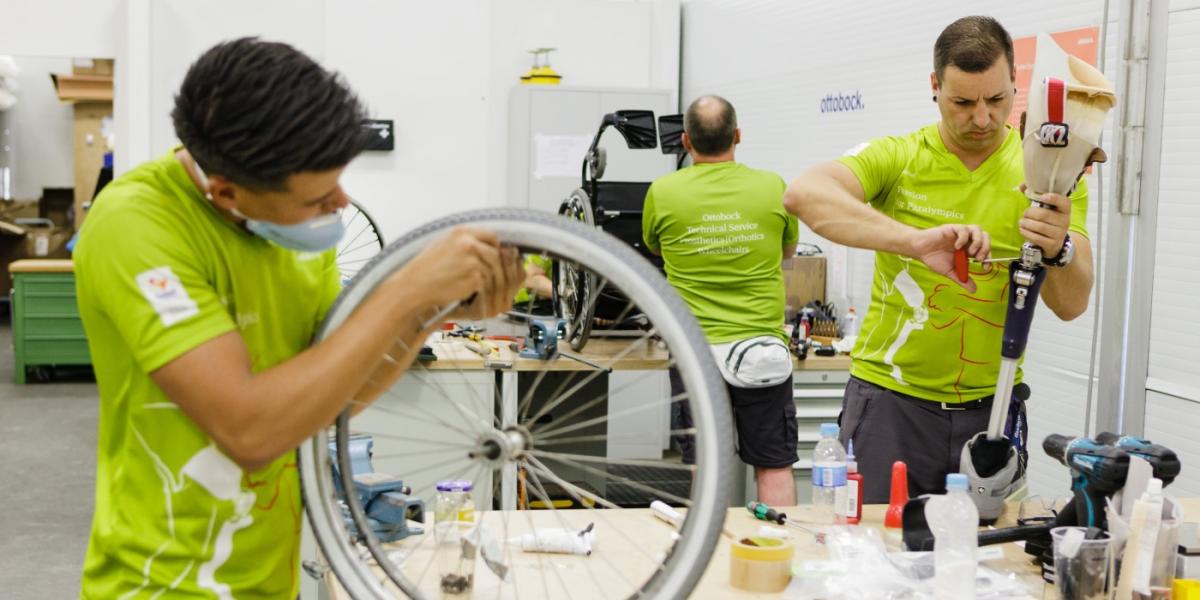 ⒸOttobock
By IPC and Ottobock
Ottobock continues its unique history at the Paralympic Games by serving once again as the official technical service partner and providing athletes with free maintenance and repair services at Tokyo 2020. 
Since the cauldron got lit on 24 August for the Opening Ceremony, Worldwide Paralympic Partner Ottobock has been at hand providing 24-hour technical service to ensure Para athletes can focus purely on their sport, and in turn, paving the way for good sportsmanship and fair competition. 
Peter Franzel, Head of Global Events Exhibitions & Sports at Ottobock, said: "It's about giving athletes a stage to show their performance and compete. Everyone in the Paralympic Movement is doing their part, and it is only because of this teamwork and trusting cooperation that the Paralympic Games are such a great event that also gains more attention every time. Our commitment may run a little behind the scenes. The International Paralympic Committee also supports us in making Ottobock's service to the Paralympics public."
It is a service that Ottobock, the leading global supplier in prosthetics and rehabilitation, has provided since Seoul 1988, where four Australian Ottobock professionals attended to provide technical assistance. Over the years, this improvised workshop developed into a major feature, and Ottobock has been at all the Paralympic Games ever since.
At the 2016 Paralympic Games in Rio, a 100-strong team made up of members from 29 countries provided technical services. The technicians put in over 10,400 hours of work, completing 2,408 repairs for a total of 1,667 athletes from 134 countries.
Tokyo 2020 will be the first time with a 3D printer in the Repair Service Centre, which will be used for small and individual printings, such as hand or finger orthoses or protectors. The Repair Centre will be located in the Athlete Village and at 12 competition venues, and services will also include:
• 106-member technical service team
• 22 languages spoken
• 18 metric tonnes of equipment and machinery
• 17,300 spare parts
• 2,000 expected repairs
"A classic (repair story) at the Paralympics is the rush to the workshop before the Opening and Closing Ceremonies," Franzel explained. "Whenever an athlete in a wheelchair is selected as a flag bearer, he or she has come to our workshop. Somehow the flag has to be attached to the wheelchair. And so we regularly build flag devices.
"One year, a team that played a wheelchair sport appeared at the workshop. The regulations had changed, so that their wheelchairs minimally no longer met the standard. Without further ado, the wheelchairs of the entire team were disassembled and reassembled to comply with the regulations. The team was able to participate.
"For the athletes it is elementary to have a Repair Service Centre. They have trained for years for their competition. The equipment must also be in good condition. A broken prosthesis or a broken wheelchair could mean the end - this must be avoided."