Anastasia Pagonis: From 13-year-old club swimmer to world domination in four years
The 18-year-old Paralympic champion and world record breaker will look to collect more medals in her World Championships debut in Portugal this week
11 Jun 2022
Imagen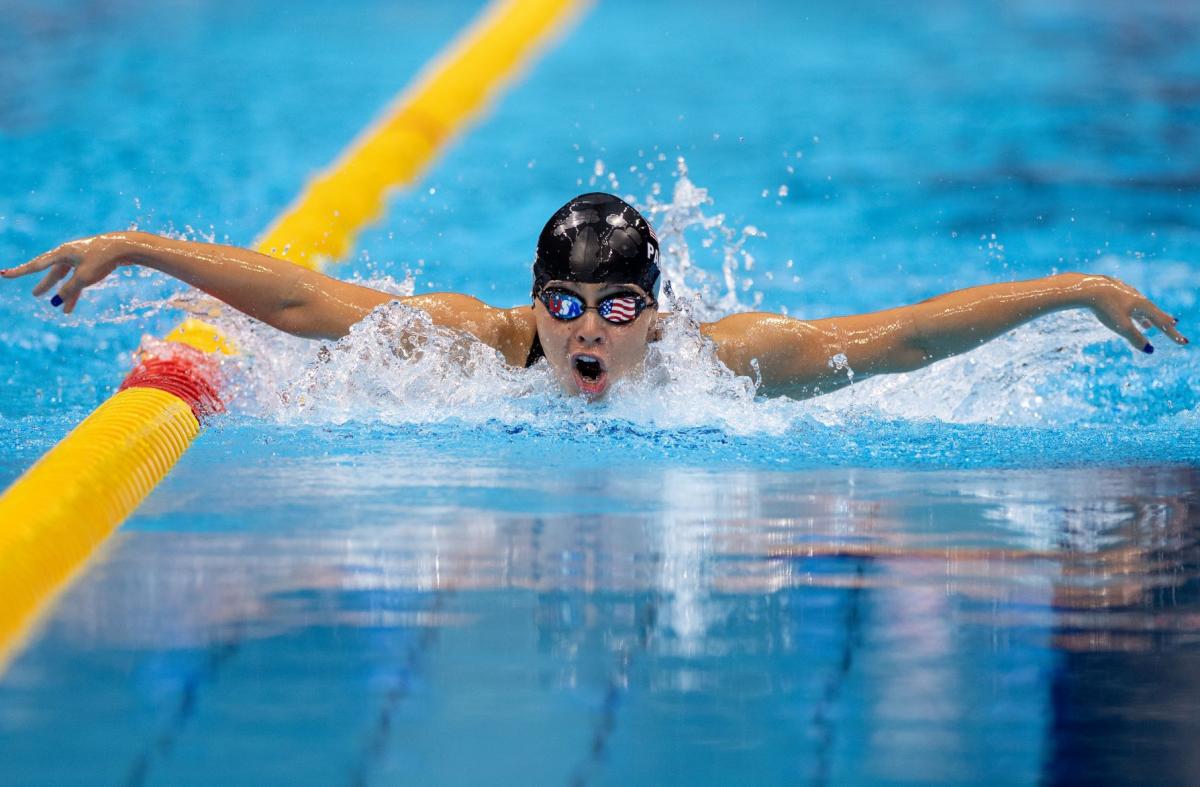 ⒸSimon Bruty/OIS
By Mary Barber | For PARA SPORT
You are never too young to change the world, as Paralympic gold medallist Anastasia Pagonis knows only too well.
At only 17, the US Para swimmer was one of the highest profile athletes at the Tokyo 2020 Paralympic Games with nearly three million fans on social media.
And she didn't disappoint. Pagonis' smile beamed across TV screens after she smashed her own world record to claim gold in the women's 400m freestyle S11. She powered to the line 10 seconds ahead of a field of world and Paralympic champions to finish in 4:54.49. It was a dream start to her Games' debut.
As her teammates congratulated her after winning the USA's first gold in Tokyo, her army of fans also expressed their delight.
Pagonis has used her status as a leader in her sport to try to change the way people "see" the visually impaired and to break stereotypes. Through her social media accounts, she educates millions of people about blindness and how it affects her day-to-day life as an elite Para swimmer. 
She has autoimmune retinopathy, which caused her sight to deteriorate rapidly at the age of 11, and she lost it completely by the age of 14. Swimming and her guide dog, Radar, have changed her life, she said, and helped her with the depression and anxiety she has had from her vision loss. 
Pagonis will next compete at the 2022 World Para Swimming Championships which take place in Madeira, Portugal from 12-18 June. The former football player spoke to PARA SPORT ahead of the competition about the challenges she has faced as a Para swimmer and her meteoric rise from beginner to Paralympic champion in just four years.
PARA SPORT: How old were you when you started swimming? Why did you start? 
Anastasia Pagonis: I started swimming at 13 years old. My doctor told me that soccer may be too dangerous at this point and to try swimming. I started at a local club in my area. I always knew how to "swim" because I was in the ocean constantly since I was a baby, but I didn't know how to do the strokes correctly.
Did you enjoy swimming from the start?
AP: As soon as I got in the pool, I fell in love. It was somewhere freeing for me.
When did you start training? 
AP: I had two different times of starting to train. First when I was 13 on a club team and I was legally blind. I didn't need tappers. I could see the wall, the black line on the floor and flags. I probably trained four to five times a week. Then when my vision loss progressed, I could no longer make out the wall, the line or anything in the pool. That started a whole new journey learning to swim all over again. This time the progression of swimming was very slow. I could only spend maybe half-an-hour in the pool. I was getting hurt on the lane line and staying in the lane. It was one of the hardest things that I have ever had to do. Now I swim about eight times a week.
When did you first realise that you would like a career in the sport?
AP: When my vision loss progressed and I could actually make it a few laps swimming without crashing, I knew I could swim for the Paralympics. It was hard and I shed a lot a tears, but with perseverance I actually felt free in the water and felt like this was something I could be good at.
When did you start to compete and what did it feel like to win your first elite Para swimming race?
AP: I started to compete for my club team at 13 and elite Para swimming at 14. The first race that I won as an S11 swimmer - with my vision loss, I went through all three vision classifications - was in Australia. I went for classification, not expecting much as far as competing, but I was really surprised at my times. [Pagonis made her international debut at the 2020 Para Swimming World Series in Melbourne where she won gold in the women's 400m freestyle and bronze in the 200m individual medley.]
After your first win on the international stage, did you progress quickly? 
AP: After Australia, which was in February 2020, we came home to Covid and full lockdowns. I was so nervous and upset that I would have to start over again the next time I swam. For me swimming is repetitive: how I hit the lane line and turns. When I'm out of the water for a week I crash constantly. I couldn't imagine being out for months. When we were finally allowed to swim again, I just worked my butt off day and night but had no races until right before the trials for Tokyo [at the Para Swimming World Series in Lewisville in 2021]. I had no idea how I would be as far as times. When I broke the world record [in the 400m freestyle] I was shocked, and then when I broke it again in Tokyo, I was beside myself. I knew all my hard work and tears had paid off.
Why do you think you have been so successful in the sport and what does it take to become a Paralympic champion?
AP: I think to have a disability in sport takes extreme perseverance and strength. You have to figure things out for yourself, what works and what doesn't. There's no general way. You just get in and do your strokes. If something didn't work, I tried a different way. At Para meets and on all the videos my coach watched, everyone was tapped two strokes out from the wall. We asked other S11 swimmers on team USA and that was the general way everyone did it. But that did not work for me. Me and my coach found what did and now a lot of people on S11 are doing it the way I do it. You have to experiment to what you feel works. There was a lot of injuries, pain, and frustration, but getting up and trying again over and over is what I think makes a successful athlete.
Did you have a hero in swimming when you first started? 
AP: [Three-time US Paralympic champion] Becca Meyers was my hero. She was everything I wanted to be. I met her at my first Para swim meet in Cincinnati. I actually swam against her. She totally lapped me in the water, but it was one of the happiest moments.
Why would you encourage people to get into swimming? 
AP: I would encourage everyone to get into swimming and see if they enjoy it. The friends I have met on my teams and the support is incredible. Swimming has given me freedom to do something that I love. It helps with my depression, anxiety, and focus. You don't have to be good. You just have to start!
What is your proudest moment in the sport?
AP: My proudest moment was standing on the podium in Tokyo winning the first medal for Team USA in Tokyo. Hearing the national anthem for my country, it's unexplainable. All my hard work and fears were conquered in that one moment.