Top 5 tips to get started in road cycling from golden girl Annika Zeyen
Multi-Paralympic and world champion gives advice on how to go from recreational cyclist to racing supernova
08 Sep 2022
Imagen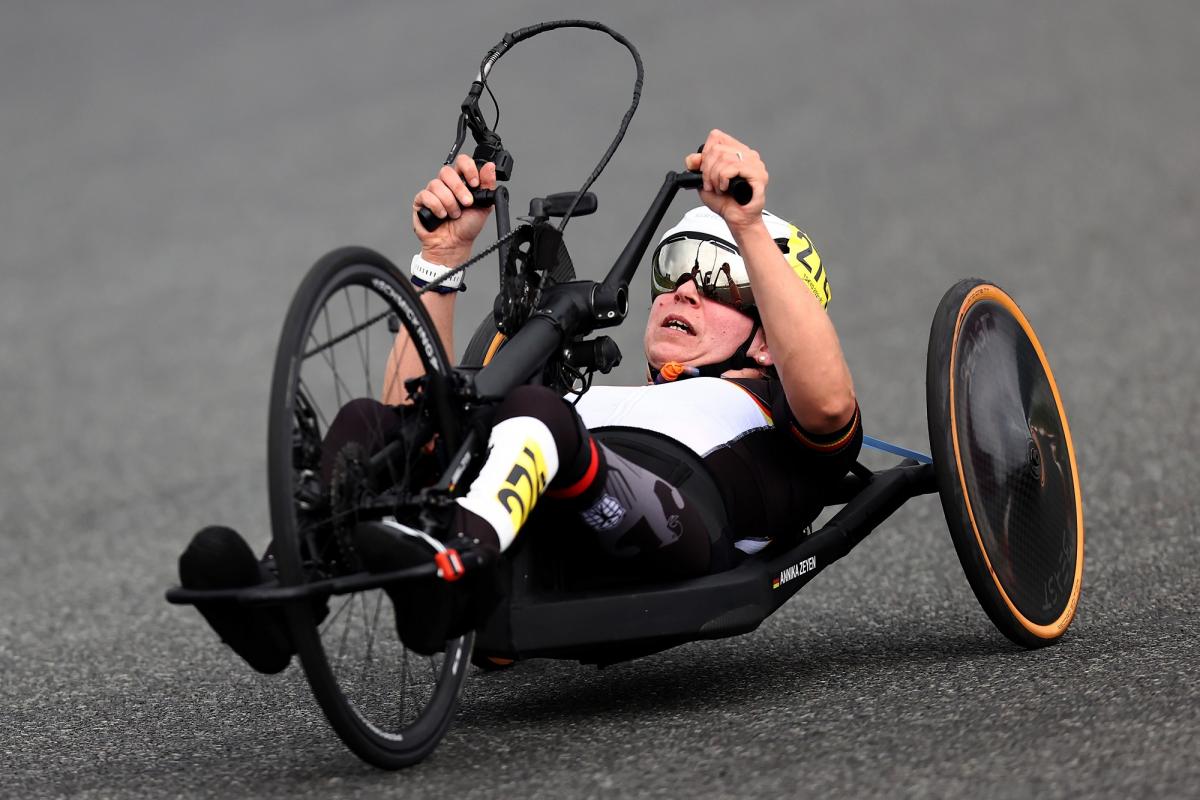 Ⓒ Dean Mouhtaropoulos / Getty Images
By PARA SPORT
How do you go from a casual weekend cyclist to a racing champion?
Paralympic gold medallist Annika Zeyen knows firsthand what it's like to make that switch and is ready to share her secrets. 
The German athlete began her Para sports journey as a wheelchair basketball player and has competed in the sport at four Paralympic Games from 2004 to 2016. The highlights along that journey included a gold medal from the London 2012 Paralympics and two silver medals, from Beijing and Rio.
After Rio 2016, where Zeyen was also a flagbearer at the Closing Ceremony, she decided to leave wheelchair basketball, but remained active, competing in wheelchair racing and going for recreational bike rides.
When a nerve injury made it difficult for Zeyen to move her arm backwards, handcycling became her primary sport. She started to compete in road races in 2019 - and has been unbeatable ever since.
The same year that Zeyen made her international debut, she won a world title in the women's H3 road race. Even a major setback like breaking her foot leading up to the 2019 event did not ruin her result. At the 2021 edition of the World Championships, Zeyen defended her road race title and picked up a full set of medals.
At Tokyo 2020, she celebrated winning her first individual gold medal at a Paralympic Games, in the women's H1-3 time trial, and also took a silver in the road race. 
Most recently, Zeyen won gold medals in both the road race and time trial at the 2022 UCI Para Cycling Road World Championships, which were held in Baie-Comeau, Canada between 11-14 August 2022. In the time trial race, she was almost 16 seconds ahead of the silver medallist. 
In total, the versatile athlete now has more than 15 medals from major tournaments across two sports. 
Eager to start your own medal collection like Annika Zeyen? Read her Top 5 tips on getting started in Para cycling and get ready to enjoy the ride.
1. Reach out to other Para cyclists
Don't be afraid of reaching out to other Para cyclists with a similar classification/disability as yours and asking them questions. They are the ones who can give you the best advice, for example, when it comes to equipment. Equipment in Para cycling is very specialised and expensive so before spending money on it, try out as many different equipment options as possible. 
2. Compete
As a start, find some local races that you can join. It is fun to experience the race atmosphere and even if you feel like you might not be ready to compete yet, give it a try because the race atmosphere will motivate you for your training and it is a great opportunity to meet other Para cyclists.
3. Find training partners
Training together with others can be a lot of fun, especially for longer endurance sessions. Try to find training partners who train at a similar speed as you do – they don't have to be the same classification. Training with able-bodied cyclists can be a good option too. Another good option is training on a smart roller using a virtual platform (for example, Zwift) where you can train and race with other cyclists from around the world.
4. Work with a coach
Once you have decided that Para cycling is the sport that you would like to compete in, it is important to work with a coach who can come up with training plans that work with your schedule, for example, around school and other activities. A coach will figure out with you the right amount and intensity of training in order to reach your goals.
5. Have fun and enjoy the process! 
If you decide to be serious about cycling then you will spend many, many hours training so it is important to have fun in training and enjoy the process!