Cheongju 2019: Tokyo 2020- bound Saysunee Jana also wants LA 2028
'It's difficult to combine motherhood and a sports career sometimes, but I've got a lot of support from my family'
27 Sep 2019
Imagen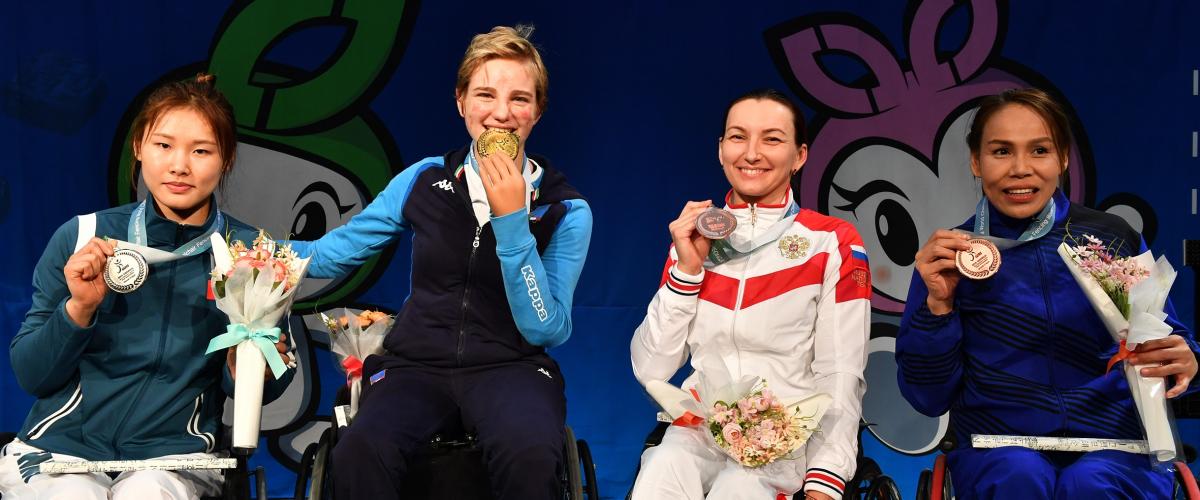 ⒸAugusto Bizzi | IWAS
By Amp Media | For the IPC
To call it a blessing in disguise would be too far-fetched. But the accident that kept Saysunee Jana wheelchair-bound since she was 17 years old eventually gave her the opportunity to escape the poverty she grew up in and become a top athlete at the 2019 Wheelchair Fencing World Championships that finished wrapped up earlier this week. 
Now at age 45, Jana is a double Paralympic and four-time world champion wheelchair fencer, a tv-reporter about disabled sports, and a national hero in Thailand. 
She would never have thought of a future like that, when she set off to work on her motor bike 28 years ago.
"I was involved in an accident, thrown off my bike, broke my back and paralysed by legs," she recalled in Cheongju, South Korea, where she added a World Championships bronze medal in the foil B category to her already impressive tally.
She grew up in Chiangmai, in the north of Thailand, as the oldest of three sisters.
"It was my responsibility to make money and take care of the family," she said.
The motorcycle accident took away the opportunity to work and Jana fell into a depression, that lasted almost four years.
"I could not provide for my family, I did not get out of the house and I was frustrated about not even being able to get out of my wheelchair," Jana admitted.
It was only after Jana started attending a government-funded institute for disabled people that she found back her purpose in life.
"I started to play wheelchair basketball and one day someone introduced me to wheelchair fencing," she said.
"I had my first competition in Thailand in 1999 and won two gold medals. From then on, I knew this sport would give me a new chance to earn money, to get a better life and provide for my family after all. I had a new goal in life."
Jana kept winning and first attended the Paralympic Games in 2004 in Athens, where she claimed gold in the women's epee B category and bronze in foil.
"Epee is my main weapon," she said. "I do also compete in sabre and foil, but epee comes naturally. Foil and sabre are too difficult for me."
After Athens 2004, she became a bronze medallist in epee at Beijing 2008, turned that into gold at London 2012. At Rio 2016, she could not defend her title, taking silver. She also won four world titles, two silver medals and three bronzes at World Championships.
Her success on the piste also opened an opportunity to become a television reporter and a mentor to other disabled athletes in Thailand. 
She gave birth to her daughter four years ago, and the coveted champion fencer is not ready to quit her sport.
"It's difficult to combine motherhood and a sports career sometimes, but I've got a lot of support from my family," Jana said. "I train everyday and my mother helps take care of my daughter. In the weekends I take her to music lessons and other activities.
"I want to continue fencing at least for two more Paralympic Games, Tokyo and Paris and maybe even Los Angeles in 2028."
After her retirement as an athlete, she hopes to set up a family business with the money she earned as a wheelchair fencer. 
That is not all.
"I hope to start a Thai food restaurant with my family in Nonthaburi, where I live at the moment… or in Chiangmai," she said. "But first I've got some unfinished business as an athlete."