Czech Republic and Italy brush off rivalry
Although they are nearly geographic neighbors, Czech and Italian ice sledge hockey players say their rivalry is no big deal heading into the World Championships.
11 Apr 2013
Imagen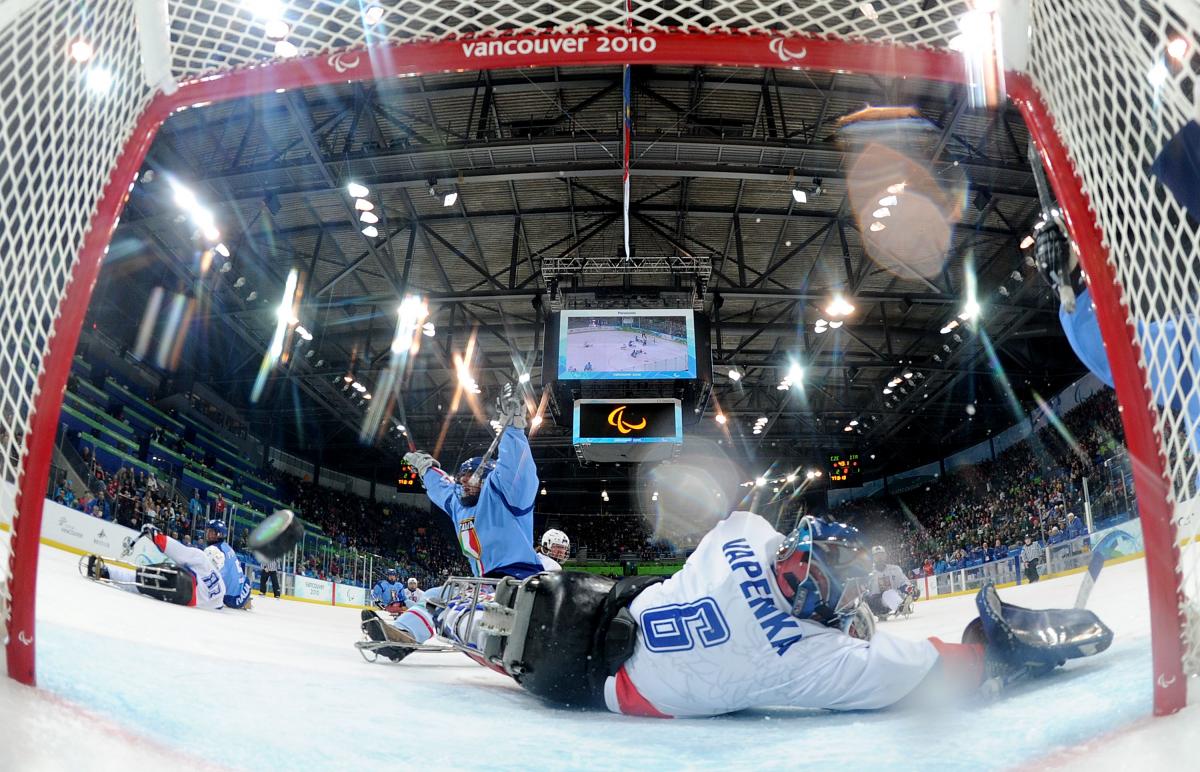 ⒸGetty Images
By Ryan McKenna l For the IPC
"With them, we are motivated just the same as before all other matches. However, after a match with Italy, there is always this mutually friendly atmosphere."
For the Czech Republic's ice sledge hockey team, considering Italy – a common opponent for them – as a rival heading into the 2013 IPC Ice Sledge Hockey A-Pool World Championships is a far-fetched idea.
The only way that either team will face each other at the event in Goyang, Korea, is in a potential playoff matchup.
The Czech Republic is in Group A, with defending world champion USA, as well as Norway and Sweden.
Italy finds itself in Group B with Canada, Russia, and runner-up at the 2012 World Championships and host nation, Korea.
"It is always a friendly match with Italy," said Czech Republic goaltender Michal Vapenka.
"With them, we are motivated just the same as before all other matches. However, after a match with Italy, there is always this mutually friendly atmosphere."
Last meeting
The last time either team met was at the 2011 European Championships in Solleftea, Sweden, when Italy defeated the Czech Republic 2-0 to win the tournament.
Even with the loss in Sweden, Vapenka said the rivalry is more fuelled by geography than anything else.
"The Czech and Italian teams are no rivals, we are friends," said Vapenka. "The history is that ever since the inception of Italian sledge hockey, we have been going to Italy on a regular basis a couple of times a year to play a tournament or a match."
Italian captain Andrea Chiarotti said a matchup against the Czech Republic is intense on the ice but after the final buzzer, all those feelings are gone.
"With some player on their team we've become friends, so there is only sporting rivalry during matches, and then it all ends there," Chiarotti said.
Pavel Kubes, defenseman and captain of the Czech team, echoed Chiarotti's comments.
"It is a sort of a pal rivalry," Kubes said. "The Italians are a cheerful lot and they play in a style that we like. Our matches are quite even."
A potential matchup
Although Kubes said games with Italy are nice, he wants his team to be motivated to face all of the best teams in the world in Goyang.
The Czech Republic have their first game at the Championships on Saturday (13 April), when they face-off against Vancouver 2010 bronze medallists Norway.
All games from the World Championships can be seen live here.
Italy will face Canada to start the tournament, a team that finished third at last year's World Championships.
Chiarotti, Kubes and Vapenka are all in agreement that their main goal going into the tournament is to qualify for the Sochi 2014 Paralympic Winter Games.
With that said, both Kubes and Vapenka insist that if the two friendly rivals should meet in the playoffs, they will be ready.
"The fundamental is to secure our qualification to the Paralympics," said Kubes. "However, if the medals clink, the better it will be."
For more information on the teams from the Czech Republic and Italy, check out the team previews here.
Related Images