German goalballer Michael Dennis says Tokyo 2020 will be 'once in a lifetime'
After more than a decade of rebuilding, Germany's goalball team seems to have found a winning formula
16 Jun 2021
Imagen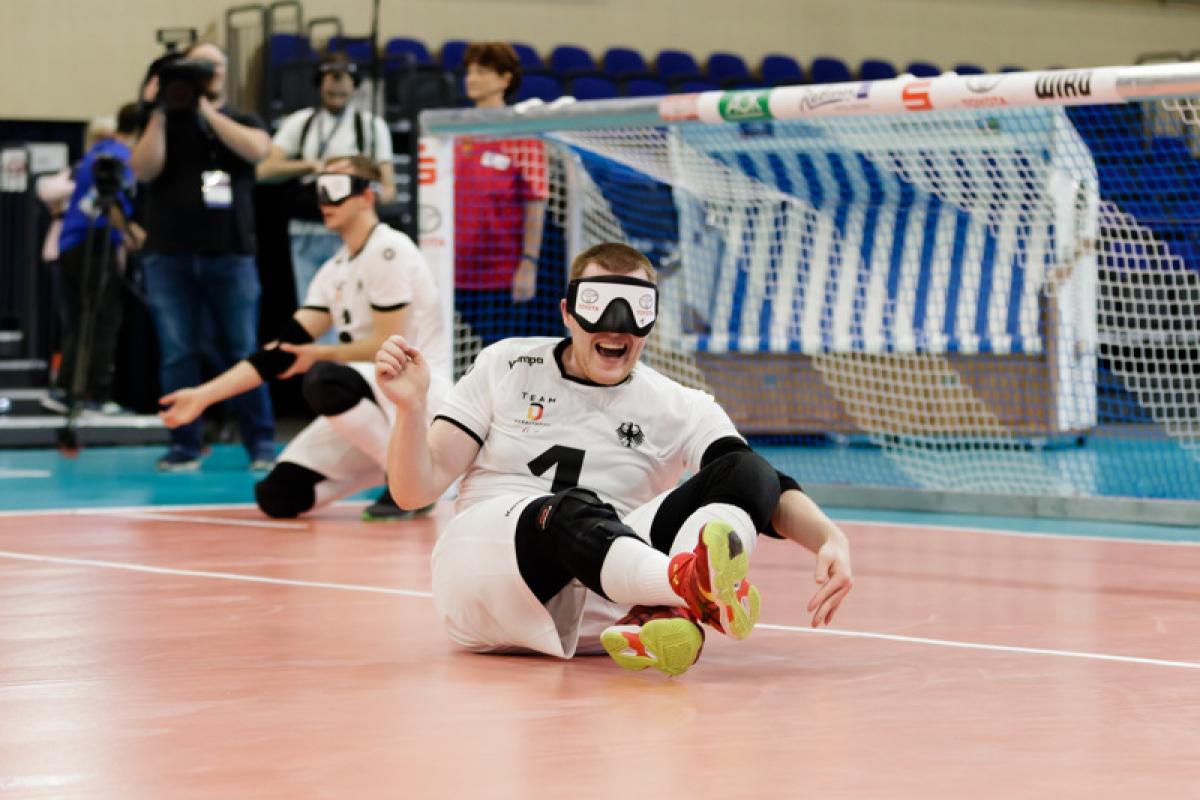 ⒸBinh Truong / NPC Germany
By Lucy Dominy | For the IPC
Michael Dennis is currently training with a German goalball team that 10 years ago could not have imagined being one of the favourites for gold at the Tokyo 2020 Paralympics.
Finishing the 2010 World Championships in 14th place followed by the 2011 European Championships in seventh and 2014 Worlds in 13th, Dennis admitted there was not much cause for optimism.
"We had a tournament in 2012 where we played Lithuania and we were up at halftime 2-1 and we were like 'damn we're such a good team, we're leading against Lithuania!' Dennis said. "Then it took three minutes in the second half for them to mercy us so it wasn't a big statement! We learned a lot out of all the games we lost, and we lost a lot of games by a lot. But that whole process of getting experience, getting better, maybe trying things and failing at them and trying out other things was important."
Dennis was only a teenage at that 2021 match, which was also one of his first competitions. Realising that something revolutionary was required to turn around Germany's fortunes, head coaches Johannes Gunther and Stefan Weil hatched a modest, long-term plan.
©Binh Truong / NPC Germany

"I think it was first of all that Johannes and Stefan set-up a plan with the team that they wanted to qualify for Tokyo. It was never their goal to qualify for Rio," Dennis said. "They did a cut by the age of people in the team. When I started, I was 19 and the others were in their mid-20s so we were really a young team but we were only four or five people. 
"Johannes was always looking for talented young players and he hosted a tournament for 16 and younger and found Oliver [Hoerauf] and Thomas [Steiger] who are still on the team. Johannes stayed on the path to integrate young people in the team and trying to make them better, instead of always playing the older players and maybe stay where you are at."
There were ups and downs on the way. In 2013, Germany nearly made it onto the European podium, missing out on bronze by just one goal. Disappointment was to come again in 2014 at the Worlds. Then at the 2015 Euros, Germany were thrashed 11-1 by Finland in the quarter-finals.
It was not until 2017 that things really started to improve. Dennis recalled "trying to find your own way to play that sport that fits with the team" was the turning point.
For Germany, they engineered a method of defending which suited their players. Going into the Euros that year with the main aim of avoiding relegation, they claimed silver.
Then in 2018, in Malmo, Sweden, the team finished on the World Championships podium for the first time in 28 years. They took silver, reaching their goal of qualifying for Tokyo 2020 ahead of schedule. It was also here that Dennis got together with his now wife, the USA's Amanda Dennis.
Michael Dennis' wife Amanda Dennis of the USA ©Getty

"We went through the group stage then with seven victories and one loss against Brazil. I always say that we don't know what to expect against China, except for a strong offense. But that was a game where everything worked out for us," Dennis said. "They [China] tried to score and they didn't and we won 8-0 at the end. And that was the point where we finally were like 'OK'."
The following year was to deliver the most satisfying result yet: European gold at home.
"We reached a point where teams know that they need to score three, four, five goals against Germany and they say 'it needs to be enough to beat them because we probably won't score a lot more goals,'" Dennis said.
He explained Germany is good in using their offensive penalty opportunities.
"In other sports you would say you are waiting on other team's mistakes," Dennis said. 
©Binh Truong / NPC
Germany

With the magic recipe for success finally uncovered, Germany can look confidently towards Tokyo 2020. They are in Pool B with Belgium, Ukraine, China and Turkey.  
While Germany is familiar with all the European teams, China pose the unknown. 
"But finally when you are talking about winning a gold medal, you need to win seven matches. It doesn't matter who you are playing. That is more the way I look at it," he said.
Dennis also believes that this is the one of the best chances Germany will ever have to win a Paralympic title: "It's a once in a lifetime chance to win a gold medal."
"In Germany we have a phrase – 'the dot on the i.' It would be a really cool finish [to win gold]. Johannes will stop being the national coach after Tokyo so that would be a really cool, amazing finish for him. 
"For me personally, one of my grandpas died in the 1990s so he never got the opportunity to see me play goalball. It would be really cool to come home and visit him and his grave with a gold medal from Tokyo."