Great Britain's Jordanne Whiley seeks to capture first Paralympic gold
Wheelchair tennis athlete opens up about what she desires more than anything
05 Apr 2021
Imagen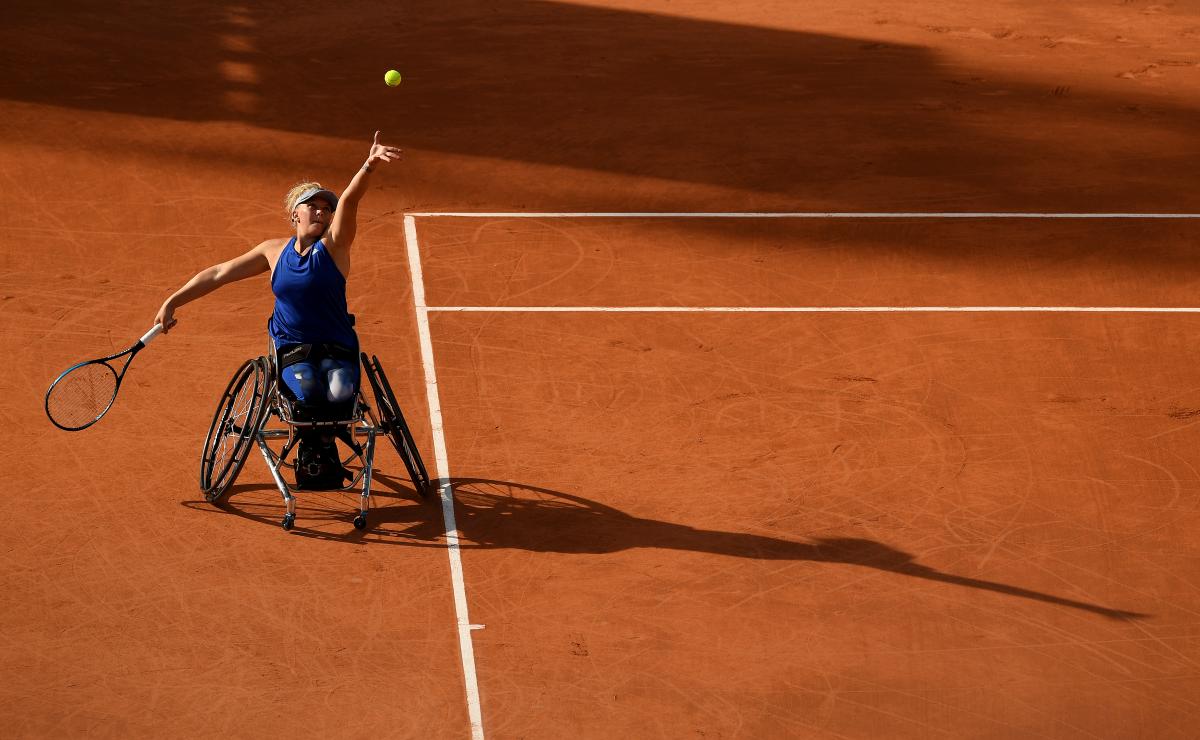 ⒸGetty Images
By Tokyo 2020
Great Britain's Jordanne Whiley is hunting down that illusive Paralympic gold medal.
With two bronze medals from the wheelchair tennis women's double tournament at London 2012 and Rio 2016, her goal of wanting gold has been her main driving force.
"It would just kind of complete my life because I've done tennis my whole life," Whiley said.
"All I've ever wanted is a gold medal, and I seem to have done every single thing apart from winning the gold medal so it's the only thing I don't have in my cabinet and is the sole reason why I came back after having Jackson [her son].
"Obviously, I'd love to win more Grand Slams and I'd love to get my ranking higher, but my sole purpose is a gold medal."
Whiley made her Paralympic debut at Beijing 2008 as a 16-year-old but her pathway to gold has not been without it challenges. After clinching bronze at a home Games in London 2012, it was a heartbreaking experience just four years later in Rio.
"I was in the best shape of my life and I was probably realistically one of the contenders for gold," said Whiley, who had broken her wrist and bowed out of the singles draw in the quarter-final.
Alongside Lucy Shuker, she would go on to win a second consecutive bronze medal in the women's doubles after defeating Japan's Kamiji Yui and Nijo Miho.
"At the time, the medal didn't mean anything to me. Whereas now when I look back, I think actually the medal means quite a lot because I won it in the doubles with a broken wrist and completely heartbroken from what happened in the week," Whiley said.
The desire to win a gold medal comes partly from her father Keith, who won bronze at the New York and Stoke Mandeville 1984 Games in the men's 100m L3 athletics event.
"He said, 'maybe one day you could beat my bronze medal' and that was sort of always a little competition between us, to see if I could get better than his bronze medal and so far, I haven't because I've only won two bronzes," she laughed.
For tennis players, while they have four majors – Australia, Wimbledon, French, and the US – a year, the Olympic and Paralympic Games is the pinnacle of their sport.
"With Grand Slams, four times a year you can have a shot and [if] you played singles and doubles that's eight, whereas you work hard for four years and if you mess up, you will wait another four years, which is basically what I've done," Whiley said.
"I feel especially now with everything that's gone on the athletes that are going to be on the podium, it's going to be more special in Tokyo because of what happened with the world. You've just overcome the biggest adversity and it really shows strength of character."
LIKE A CATERPILLAR INTO  A BUTTERFLY

Whiley started 2020 winning the Australian Open women's wheelchair doubles with long-time partner Kamiji Yui. It was the Paralympians' third doubles crown at the major and 10th overall.
However, in March the world began to grind to a halt.
Tokyo 2020 was postponed, then in April, Wimbledon – Whiley's home Grand Slam and favourite tournament – was cancelled for the first time since World War II. In her personal life, her wedding was also cancelled.
"I was not in a good place at all. It just felt like my world was crumbling," the MBE recipient commented.
"And then after sort of July time, I just picked myself up," Whiley continued, "I was like, 'okay, I can't change anything that's happening right now, so what can I do?' And that's when I decided I was going to lose the weight and I was just going to have like some me-time just normal stuff like self-development and think about what I really want to get out of the short term goals in my career, but also in my life."
After coming out of a four-month lockdown, Whiley described it as "a caterpillar into a butterfly" feeling.
Reflecting back on the situation, the Birmingham-born athlete who resides in the West Midlands, believes it was one of the best things that could have happened.
"It gave me the time I needed to realise what was really important and what I wanted to do in my career. I think now if I look back, I wasn't ready to compete in Tokyo then and I'm very grateful that I've had that extra year to change things in my game. Now I feel like I'm ready for Tokyo," Whiley said.
OVERCOMING PERSONAL BATTLES

After the heartbreak of Rio 2016, Whiley fell into a slump.
Mentally she was exhausted from years of playing non-stop since Beijing 2008.
"I describe it was like a really bad break-up, it took me almost a year to get over Rio," she said, "I was also not in a great place with my tennis. It was like tennis was my life and I hadn't done anything else, there was no time for me.
"It took me a long time to get over it but then I had my son and my perspective on things changed."
Whiley gave birth to her son Jackson in January 2018 and made her return to tennis just over a year later. It was her longest time away from the court – quite strange for someone like Whiley but nonetheless something she admittedly said she "needed".

In fact, the former 2015 US Open champion says she is the only one on the wheelchair circuit to balance her professional sporting career with being a mum.
However, coming back into the fold wasn't easy. Whiley gained more weight than she wanted to while she was pregnant, which the Paralympics GB athlete said she was still battling with until the US Open last year.
"I really struggled to lose the baby weight after I had Jackson. I think that was what the main problem is that I just wasn't fit enough, I was heavier, and I didn't feel good. So when I was playing, it really affected me because I knew that I didn't look the way I wanted to. I didn't feel how I wanted to feel, it was really affecting my tennis," said Whiley, who said she felt self-conscious being on court.
"I'm one of the fastest in the world and for me to be slightly off my times, I felt the effects of that."
She decided that during the lockdown she would focus on her fitness, losing four kilograms in the process. It didn't take Whiley long to see the results.
"When I came back and played tennis, I was fitter, I was stronger, and I felt so much better. And I think maybe that's why my tennis is a little bit better."
A LONGTIME FRIENDSHIP

The partnership and friendship between Whiley and Kamiji is a special one.
Together they have won 11 Grand Slam titles – two French Opens, three Australian Open, two US Open and four Wimbledon – along with completing a calendar Grand Slam in 2014. Their most recent title came at the US Open in September last year – their first since 2014.

The duo met by chance ahead of Wimbledon in 2013, neither having a doubles partner.
"She didn't speak a word of English. So I was just like 'Wimbledon'. And she said, 'yes', that was it," Whiley recalled.
They made the final that year, losing to Jiske Griffioen and Aniek van Koot but getting on like two peas in a pod, Kamiji and Whiley decided to continue their partnership the following year, winning Wimbledon.
The pair have now spent the last eight years playing together, becoming a formidable force on tour.
"I've never experienced that with someone, where you're in a high pressure situation and you will be feeling really rubbish, things are just going terrible but then she smiles and says, 'it's okay, I don't mind. You can do it'. And you just like 'I can'," Whiley said. "It just makes me feel relaxed and that's why she's my best friend."
At the US Open in 2015, the pair came face to face in the singles final, with Whiley capturing her first maiden singles title.
"She was so happy for me, then we went and got chicken nuggets," she laughed. "There's never anything else other than love between me and Yui."
And playing a gold medal match at the Tokyo 2020 Games against Kamiji has crossed her mind.
"I have thought about, playing her in a final full of a Japanese crowd with Japanese flags everywhere, I think 'oh my gosh how am I going to do it. But business is business at the end of the day."