Joachim Gerard remembers late coach in first Grand Slam singles title
Australian Open crown comes exactly two years since passing of Marc Grandjean
02 Mar 2021
Imagen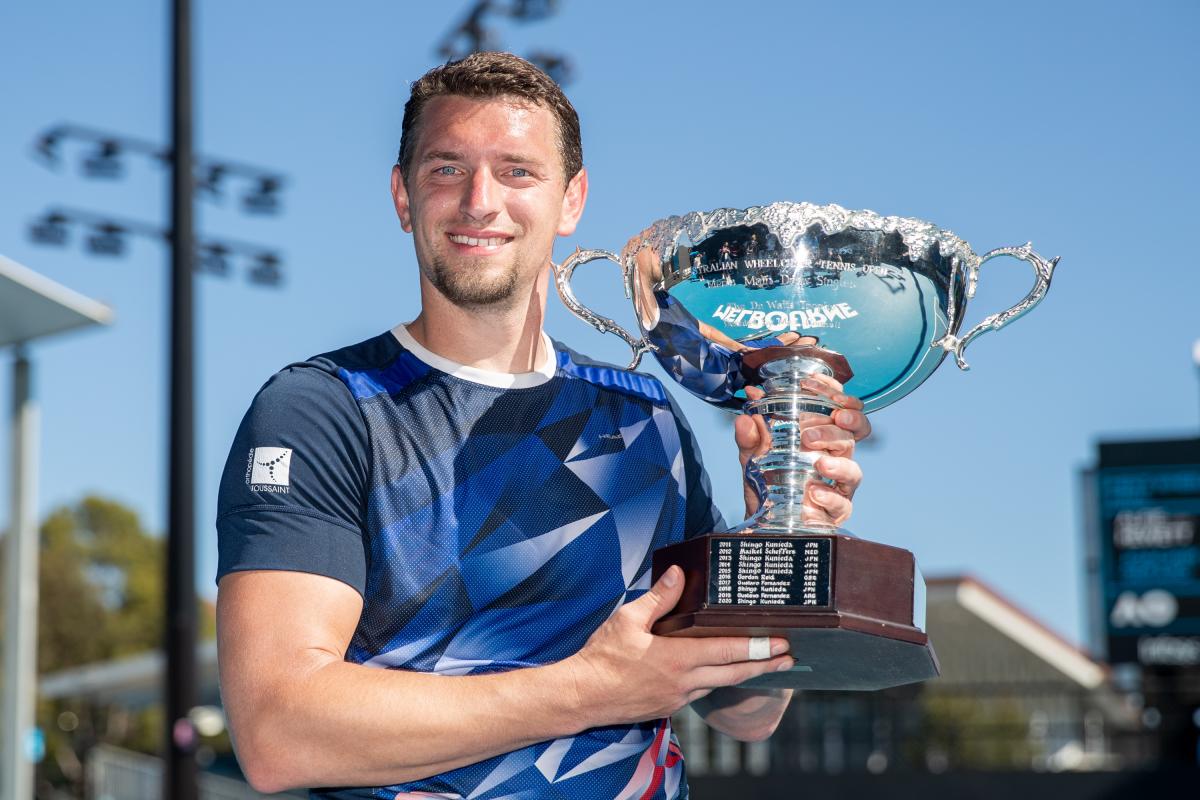 ⒸGetty Images
By Ros Dumlao | For the IPC
With one yell, Belgium's Joachim Gerard released years of emotional baggage. 
The Australian Open title – Gerard's first career Grand Slam singles crown - was five years since his wheelchair tennis Major final debut, and five months since his heart-break Roland Garros loss. 
But even deeper, it was exactly two years since the loss of his former coach Marc Grandjean. 
"I don't know why I said it (an expletive in French), but it was unbelievable," Gerard said. "When Alfie Hewett's shot went out, I let everything go out – the stress, the nervousness, and many years of waiting. I was so happy. I was also sad because my ex-coach wasn't there. It's all emotions. But for the most part I was happy."
The 32-year-old recalled when Grandjean was diagnosed in 2017 with a neurodegenerative condition. It pained Gerard to watch his long-time friend and mentor slowly lose the use of his limbs. They had worked together since 2006, when Gerard was moving away from Para swimming and focusing on wheelchair tennis. 
"That was very hard to learn because he was one of the guys who taught me so many things," Gerard explained. "He was very nice, even on the Tour. When others heard the news, they were asking about him. It was very hard because he didn't deserve it. I won't hide it; I cried so many times because he was like my second father."
Together, they pulled off one of the sport's biggest upsets of the decade. In 2015, Gerard spoiled world No. 1 Shingo Kunieda's 77-match winning streak in the NEC Masters round-robin. They met again in the singles final, with Gerard repeating his victory over the Japanese Paralympic champion that elevated the Belgian to world No. 1 for the first time. A few months later, Gerard went on to secure Belgium's first Paralympic wheelchair tennis medal at Rio 2016 with singles bronze. 
Gerard admitted that for quite a while when Grandjean – a former International Tennis Federation Coach of the Year - passed away, he was not ready to play and it took a few months to accept it. But a coaching change also helped himme refocus and get back in his game. 
"I think I wasn't ready in my head," Gerard said. "I thought I was, but the work that I was doing was not enough. For around one year now, I'm with a new tennis coach who helped me a lot to be ready on every point – not only tennis, not only physical, but tennis, physical and mental. That's why I'm getting better and better every tournament, and that's one of the reasons why (on 17 February) I can lift this trophy."
Already a four-time NEC Wheelchair Masters champion, former world No. 1 and four-time Grand Slam doubles champion, Gerard now has one of the titles he can finally holdwas missing in his trophy cabinet. Now he knows what it takes to win more. 
"I know why I'm here, and it's because of Grandjean," Gerard said. "I was sad first when I won the Australian Open because I wanted to share it with him. I don't know if you think about the life after death, but wherever he is now, he is watching me and is proud and saying 'OK, keep doing it like this.' It's very important for me to believe in that and to keep telling myself that he is a part of my life. If there is nothing after life, then he is saying that in my heart and in my head."