Hector Catala: "I do not consider myself a role model"
Spanish Paralympic triathlete to experience first Paralympics following World Championships triumph
21 Sep 2020
Imagen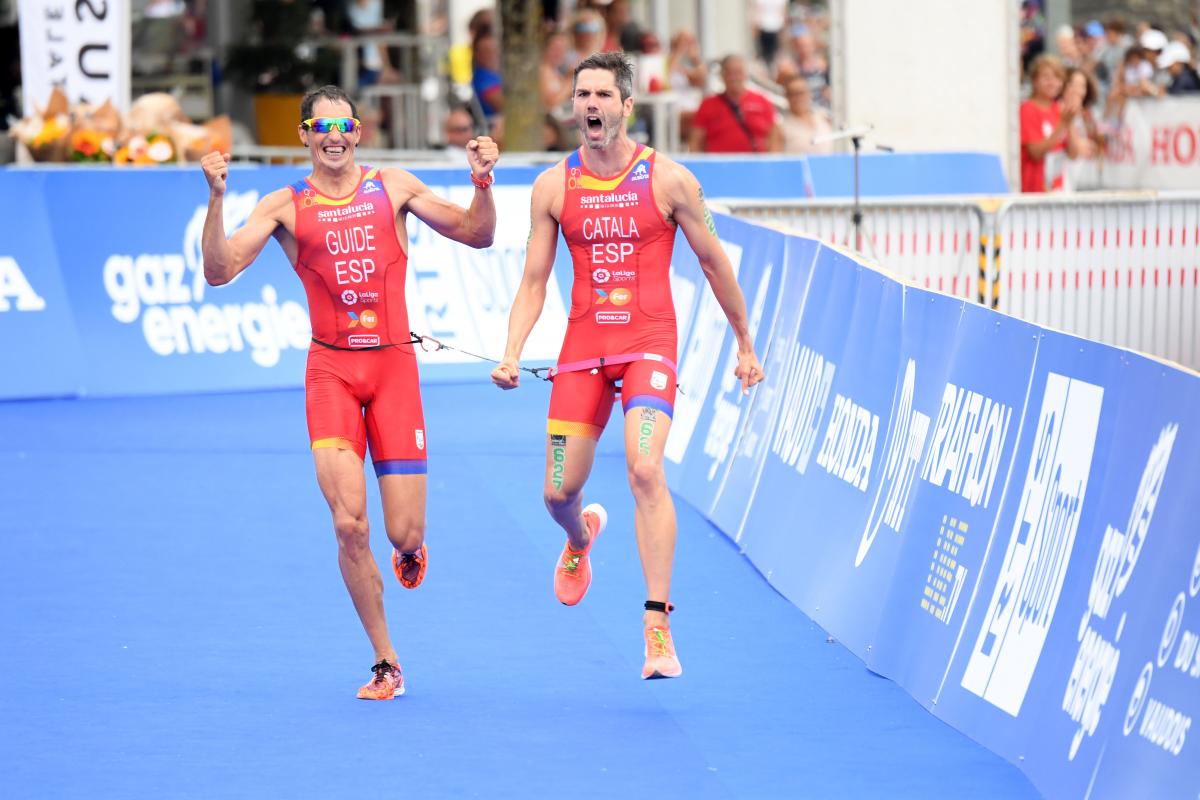 ⒸITU Media/Delly Carr
By IPC and Tokyo 2020
Spanish Para triathlete Hector Catala follows one advice that has gotten him a world title and his Tokyo 2020 Paralympic dream.
"My father always told me, 'Whatever you do, don't do it halfway,'" he said.
Following his first World Championships victory in the men's PTVI, the Spaniard will participate in his maiden Paralympics at Tokyo 2020 next year. 
"I still can't believe it. I have a lot of excitement and desire. I hope I can cope with the pressure of being there. Every time I see something of the Games, it gives me goosebumps," said Catala, who took part in the 24-hour Instagram Live Relay on the @Paralympics account as part of the #WaitForTheGreats campaign.
He will now keep his enthusiasm for another year due to the postponement of the Paralympics because of the COVID-19 pandemic. "Everyone had this week marked in red on the calendar and now we will have to adapt. This was going to be my first experience in the Games and I wanted to live it and enjoy it one hundred percent because they say the first one is never forgotten.
"To be positive, now we have that extra year to be able to prepare better in the three disciplines."
Why not a medal?

Catala has a clear target for Tokyo 2020: "My goal is to cross the finish line knowing that I gave it my all. Hopefully that will help me get a medal, if it's gold, then much better."
He already knows the taste of success, after winning the World Championships last year. That makes him think about how a victory at the Paralympic Games might be.
"I was lucky to win the Worlds title; my neighbours prepared a great reception for me, and it is something I will remember forever. If we win a medal in Tokyo, what will they do? With these images in your head, you're running faster without even realising it."

And going fast will come in handy. He feels that his sport has developed a lot in recent years, especially after joining the Paralympic programme for Rio. The fact that the level has improved is something that motivates him: "Victories are valued according to the level of the opponents."
Outdoing himself

Catala has had to overcome obstacles in his life to reach the place where he is today.
The Spaniard has suffered from a rare degenerative disease since birth that affects the vision.  Though he said he could live a 'normal' live during his childhood and youth; he noticed the consequences later in his life.
"During my last years at University, (my vision) began to deteriorate lots. In 2013, I had a pretty bad bike accident and that's when I decided to reassess what was happening. As a result, I was redirected to ONCE, a foundation which helps people with disabilities."
At the time, he said he felt "lost", but ONCE helped him find himself again. He started to focus on Para triathlon, although at first he was not enthusiastic about it.
"Para triathlon didn't convince me because I didn't like the guide at all. Depending on someone else was very hard to my self-esteem," he acknowledged.
But his mentality has completely changed. "I'm lucky to have Gustavo Rodriguez by my side. I don't like to call him a guide because it seems that he is something to lean on, but I consider him a partner of mine. He teaches me a lot. I'm lucky to have the best possible guide."
They have a special relationship. "There is a 'blind' trust, never better said," he joked.
In 2014, he began to take Para triathlon more seriously. Five years later, he made it to Tokyo 2020, and next year he will be at the Paralympic Games.
He hopes to continue building on the idea that sport is more than just winning.
"One of the tasks that we people with disabilities have is to normalise it, to be seen as normal people, because that's what we are. And that doesn't make me a better or worse athlete. I don't consider myself a role model, by no means," he says.
"Sport is the best thing that has ever happened to me. My level of self-demand is excessive, but investing in sport is investing in health. And that's buying time in your life.
"I'm living the dream of being able to devote myself to triathlon, to sport."