Enjoying journey greater than gold for Lauren Steadman
'It was of course very disappointing, and I had different plans ready for 2021 but as an athlete you need to be adaptable to change and ultimately it was the right decision so it's easier to accept'
06 Aug 2020
Imagen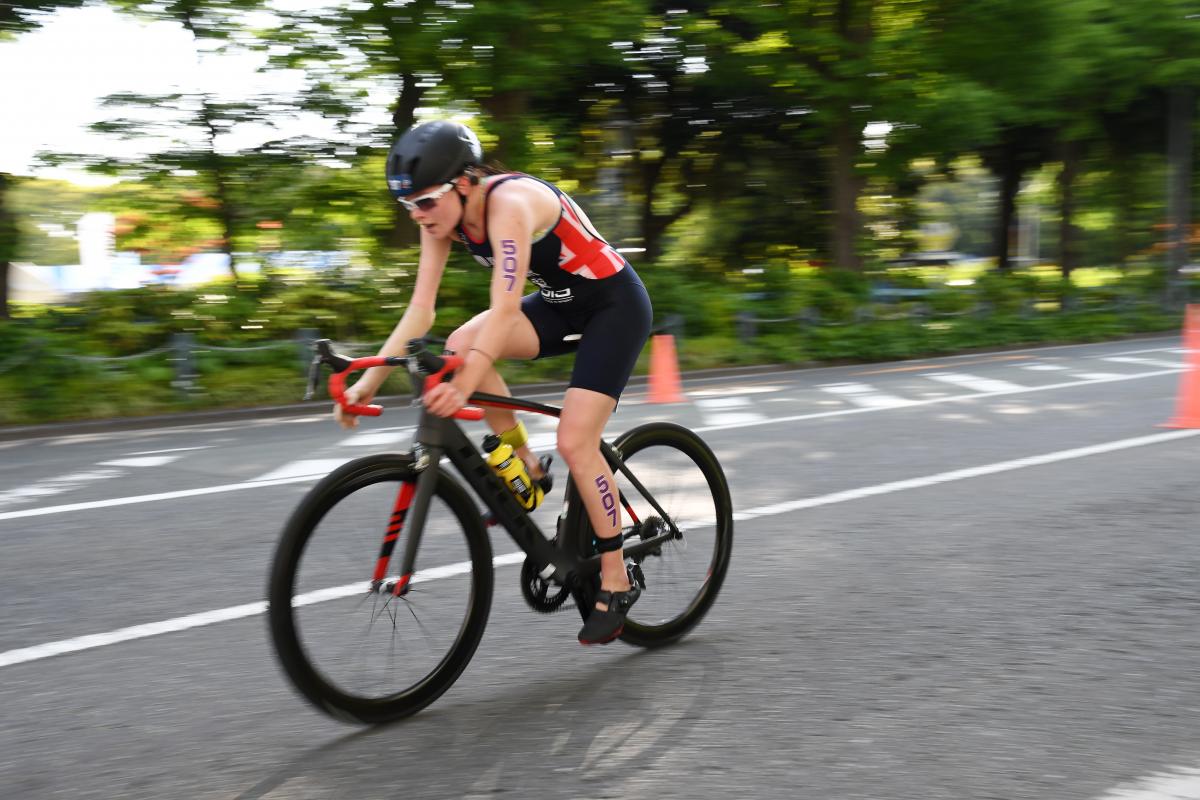 ⒸGetty Images
By Tokyo 2020
Lauren Steadman was just 15 years old when she made her Paralympic Games debut at Beijing 2008. And next year at Tokyo 2020, the now 27-year-old will compete at her fourth Paralympics.
While the Para triathlete has matured through the years of competing at the highest level, there is one thing that has never changed: the feeling of representing Great Britain on the biggest sporting stage.
"It's such a prestigious and awe-inspiring event, to go and represent your country on the biggest stage, I felt overwhelmed and honoured," Steadman said.
"Each and every time I stepped in an arena to represent Great Britain at a Paralympics, it held the same feeling as the first time."
Swimmer to triathlete

The British athlete, who was born without her lower right arm, competed at two Paralympic Games (Beijing 2008 and London 2012) as a swimmer before her uncle encouraged her to make the switch to triathlon. He saw her potential to excel in all three disciplines involved in the sport – swimming, road cycling and running.
And at her first triathlon, the 2011 British Championships, she finished second.
Now a triple world champion and six-time European champion, Steadman admits that it was tough at the beginning to switch from swimming to triathlon, but believes it was ultimately the right decision to progress as an athlete.
"Changing sports was the best decision I made," she said.
"It was definitely tough at the time and I thought about it a lot as I felt I was giving up on my swimming goals, but actually on reflection I'm just better suited to triathlon over swimming."
Tough lead in and Paralympic silver

Rio 2016 marked a history making moment for the sport of Para triathlon as it made its Paralympic debut. There were 11 athletes (of 60 competing in Para triathlon) in the PT4 battling it out for the gold medal with Steadman considered as one of the top contenders.
However, heading into Rio 2016, it had been a challenging racing season for the three-time Paralympian. At the World Championships earlier that year in Rotterdam, Netherlands, she crashed in the bike leg and was unable to finish.
"I had a tough summer leading into Rio, crashing at Worlds and writing off my bike. I think I managed it well, but definitely felt the pressure leading into Rio," Steadman said.
With the swimming practice optional once she arrived in Rio due to the pollution levels in the water, she opted out in hopes to keep herself as healthy as possible come race day but it backfired when she missed a buoy.
Steadman managed to make up time during the transition phase and moved past USA's eventual Paralympic gold medallist Grace Norman on the first part of cycle but in the run leg, Norman surged ahead of Steadman to win.
However, the experience from Rio has allowed Steadman to learn more about herself.
"It took a lot out of me - physically on the day and mentally afterwards looking back on it but I learnt that day how strong I can be," she said.
"To swim the wrong way and be behind the whole field by over 45 seconds and still pull through to take home a silver medal, I was extremely proud."
Training with a postponed Games

With the Paralympic Games now schedule for the summer of 2021, Steadman has refocussed her plans and has recently been chipping away at a solid block of training.
However, when the reigning European champion first heard of the postponement in March, like many athletes across the world, of course it was not what she wanted to hear.
"It was of course very disappointing, and I had different plans ready for 2021 but as an athlete you need to be adaptable to change and ultimately it was the right decision so it's easier to accept," she said, adding, "There is no need to focus as much now with racing being on hold and everything else in the world going on around us."
"When the time is right, we will be back, with vengeance to race I'm sure."
And with a Paralympic silver medal to her name, Steadman is looking to go for gold at Tokyo 2020, but that is not her only goal. 
"To enjoy the journey to the Games is extremely important to me, otherwise there is no point."
"You can't beat watching the world come together through sport. Hopefully, it will provide a sense of escape to everyone after what we have all been through together recently."
Steadman is also looking to complete a PhD – she finished her Masters in Business after gaining her degree in Psychology.
Representation is important

Something close to Steadman's heart is the importance of representation.
In late 2018, she participated in 'Strictly Come Dancing', a British dance show where she made the semi-final, and more recently 'Celebrity SAS: Who Dares Wins', where 12 public figures take on various tests to replicate Special Air Service selection. Like a true champion, she emerged as one of the winners.
 

Steadman decided to appear on both shows to not only highlight what it meant to be a Paralympian but to give people with disability representation on mainstream platforms.
"I wanted to be able to show that with the correct mindset, imagination and support anyone can achieve anything they set their mind too. It's not about doing it for others, it's about pushing your own limits and beliefs."
"Hopefully Strictly and SAS helped to show anything is possible and that having a disability doesn't put you at a disadvantage."