India smitten by Paralympic success shower athletes with jobs, cash rewards
'This success will go a long way. It is like India has arrived on the big stage. The boost that Para sport and Para athletes will now receive will be phenomenal'
13 Sep 2021
Imagen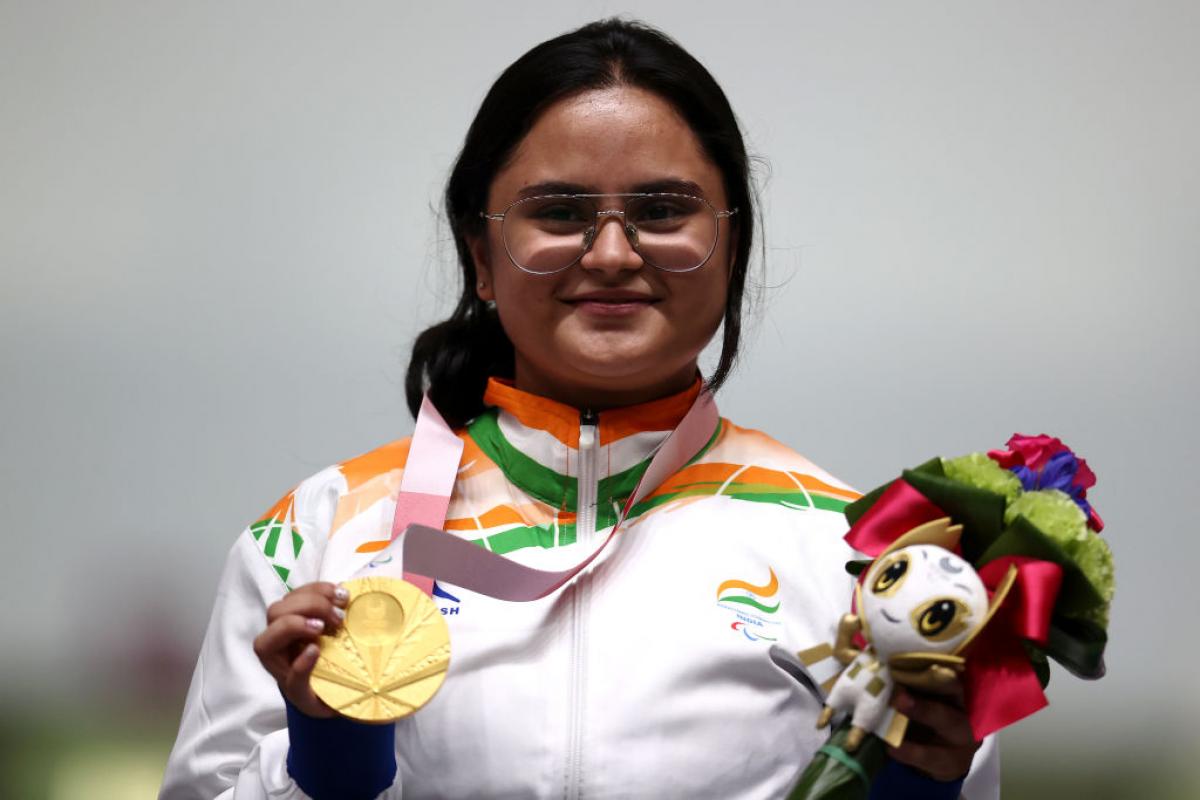 Ⓒ Dean Mouhtaropoulos/Getty Images)
By ND Prashant I For the IPC
Nothing supersedes like success. How much a medal can change the life of a Para athlete and boost the Paralympic Movement in the country of over 1.3 billion can gauged with the reception the Indian team received following their unprecedented 19 medals, including five golds, eight silvers and six bronze.
India recorded their best-ever Paralympic performance by finishing 24th in the overall medals tally. For a country starved of sporting excellence, other than in cricket, the success at the Games will be etched in history as a corner stone for a new era.
Suddenly there is a euphoria in the entire nation and an eagerness to know about the little-known Para athletes who have become an overnight household names with their spirited showing.
Nineteen-year-old Avani Lekhara was a surprise package in the strong and largest contingent till date of 54 Para athletes, and she gave the kickstart by firing in a gold in the women's 10m air rifle standing SH1 shooting.
An entire nation was startled by the teen's showing and as the sun set over the Olympic Stadium and floodlights took centrestage, more glory was bestowed on India.
Another youngster, 23-year-old Sumit Antil, put everything behind his javelin to break multiple world records en route to gold. His best throw of 68.85m in F64 made enough noise to awaken the sleeping giant India with an explosion of joy.
In less than 24 hours, his medal winning video posted by the International Paralympic Committee garnered over 2.5 million views.
More gold rush came with another teen Manish Narwal showing his sharp shooting abilities in the mixed 50m pistol SH1 amassing 218.2 points to set a Paralympic record. India was so dominant in the event that they cliched the top two spots with Singhraj Adana settling for silver.
Para shuttlers Pramod Bhagat and Krishna Nagar added more golds to India's medals tally with victories in the men's singles SL3 and SH6 events, respectively.
So much has been the adulation that everyone wants to get on to the bandwagon - right from politicians, state governments to corporates.
Indian Prime Minister Mr Narendra Modi, who personally spoke with each athlete after their accomplishment, also hosted the Para athletes, their support staff and coaches.
"The Paralympians' achievements will significantly boost the morale of the entire sporting community in the country, and budding sports persons will feel encouraged to come forward to take up sports," said the 70-year-old.
Union Sports Minister Anurag Thakur also hailed Indian team's showing by saying that a 'new era had begun for Paralympic Sports.'
"Modi govt will continue to support and enhance facilities for our athletes in a targeted manner to achieve podium finish in 2024 & 2028. Performance of athletes has been extraordinary; it's changed attitude towards sports in India!" Thakur tweeted.
There were also several firsts - archer Harvinder Singh became the first Indian to win a medal in archery. Lekhara's gold medal winning performance was the first by an Indian to win a medal in shooting and once she bagged bronze in the women's 50m rifle 3 positions SH1, also became the first woman from the country to become a multiple medallist at the Paralympics.
Antil, who did not have a job going into the Paralympic Games, soon after this record-breaking performance for gold informed the IPC that he has received a couple of offers.
"I have a few now and I will be going back and evaluating what would suit me better and take a final call," said Antil, whose state government Haryana announced a cash reward of INR 6 crore (approx. EUR 0.6 million).
Both Narwal and Adana were set to receive INR 6 crore (approx. EUR 0.6 million) and INR 4 crore (approx. EUR 0.4 million), respectively.
Silver medallist Yogesh Kathuniya (men's discus throw F56) and archery men's individual recurve open bronze medallist Singh walked away with a purse of INR 4 crore (approx. EUR 0.4 million) and INR 2.5 crore (approx. EUR 0.2 million) each.
The state of Rajasthan announced cash rewards for each of the three medal winners – Lekhara was richer by INR 3 crore (approx. EUR 0.3 million) while silver medallist Devendra Jhajharia and bronze medallist Sundar Singh Gurjar will receive INR 2 crore (approx. EUR 0.2 million) and INR 1 crore (approx. EUR 0.1 million), respectively. Additionally, all three athletes have been appointed as assistant conservators of forest in the State forest department.
Lekhara is also set to receive the first customised sport utility vehicle for people with disabilities from car manufacturer, Mahindra Group.
"It is nice to get recognition for all the hard work you have put. There were so many people praying for us back home. Suddenly, the sport has generated so much interest. It is huge for Para athletes and for women, as a whole in India," said Lekhara.   
State government of Himachal Pradesh will present INR 1 crore (EUR 0.1 million) to silver medallist Nishad Kumar (men's high jump T47) while Tamil Nadu state has announced a cash prize of INR 2 crore (EUR 0.2 million) for Mariyappan Thangavelu for his silver medal winning performance in high jump.
Paralympic Committee of India President Deepa Malik also hailed the achievement of the athletes as historic and a game changer.
"This success will go a long way. It is like India has arrived on the big stage. The boost that Para sport and Para athletes will now receive will be phenomenal.
"The response and love that our countrymen showered on the medal winners is mind boggling and now on it will be easier for them to come into the mainstream. India simply cherished each and every achievement from our Para athletes. The social medial was abuzz and so was the print and television media. I'm confident that the momentum that we have gained for the movement will go a long way."