Japanese legend Miki Matheson hails Wethe15 initiative
The former ice sledge speed racer stresses on the need to keep the momentum going after Tokyo Games
23 Aug 2021
Imagen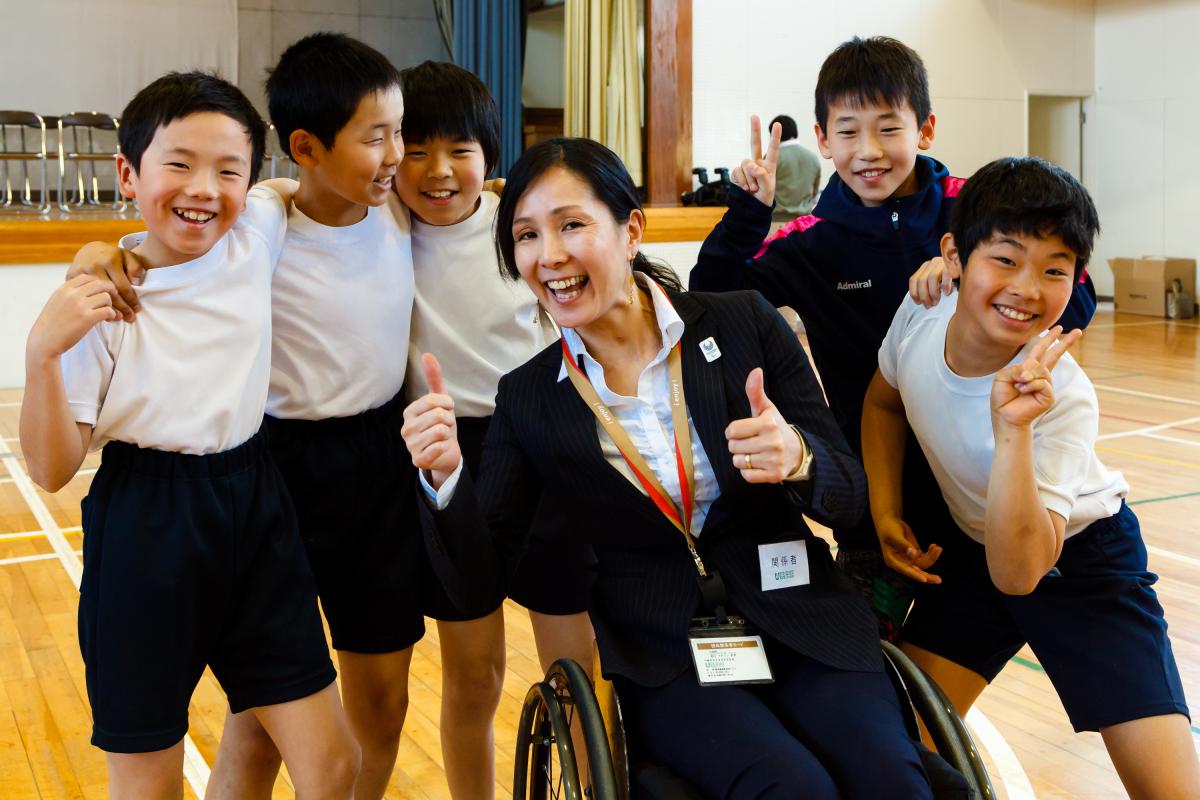 By ND Prashant | The IPC
Three-time Paralympic Winter Games gold medallist Miki Matheson has a cramped diary with the Tokyo 2020 Paralympic Games due to start on 24 August. The former ice sledge speed racer, who enjoys a celebrity status in Japan, is in demand for interviews but patiently obliges and meticulously answers with tremendous wisdom and poise.  
The IPC caught up with the Canadian resident on the side-lines of the launch of the Wethe15 initiative ahead of the Tokyo Games where Matheson spoke from the heart without mincing her words.
Feeling impressed with the 10-year roadmap laid out for the 1.2 billion peoples with disabilities, Matheson reflects on her days of struggles and discrimination, and her hopes for a better future for persons with disabilities worldwide.
"What excites me the most is the opportunity the initiative would give to the wider section of the population of persons with disabilities.
"I'm happy that Wethe15 showcases that (the Paralympic Movement) is not only for elite athletes. Up until this point, we have been focusing on the Paralympic Games for elite athletes, but that is only a tiny section of people," said Matheson, who is the deputy Chef de Mission for the Tokyo 2020 Paralympic Games.
  Matheson stressed on the potential for the campaign to impact those who might otherwise have been left behind.
"All these years, I felt that we are leaving the large section of people behind. Some kids with disability couldn't feel a connection to the Paralympics. With Wethe15 campaign, we will scoop up all those population of persons with disabilities. So, I believe it has a huge potential," elaborated the 48-year-old.
With the Tokyo 2020 Paralympic Games, these are exciting times for the persons with disabilities in Japan, but how things pan-up post Games is what interests Matheson the most.
"Since 2013, when Tokyo was announced as the host, the Government of Japan has changed the law regarding disabilities and a lot of facilities are being upgraded to accommodate more people with disabilities.
"So that kind of momentum has started but I don't want it to stop at the Closing Ceremony. Our job is to keep on moving and keep on evolving," asserted Matheson, who lost mobility in her legs following a car accident at 20 years old.
While urging support from the governments across the globe, Matheson asserted also for the need for people to change their mindset towards persons with disabilities. 
"First of all, I would like to break the stigma. After my accident I thought the wheelchair was just my new device to move around. I'm not changing myself. But I was viewed and treated totally differently just because I was in a wheelchair. The wheelchair didn't change anything for me but people changed how they reacted because they saw my wheelchair first," recalled Matheson, while adding that societal pressure and judgement, at times, drives people with disabilities further into a shell.
"I'm an outspoken person so I wouldn't care for the negative comments around me. But there are a lot of introverts who get crushed with judgements and don't want to go out anymore. I want to be their voice.
"We cannot diminish their potential just because they happen to have a disability. So, if we can break this stigma and people can look up more towards to the potential of people with disability and not the lack of or incapability, then we will move things a little bit different - enhancing more employability and school participation rates."
To accomplish a change in mindset, a change is imperative at the grassroots level and that starts with changing perceptions of how young minds look at people with disability. The IPC's I'mPOSSIBLE educational programme has been instrumental in initiating such a change in Japan and over 35 other countries.
"At the beginning, the Paralympic education was misled with people thinking that it was just to learn about the Paralympic sports, history of the Paralympic Games, but its not just that. We are trying to ingrain a thought process: 'what an inclusive mindset is? And how to create an inclusive environment through the programme'.
"I have trained over 10,000 Japanese teachers and their mindshift has been changing," said Matheson, the face of I'mPOSSIBLE, with a spark of confidence.
"Presently, the I'mPOSSIBLE is spreading in 37 countries and still more countries to go. But a really, really good momentum is happening. So, I want to keep on going to make it stronger and bigger."