Tokyo 2020: USA's Marybai Huking swaps ice for goalball
Rio 2016 bronze medallist shares her first introduction to sports while she prepares for her second Paralympic Games
22 Aug 2021
Imagen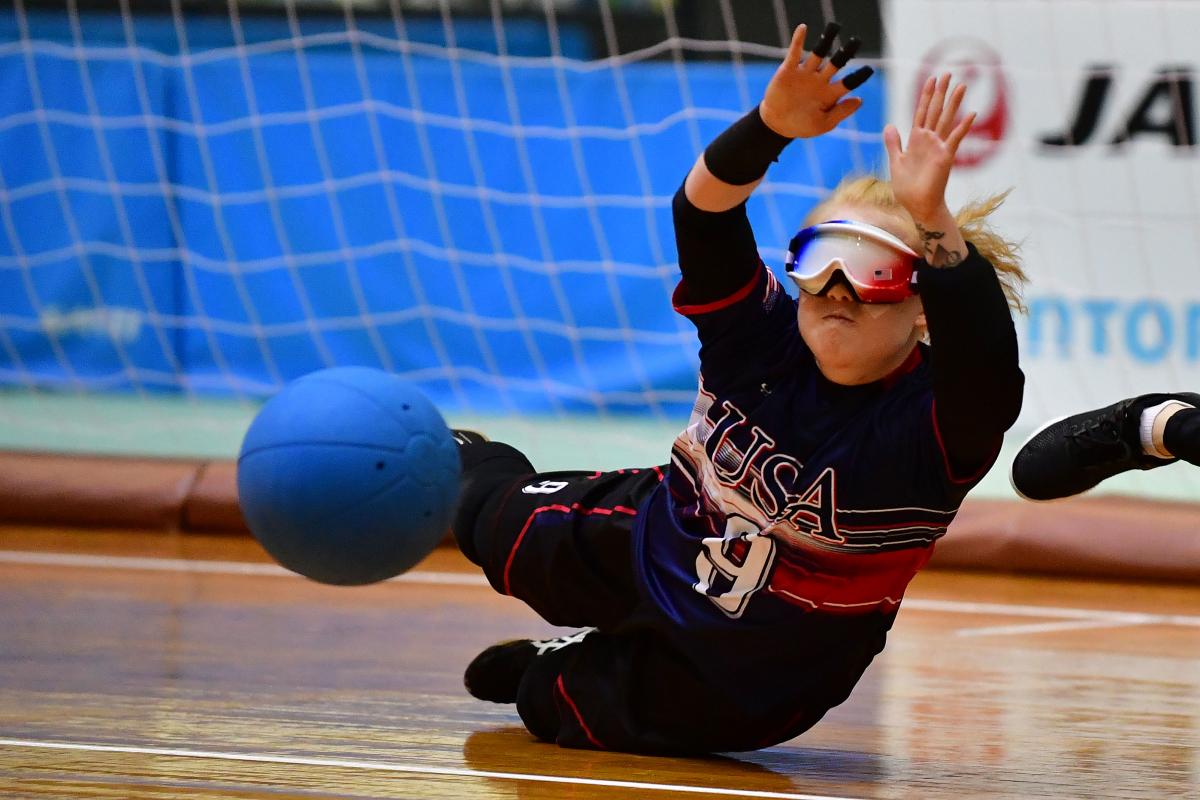 ⒸGetty Images
By Sam Harris | For IBSA
Marybai Huking has become a world class goalball player, helping the US women's team claim gold at the Rio 2016 Paralympics and preparing for her second Games in Tokyo.
But the first sport she tried at a young age was not the one that would see her competing at the highest level; it was figure skating.
While there were some similarities between the two sports, there were also aspects she had to get used to.
"Though being part of a team was one of the best things about goalball, it was also one of the hardest. It took some time for me to learn how to be part of a team, accepting that winning together and losing together were non-negotiable. Many of the skills that helped me be successful in figure skating transferred over to goalball. I was used to long hours, hard training, and attention to detail."
Her introduction into a sport that now sees her travelling to her second Paralympics at Tokyo 2020 came through the Utah Foundation for the Blind and Visually Impaired, which aims to enhance the lives of blind children and adults through various programmes including sport.
"The foundation is a large part of the reason that I have been able to find success in the sport. I was given so many opportunities to compete, to train, to coach, and was always supported as I took steps towards the national team. I learned so much from my time and still do everything I can to give back through volunteering at sports camps and coaching regionally."
Huking has had a remarkable life even away from the court, having been adopted from Yingtan, China when she was two-years-old after being born with albinism and classified as legally blind.
"I am now part of an amazing family, and I am one of five children who were all adopted from different parts of China. I am the second oldest, the only girl, and my single mom, Claire, adopted us all on her own."
However, she did not let this uncertain start affect her and started playing goalball in sixth grade, having been inspired by the older girls on her team who she looked up to.
"I also immediately loved the team atmosphere and realised how much more fun it was to play on a team. As I got more involved with tournaments and was able to play the sport competitively, I realised how much fun the sport was and loved the challenge that being completely blindfolded posed."
Within six years she was selected for the Rio 2016 Paralympic Games, which vindicated her decision to swap the gracefulness of figure skating for the aggression of goalball especially, when the USA team took home a bronze medal.
Ⓒ Getty Images

"Competing in Rio in 2016 was one of the coolest, craziest, scariest experiences I've ever had. There is no way to describe the amount of pressure, excitement, and energy you feel at your first Games. So much of the experience was a whirlwind, but I so vividly remember the first time we walked into our competition venue and what it felt like standing on the podium."
Those experiences five years ago have given her a taste of the biggest event in Para sport and she feels this will help her as she heads to Tokyo 2020.
"I'm thankful to have had the experience of Rio to give me a sense of what the pressure, routines, and lifestyle are like while at the Games. There really is nothing like being at the Paralympics, and it's great to have that knowledge to help mentally and physically prepare."
As with every athlete though, they were in an unexpected situation during the build-up to the Games with the uncertainty over whether it would even take place due to the pandemic.
"It is surreal to think that we are only a couple of weeks out from Tokyo. We have waited for such a long time, and I feel such a sense of gratitude that the Games are even still happening. It was devastating to have them pushed back a year, but our team has really taken this as an opportunity for growth and progress."
The Tokyo 2020 Paralympic Games will take place from 24 August – 5 September 2021 with goalball beginning on 25 August and concluding on 3 September. All competitions will take place at Makuhari Messe.