London 2019: Aurelie Rivard continues to show bullies who the boss is
Swimming star and mental health campaigner ready for more golds in London
09 Sep 2019
Imagen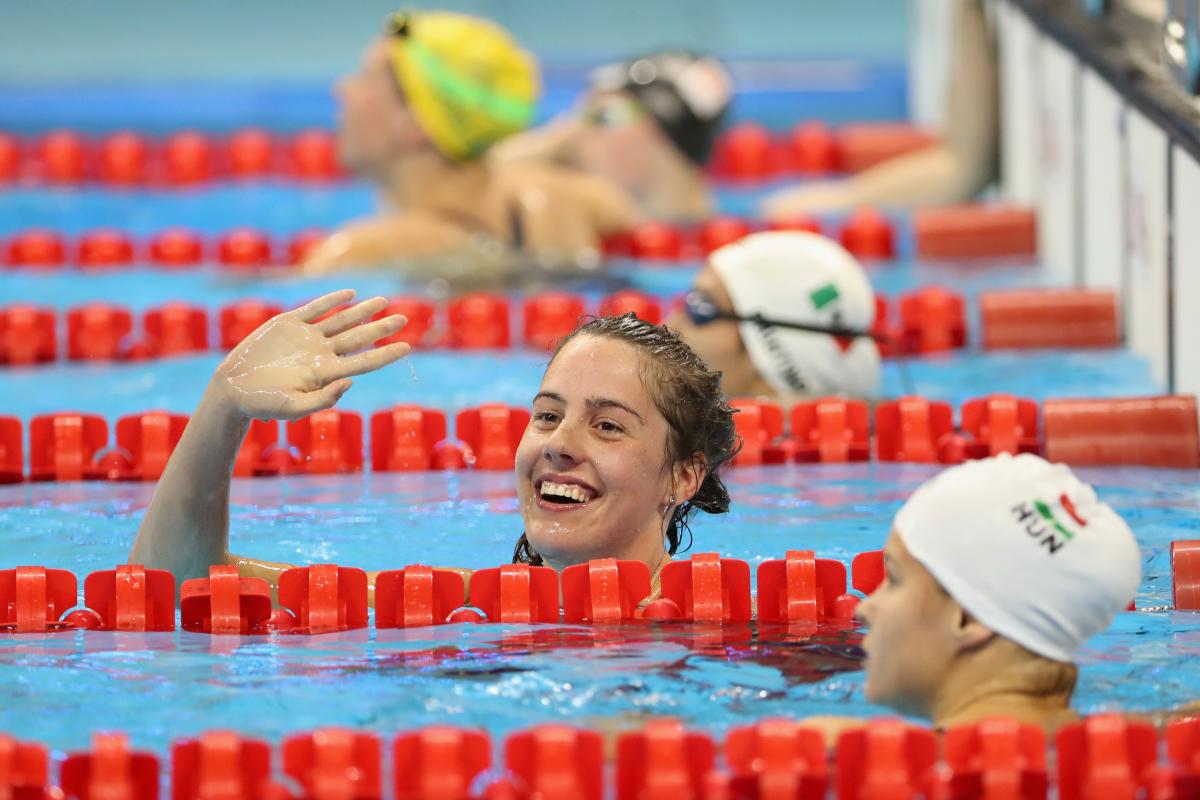 ⒸGetty Images
By Amp Media | For World Para Swimming
When Aurelie Rivard steps on to the blocks for her first race at this week's World Para Swimming Allianz Championships in London she will do so not only as a double defending champion, triple Paralympic gold medallist and four-time world record holder, but she will also stand there as a totemic anti-bullying figure. 

And that, for Rivard is just as important as any sporting accolade. 

"I know I am not the only one who went through it, I know how hard it was and how hard it can be," said Canadian Rivard, who revealed in an interview with CBC in April this year that she had suffered consistent and vicious bullying for several years from the age of 12.

"I have got a lot of messages from parents and kids who have been experiencing similar things and honestly that is one of the main reasons why I spoke out."

Standing up for others

The ebullient, high achieving superstar who has dominated the S10 category since grabbing two World Championship and six Parapan American Games gold medals in 2015 appears, from the outside at least, to be an unlikely target for bullies. But that is exactly the point. 

"Me as a kid, when I was going through that, one of the things I was looking for was someone who would understand me," said Rivard, as she explained just why she had chosen, at the age of 23, to highlight those who had made her young life so tough. 

"It was very hard to talk about. It is not a place I like to go back to. But I was happy I went back there; it was worth it," she said. "The more I talked about it helped me as well to be at peace with it. It's been good for a lot of people. 

"As parents you are so powerless when your kids are going through that, so they have understood it better. I have given them tricks to help their kids as much as they can and same with the kids, giving them hope. Honestly, I have been really happy that it has helped even one kid. It's been very positive."

The trouble for Rivard started when she left her twin sister, Charlotte, to attend a specialist sports school. As a naturally reserved 12 year old she found it very difficult to stand up for herself. 

Defying the critics

"If there was one thing I would like to have known when I was that age it would have been to be more selfish, to be more focused on myself and not pay attention to what people were saying around me," Rivard said.

"I was so worried about what people would think and I was listening to them. I wish I had more confidence in myself back then."

Thankfully, the confidence finally came and less than two years after finding the strength to face up to her tormentors, Rivard powered to a magical 400m freestyle silver medal at the London 2012 Paralympic Games. 

"They were making fun of me for being a disabled girl who would never achieve anything in life," Rivard laughed. "Honestly I don't think I have to tell them anything, I think actions speak louder."

They certainly do and fans at the London Aquatic Centre can expect to see a whole lot more from this inspired athlete.

Fireworks in London 

"I always focus on times. I want to get as close as possible to or beat my world records and I also have titles to defend, so I want to go and win them back," said the swimmer who is the current S10 50m and 400m freestyle world champion and the 50m, 100m, 200m and 400m freestyle S10 world record holder. 

"I am excited to see everybody there and to race my rivals a year out from Tokyo. I love to race and I want to defend my titles but it comes with pressure, I feel like a lot of people want to beat me. 

"I am the girl to beat but I do not want to let them beat me."
Full coverage from London 2019, including live results, can be found on the official website.