Para Pan Pacs 2018: Double delight for Aurelie Rivard
USA and hosts Australia also celebrate on day two
10 Aug 2018
Imagen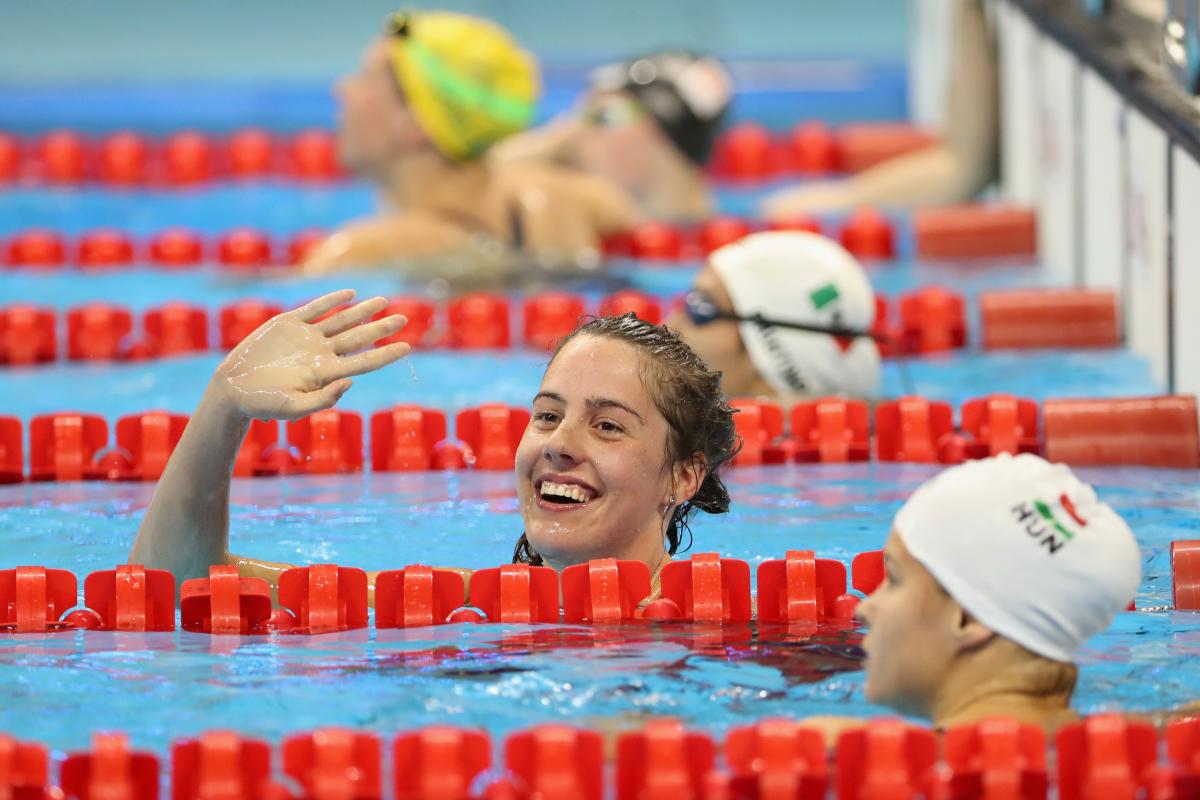 ⒸGetty Images
By Australian Paralympic Committee
It was another night of nail-biting racing at Tobruk Memorial Pool in Cairns, Australia as seven nations continued their battle to find out which will become the powerhouse of the pool at the Para Pan Pacific Championships. After the 400m freestyle events on day one, the Para Pan Pacs saw some big names back in action over two laps in the 100m freestyle on Friday (10 August).
It was almost a straight repeat of the Rio 2016 Paralympic Games for the S10 event, with Canadian Aurelie Rivard and New Zealand's Sophie Pascoe finishing first and second with less than half a second between them. Rivard, who touched the wall first (59.45) just in front of Pascoe's 1:00.19, was excited to step up on the podium for the second time following her sensational 400m freestyle world record win yesterday.
"It feels great, I love winning and it's what I look forward to in my freestyle events," the victorious Canadian said.
"After last night I was on such a high, so I definitely had confidence coming into this race tonight. And the crazy thing was that I could hardly sleep and still did this. I was so hyper last night, but that's what happens when you have a good race."
Clean sweep for USA
Team USA backed up their results from Thursday, with a second sweep in the 100m freestyle S7. McKenzie Coan grabbing her second gold in as many days, with teammates Julia Gaffney and Courtney Jordan following just behind in second and third place respectively.
"It's super, super exciting to win another gold medal here in Cairns," Coan said.
"I knew the first few days of competition with the 400m free and the 100m free back to back was going to be good, they're my two favourite events, so I'm really happy to top it off with another gold tonight.
"And do you know what? There's nothing like being part of a Team USA sweep! Having a sweep in the 400m yesterday and having a sweep tonight was so much fun. Being up there on top of the podium is amazing but it's 10 times better when you've got your team mates right there beside you."
Home heroes
Just like the women's S10 final, the men's event delivered a thriller. Australia's Rowan Crothers, whose seed time was a full second quicker than he same in Rio two years ago, hit the wall in a speedy time of 51.16, while Brazil's Phelipe Rodrigues came in behind to win silver, and Australian Guy Harrison-Murray the bronze.
But the event that got the home crowd roaring was the 100m freestyle S8 event, as Australian rookie Ben Popham won his first gold medal for his country
On a night where Australia lead the charge once again to win a total of seven gold medals in Cairns, the 17-year-old covered the two laps in a personal best time of 59.33, for his first gold medal at an international meet.
"I knew I had to get out fast if I wanted to post a good time and I'm pretty confident in my back end being about to motor home, and I was able to just do that," he said.
"I was a bit nervous before I raced and put a bit of pressure on myself because I really wanted to get the best out of myself.
"It's really special when you break a minute and now I've just got to break 58 seconds."
The night also began and ended with the Australian relay teams picking up gold medals. The S14 relay team of Liam Schluter, Daniel Fox, Jamie Lee-Getson and Taylor won the first gold medal of the night, before the men's 34 point medley relay team of Tim Hodge, Rick Pendleton, Tom Disken and Matt Levy rounded out the gold medals for the night against Brazil.
Gold medal tally after day two
Australia: 19
USA: 15
Japan: 7
Canada: 6
Brazil: 6
For full results visit Swimming Australia's website.
You can watch day three live on World Para Swimming's website.