Lucy Ejike: I would choose Paralympics all over again
The Nigerian ace powerlifter completes two decades as a top-notch Paralympian this year
17 Aug 2020
Imagen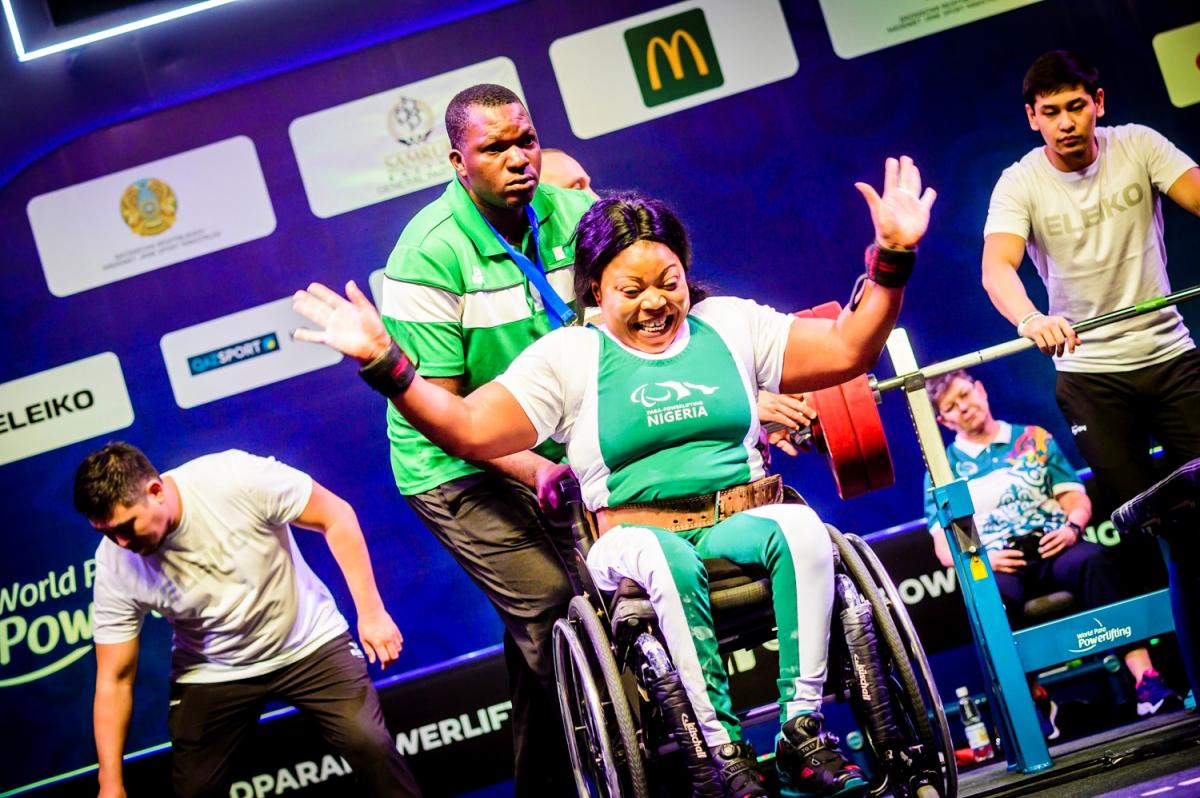 ⒸHiroki Nishioka for World Para Powerlifting
By Gracious Toriro
Nigeria's superstar powerlifter Lucy Ejike is celebrating her 20th anniversary as a proud Paralympian this year but she is in no mood to rest on her laurels. The 42-year-old who will be participating in her sixth Paralympic Games in Tokyo, feels she has still enough power left in her for that perfect lift to finish on the podium.
"I was set to celebrate my 20-year journey as a Paralympian had the Tokyo 2020 Games gone as per plans. Though the COVID-19 pandemic has pushed it to next year, I'm upbeat," said the five-time Paralympic medallist, who has won three gold and two silver since her debut at Sydney 2000 at the age of 22.
Through the Paralympic Movement, Ejike has become a champion, role model and an ambassador in her country and in the sport of Para powerlifting. She has used her Paralympic journey and platform to inspire others and to demonstrate that one can achieve anything if they put their mind to it.
Ejike feels that her journey has helped changing perceptions towards disabilities and she wants to keep inspiring people by going as long as possible.
"Given a choice, I would choose Paralympics all over again as being a Paralympian has brought honour, respect and dignity to me and my country," said Ejike, adding, "It has not been an easy journey for me, but because of determination, hard work and discipline, I have managed to come this far with pride."
Ejike recalled her fighting spirit, drawing the attention towards the efforts she put in following her silver at the Sydney 2000 Games which she felt was 'disappointing'.
"I asked myself 'Does the person who won gold have two heads? Definitely not. She has one head' and if she could get gold, I can also get the gold medal."
The next four years were all about chasing the elusive gold and en route to the next Games in Athens, she broke the World Record thrice. She rates that journey to Athens gold as the most memorable, one along with her third gold at Rio 2016.
Ejike said, "Being Nigeria's flag bearer [at Rio 2016] was the cherry on top as this is every athlete's dream."
Dealing with COVID-19
Like most athletes, Ejike too was utterly disappointed with the postponement of the Games but acknowledged that this decision was in the best interest of the athletes' and the world's health.
She revealed, she was at the peak of her training; stronger than ever before.
"The impact of COVID-19 and postponement of Games has not been totally negative for me. It has given me more time to train, to spend time with my family and to develop other non-sport related skills, but I was very much ready for Tokyo. I miss training with my teammates and competing together."
Though the postponement has impacted her training schedule immensely, Ejike felt, it has not dampened her spirit and her quest for gold.
"I have resumed my training at home as training centres are still closed. It would take some time to regain top fitness and lack of competition is also a worry, but you can be assured, I will be ready for Tokyo," said Ejike before signing off.