Multiple Paralympic champions and young stars pushing the limits for USA
US to present mix of first-time Paralympians and Para sport legends
20 Aug 2021
Imagen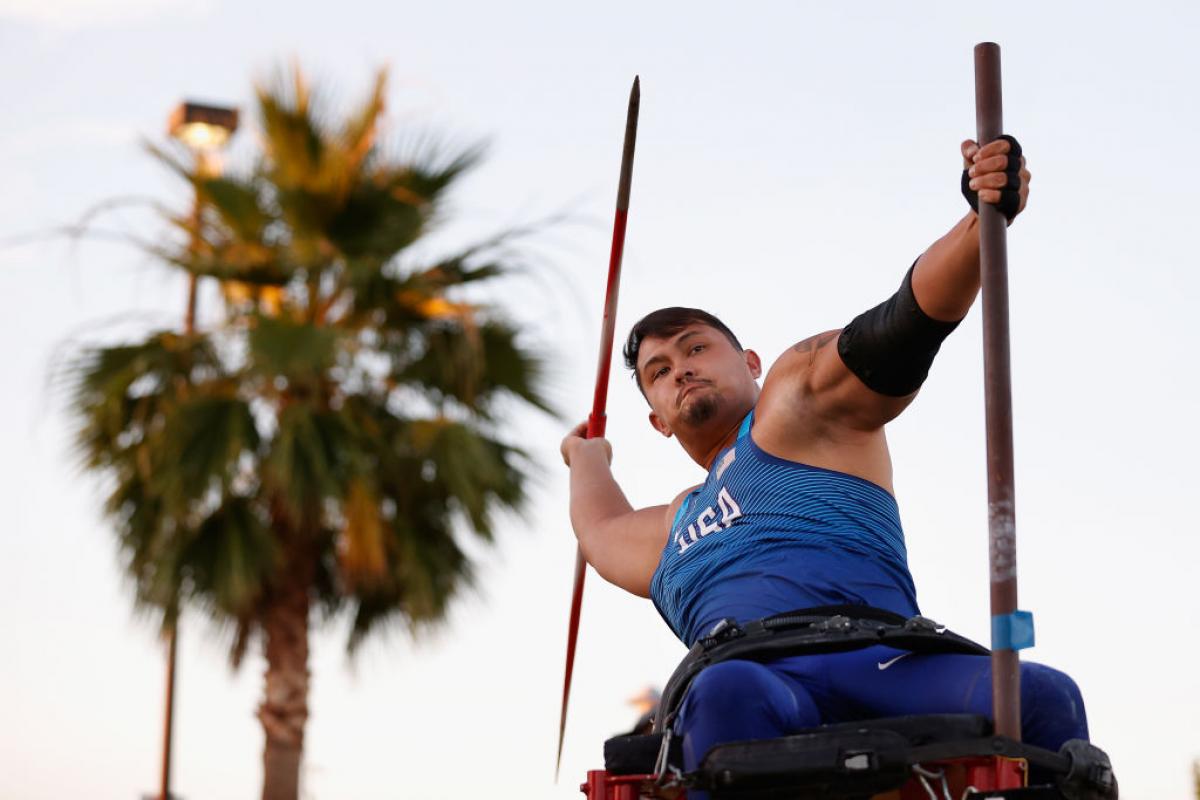 ⒸChristian Petersen/Getty Images
By Teddy Katz | For the IPC
Competing in his first Paralympics in Tokyo, Justin Phongsavanh is coming into the Games hoping to cement his place as one of the stars of the future for Team USA.
In June, Phongsavanh shattered the World record (33.29m) in the javelin F54 event at the US Paralympic Trials in Minnesota. 
"It's an amazing turnaround. I didn't expect anything of myself after leaving the hospital, and now I have every expectation of myself to exceed in life and everything that I do, because I know in my mind that I can do absolutely anything."
Six years ago, as an 18-year-old, Phongsavanh found himself in the wrong place at the wrong time.  He was with a friend getting a late-night snack at a fast food outlet when a stranger followed them out of the restaurant and assaulted his friend with a gun, causing a huge gash on his friend's forehead.
"I attended to my friend and grabbed my phone to call the police and the ambulance, he (the stranger) opened up his car door and shot at us five times."
One of the bullets travelled through his body and severed his spine, leaving Phongsavanh paralysed from the chest down.
After five months in hospital, he was back home in Iowa. It was winter and he was bored. He did not know anything about the Paralympics but called the local adaptive sports federation.
He tried wheelchair basketball, but it was not for him. That is when the director learned he competed in track and field in high school and threw discus and shot put, so he had him try the javelin.  Phongsavanh has made a rapid rise in the sport ever since.
Hardly surprising that when COVID-19 stripped away everything and made training for the Games difficult for many athletes in 2020, Phongsavanh found a way to adapt.
With the Olympic Training Centre in Chula Vista, California shutting down, he went home to Iowa. 
A friend of his mom's had two acres of farmland sitting idle. "It's all grass surrounded by corn fields."
He built himself a wood platform where he could strap himself in his wheelchair to throw. His coach, Erica Wheeler, an Olympic javelin thrower from the Atlanta 1996 Games, gave him tips over zoom.
That led to some of the best throws in history in his event, including his World record.
"If an athlete has broken the world record after a year of no expectations and uncertainty, it really shows how much grit they have. In my case, all I ever wanted was to be a Paralympian and I was not going to let anything, especially a virus, stop me."
US DELEGATION
Team USA will feature 290 athletes with familiar names and multiple Paralympic medallists such as wheelchair racer Tatyana McFadden and swimmer Jessica Long expected to lead the way.
Para swimmer Jessica Long Ⓒ Getty Images

The team's Chef de Mission, Julie Dussliere, says it is a great mix.
"Team USA is very excited about not just the returning stars, but also the young, up-and-coming talent we have on the Tokyo Paralympic team," asserts Dussliere.
She adds, "We have first-time Paralympians who are already World champions like Clara Brown, and world record holders like Justin Phongsavanh. They have proven themselves as Team USA's next generation on all but the Paralympic stage. We can't wait to see them shine in Tokyo."
Clara Brown only started in cycling in 2018 and was originally aiming for the Paris 2024 Paralympics.
A former competitive gymnast, at the age of 12, she had a freak accident in training. She landed on her head, crushed two vertebrae in her neck and had an incomplete spinal cord injury.
After months of rehabilitation, she regained some function, but has limited ability throughout her right arm and leg.
She joined her high school rowing team as a coxswain before a friend told her there was a way for her to safely race on a bike that could be adapted to suit her abilities.
Brown cannot open her right hand and control her fingers.  So, she controls everything on her bike, including braking and changing gears, with her left hand. But she had no idea this could be done.
"That just speaks to the lack of exposure that the Paralympic Movement has (in the US). And you know, I was 12 years old when I got hurt and desperately wanting to get back into sports and felt like I didn't have a whole lot of options," Brown says.
Clara Brown Ⓒ Getty Images

The first year on the team she was at the pack of the back as she learned the strategy that goes into racing in cycling. Then in August 2019, she had a big breakthrough at the Parapan Am Games in Lima, winning three golds.
She now regularly hits speeds of 25 miles an hour. In early 2020, Brown won two world titles, and took home two silvers at the 2020 UCI Para Cycling World Championship in Milton, Ontario.
She will compete in four events in Tokyo, two on the track, two on the road and hopes to win a medal in all of them.
While fans may not be in the stands in Tokyo to cheer her own because of COVID-19 restrictions, Brown is excited by the amount of broadcast coverage that will take place in the USA.
"With NBC announcing they're going to show the Paralympics on primetime, that's obviously a huge step. As it gains more traction, Para sport will hopefully become more and more mainstream and shown as much as the Olympics because we are elite athletes and are equally as deserving of the coverage."
The 25-year-old is hoping Tokyo is just the start of the glory years for her and the Paralympics in her country.
"LA 2028 has been an easy point to focus on because it is our home Games, and I really hope that we can continue to keep growing the US presence and we will get to the point where other nations are, and hopefully further along."
Brown says that it is important so that nobody misses out on the opportunities that almost did not come her way – if not for her friend.
"I just think of how many athletes are out there in the world, not just in the US, but across the globe, who may have similar stories to mine. They're dealing with impairments that limit their involvement in sport. There are so many options out there, you just need to know about them."