Portugal's first and only Para powerlifter Fragoso proud to be smallest in the field
The Paralympic swimmer-turned-powerlifter will next compete at the Vila Real de Santo Antonio 2022 IWAS Games, to be held in Portugal from 23-29 November
22 Nov 2022
Imagen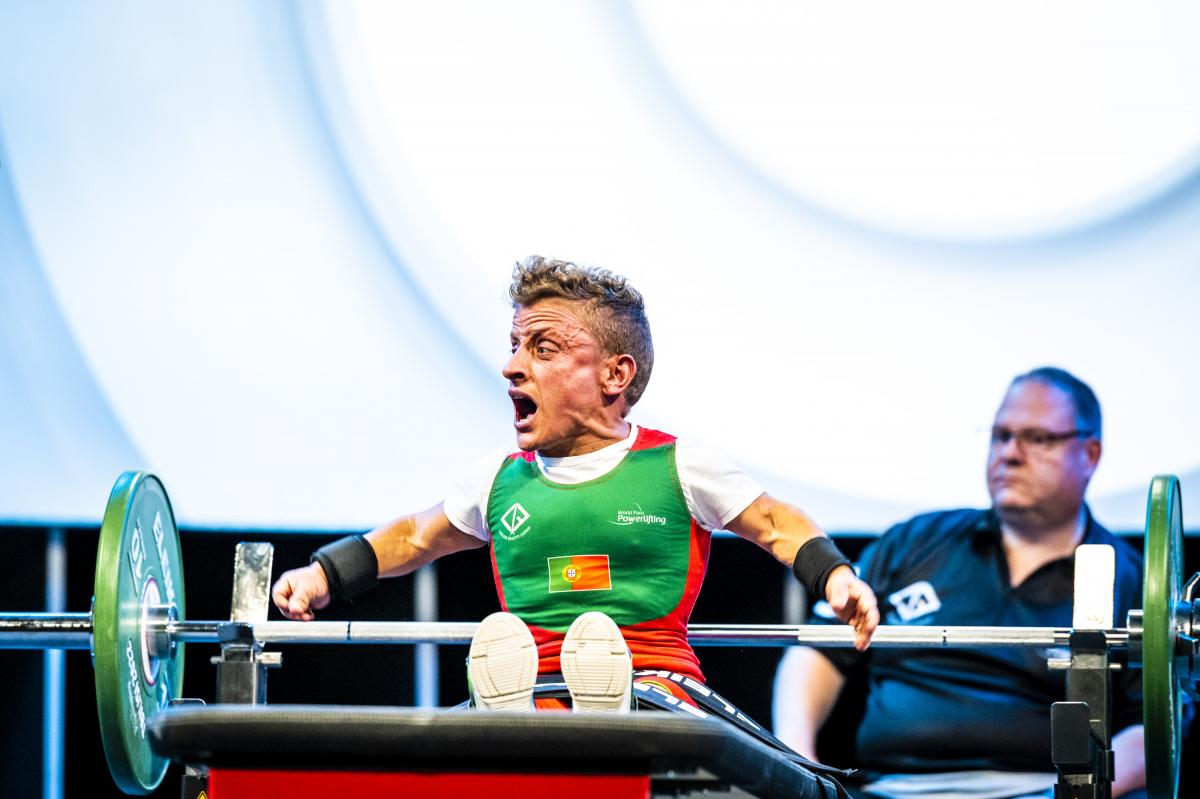 ⒸHiroki Nishioka/WPPO
By Lena Smirnova | For the IPC
Simone Fragoso is used to getting a few stares when she goes to the gym. 
At a weight of 26kg and competing in the women's up to 41kg, she is the smallest Para powerlifter in the smallest weight class there is. She is also one of the strongest.
"When I go to the gym, the big men stare like, 'What? What?' They see me, 'How come? How come? She's so small!' And I just raise the bar, 'Ooof!'," Fragoso said.
Her personal best lift of 45kg is almost double her bodyweight and she is aiming to boost that number to 60kg in the next two years leading up to Paris 2024. These would be her fourth Paralympic Games, but the first in Para powerlifting.
More than a personal ambition, as the first female and currently the only Para powerlifter among the 10 million Portuguese, Fragoso knows each of her lifts makes a difference beyond the scoreboard.
One and only
Fragoso has competed in sports since she was 26. Prior to getting her hands dusted with lifting chalk, she was an accomplished Para swimmer, specialising in the butterfly and competing at three Paralympic Games.
The marks on her body are a testament to that.
"Beijing 2008, London 2012, Rio 2016…" Fragoso lists off as she points to three tattoos that pay tribute to her biggest sporting milestones. 
Is there space for a Paris 2024 tattoo as well?
"Right here!" she agrees enthusiastically, pointing to her forehead. "And Paris! First woman from Portugal!" 
The dream of going to the 2024 Paralympic Games as a Para powerlifter was born just over a year ago when in April 2021 Fragoso was first invited to try out the sport. She had just learned that she would not qualify to Tokyo 2020 as a Para swimmer and was eager to explore other options.
"I had the time for Tokyo, but there was a COVID virus and the pool was closed, so we could not train for Tokyo. Then there was only one quota for girls. I was at 12th place in the butterfly and my colleague was at 8th place, so she went. I didn't," Fragoso said.
"Then I wanted to start something new. Everyone in Portugal knows me as a swimmer and now I'm going to take the first step as a powerlifter so everyone can practise. I can be an example of resilience.
"We are on the road to take the first step for others to begin in Portugal."
Fragoso was not a complete novice when she made the switch to Para powerlifting. She had weight sessions in the gym as part of her training for swimming, lifting as much as 35kg, but when her focus turned fully to Para powerlifting, her ambitions also got heavier.
At the 2022 European Open Championships, which were held in Tbilisi, Georgia in late September, Fragoso went for her personal best in the final round despite missing the previous attempt.
"(For the first attempt) the coach told me, 'Simone, I want only to mark', so we mark the 35. It was good. It's comfortable, to initiate. And then we were going for 40. Then the 40 doesn't go well and he wanted to repeat the 40, and I said, no," Fragoso said.
"I was arguing and I said, 'Coach, let's do the 45! Let's do it!' 'And you're comfortable with that?' 'Yeah, let's do it! I have strength, I can do it'.
"'I got the comfortable mark, so let's do the uncomfortable mark. Let's do my best'. 'Are you sure?' 'Yeah!'"
While the 45kg lift was not enough to earn Fragoso a medal, she received numerous congratulatory messages and hugs from the other athletes after the competition wrapped up.
"I'm the smallest. I'm the oldest. And I'm a woman," Fragoso said of her popularity on the Para powerlifting circuit. "And you know, people think it is the men in sport who have the power."
Putting on a show
The spectacle that is Para powerlifting is a good fit for Fragoso, who besides competing in the sport and coaching swimming, also has a background in music.
Holding a master's degree in musical education, Fragoso knows first-hand what it takes to put on a show. And for her, the drama of being alone on the Para powerlifting stage for two minutes to do the lift is not comparable to jumping into the pool with seven other athletes.
"It's like a kind of theatre," she said. "This is a theatre and you do your performance. You only get two minutes. The anxiety grows with that. In the swimming pool, we don't have that. You can do your best in three minutes or two minutes. You do your best, but you don't get a time (limit). It's only your time."
With her heart pounding during those two minutes on stage, Fragoso finds energy in the loud and dramatic music typically played at powerlifting competitions.
"I have anxiety, so the heart beats a little bit faster," the athlete said. "I love the music. It gives you strength. It gives you something to be nervous about, to be motivated to do your performance."
There are no doubts about how motivated Fragoso is, with or without the music. Even when she goes on holiday, she spends much of her time staring up at barbells.
"I train during my vacation, my summer vacations," she said. "I went to Spain on a tour with someone and we chose the hotels that have the bench and the bar, so I can train four times a week, three times a week."
Fragoso's next goal is to lift 60kg, which would boost her chances of qualifying for Paris 2024. Leading up to that, she will compete at the Vila Real de Santo Antonio 2022 IWAS Games, to be held in Portugal from 23-29 November.
Live results from the competition are available here.