Swimmer-turned-powerlifter Harding pays tribute to late father with breakout title
Great Britain's Matthew Harding won the European title in the men's up to 72kg a year after switching his focus from Para swimming
13 Oct 2022
Imagen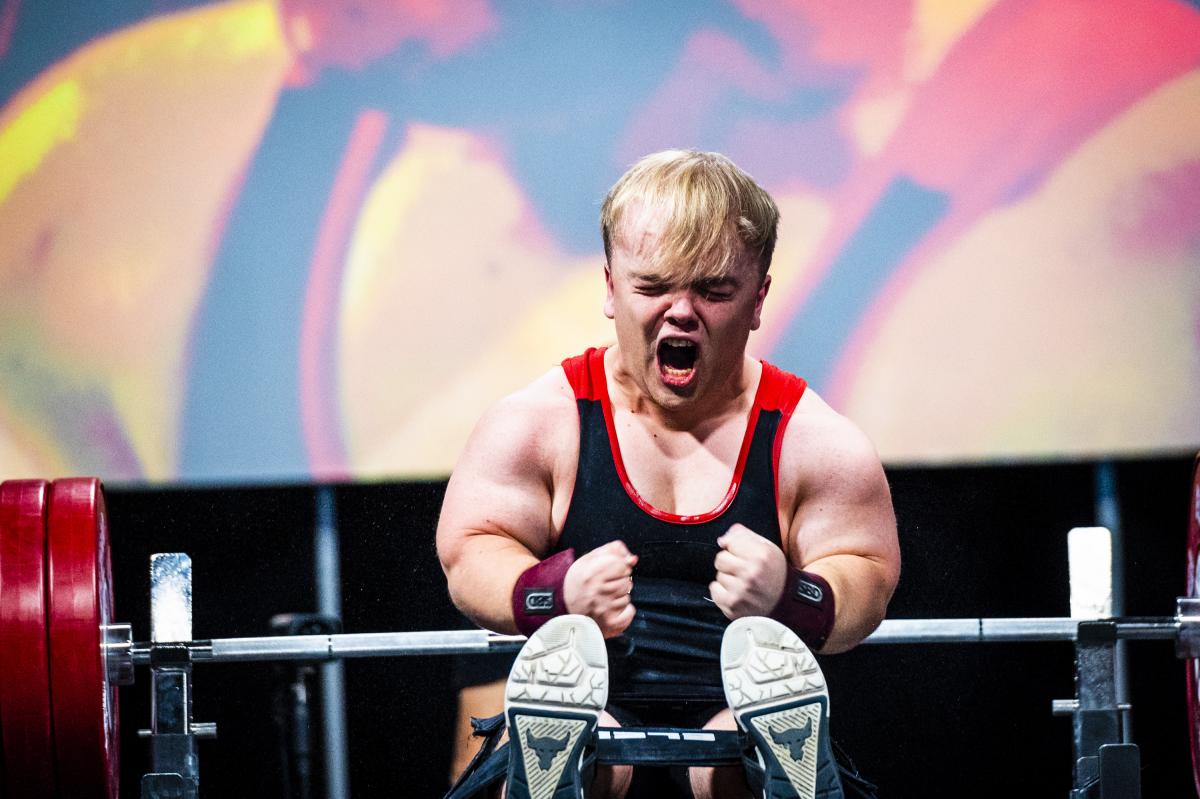 ⒸHiroki Nishioka/WPPO
By Lena Smirnova | For the IPC
Matt Harding walks up to the weight bench as his name is announced over the loudspeaker at the 2022 European Open Championships in Tbilisi, Georgia. 
It is a booming voice, but Harding seems to take no notice of it. As time ticks off the two-minute allowance given to athletes to make their lifts, the British Para powerlifter takes a full, unhurried minute to stand by the bench, resting his fists on its vinyl surface. 
Only when the buzzer of the one-minute warning sounds does Harding climb onto the bench, strap in, and reach for the bar.
A few seconds later the announcer's voice booms over the hall again: "Good lift". That phrase is repeated after each of Harding's three attempts.
Starting with 172kg and climbing to a personal best of 179kg in the men's up to 72kg, Harding waits for that voice, then shatters his detached, pre-lift demeanour with a joyous scream at realising that he just won his first European title.
Like Harding's internal dialogue before the lift, the full meaning of this gold medal goes much deeper than what can be seen on stage.
"During the start of the year I lost my dad to cancer and I always wanted to show what I'm capable of to him. To win the Europeans, to hold on to that, thinking of his smile, that's who I'm doing it for," Harding said after winning his first major medal in the sport.
"My family back home, they've always been supportive and it's been such a difficult year, and to actually have some positivity in this year, finally, I'm quite relieved."
Unseen, but present
Harding's father Colin supported him throughout his entire journey in sports. For the most part, that meant watching his son train and compete in the pool as the 23-year-old athlete specialised in Para swimming for the overwhelming majority of his sporting career.
While Harding won numerous medals at the junior and senior levels and broke two national records, in the 50m and 100m breaststroke, he did not feel that Para swimming allowed him to show his full potential.
The final straw was missing out on qualifying for the Tokyo 2020 Paralympic Games. After that, Harding made the decision to switch to a different sport. His choice fell on Para powerlifting and, from the start, it turned out to be an ideal match.
"There had to be another pathway to the Paralympic Games and I found my love for this and it's been an absolutely perfect road since," Harding said. 
"Both my coaches and I always talk about it. We just love talking about it. After I train, I look at powerlifting videos and it's just a day-to-day thing. I just love the sport and I'm so lucky to be a part of it."
Harding made his international debut as a Para powerlifter a few months later, at the 2021 World Para Powerlifting Championships in Tbilisi, Georgia where he finished 16th. 
Fast-forward another 10 months to September 2022 when Harding won two gold medals at the European Championships in the same city – for the best lift and the best total lift - with his loud celebration speaking more than words.
"I was trying to keep my emotions bottled up, but once I knew what I did was enough, then all the emotions just started to pop out," the European champion said. "The focus for me was to have all the emotions bottled up and then use them as the driving force. And when I did it, it just came out in my thoughts and I got quite emotional backstage. It was a good feeling. It was a great feeling."
Throughout those minutes, both on the bench and backstage, Harding's father was on top of his mind.
"Unfortunately, he's only seen one of my (Para powerlifting) competitions, which were the world champs last year and that was only online," Harding said. "He was meant to go to the (Birmingham 2022) Commonwealth Games with them being on home soil and he passed away just before that so to do this... he was with me today."
The road after Tbilisi
Harding's meteoric rise in Para powerlifting is all the more remarkable considering the competition field in the men's up to 72kg class – athletes with decades of experience in the sport and multiple Paralympic Games on their resumes. 
Not that this intimidates the sport newcomer.
"I train with the goal in mind to be the best and it's going to take a while, but I know with consistency I can compete with the best," Harding said. "I know that I am good enough to be included with the best and that wasn't the case with swimming, and that was really frustrating that the way to the Paralympics was swimming, but I'm actually at the moment fated to make it with Para powerlifting."
His next targets are the 2023 World Para Powerlifting Championships, to be held on 23-30 July in Dubai, United Arab Emirates and, following that, the Paris 2024 Paralympic Games.
This time, Harding is determined not to miss out: "It's full concentration on Paris."