Tbilisi 2021: Top nine moments
Georgian capital produced an amazing ninth edition of the World Championship filled with memorable moments from newcomers to world record-holders
08 Dec 2021
Imagen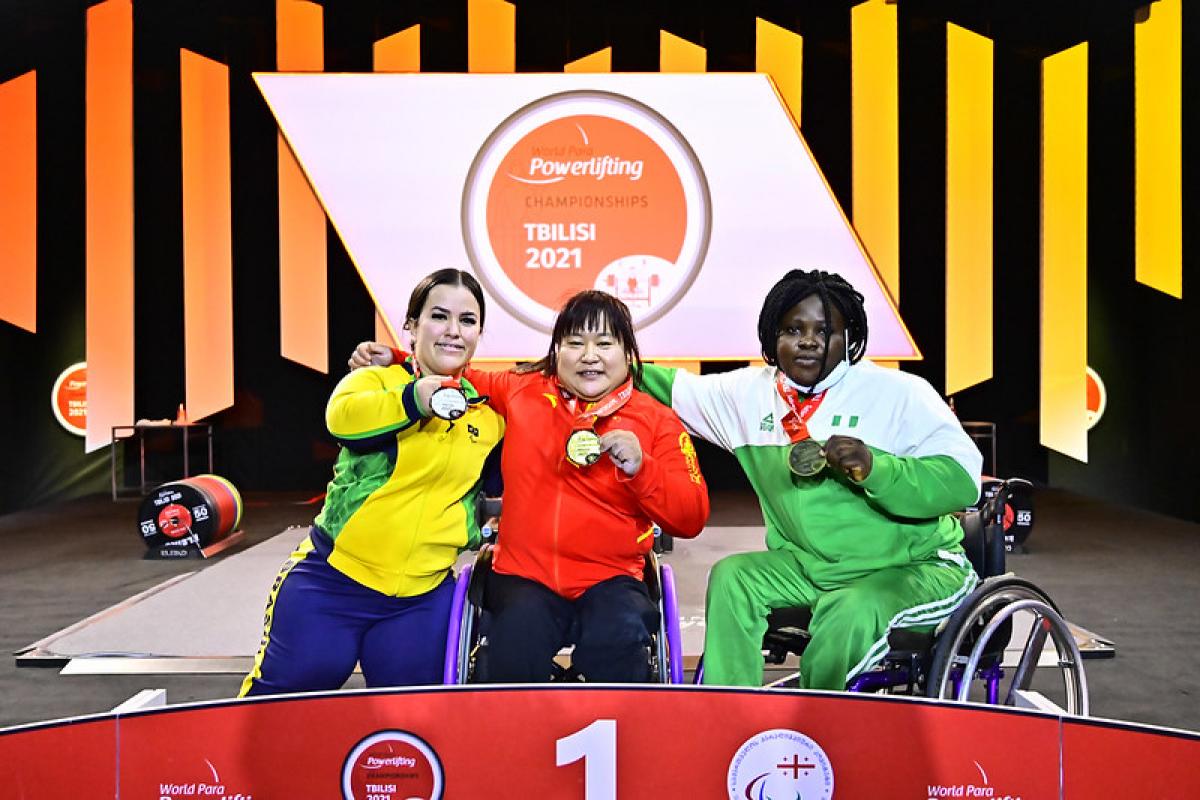 ⒸHiroki Nishioka for World Para Powerlifting
By Emma Logan and Filip Ozbolt | For World Para Powerlifting
Tbilisi produced a host of show stopping moments throughout the ten days of competition, making it impossible to highlight just one outstanding instant. Therefore, nine memorable moments to take away from Georgia are…
Abdelkareem Annihilates World Record 
The security of world records are always in doubt when the world's best compete at major competitions but what is not expected is the ability to absolutely destroy them. 
Yet on day seven, that is exactly what Jordan's Abdelkareem Khattab did. 
Gold was guaranteed as he put 26kg between himself and the rest of the field. The only thing left for him to do was attempt a new world record. 
Whilst a typical world record attempt consists of a few kilograms difference, Khattab powered to 250kg - a staggering 10kg improvement on the previous record. 
A new world record not predicted to be broken any time soon. 
Nigeria's Superwomen
With three gold medals, two silvers and one bronze Nigeria finished third in the medals table, with all three golds being awarded in the women's heavyweight categories. 
The three golds were thanks to the stellar performances by Lucy Ejike, Bose Omolayo and Folashade Oluwafemiayo.
Ejike claimed the first gold for Nigeria and her third world crown, in the women's up to 67kg, setting the trend for her teammates who went onto win two golds over the next two days. 
Omolayo and Oluwafemiayo triumphed in the women's up to 79kg and 86kg respectively, with both creating new world records on their way to the top. 
Omolayo racked 144kg and Oluwafemiayo 152.5kg to solidify their status as the world's best. 
Exhilarating end to the men's up to 65kg
Onlookers were hooked throughout the men's up to 65kg which will be remembered as the most exciting competition in Tbilisi. 
Whilst other weight categories had outright winners, five athletes were in contention for gold as they entered the final round.
In a nail-biting final only 2kg separated the medallists and just 4kg split the top five.  
The athletes had brought their A-game and with the pressure piled on, several failed to record a final lift but Algeria's Hocine Bettir and Amir Jafari from Iran finished strongly to claim the top two spots, with the Algerian getting the better over Jafari by 1kg. 
Zou Yi took bronze, only 1kg behind silver. 
Olivia Broome bursts onto senior stage 
Great Britain's Olivia Broome has plenty to celebrate as she leaves Tbilisi with two medals -  a gold and silver medal. 
Broome found victory in the Junior Championships, rising up to win gold in the women's up to 50kg. 
Brimming with confidence, Broome tackled the Senior Worlds with grit and grace, pressing her way to a silver medal. 
The youngster left her mark and rounds off the year with a medal of every colour, having won bronze at the Tokyo Paralympics just a few months previously. 
Triple Threat - three new Worlds medallists
It was an exceptionally special Championships for three nations as they collected their first ever World Championship medals. 
India, Kazakhstan and El Salvador's flags flew proudly as they made national history in Tbilisi. 
India rejoiced as Parmjeet Kumar won bronze in the men's up to 49kg. His podium press of 158kg stirred up great excitement amongst fans on social media. 
2021 has shaped up to be a huge success for Herbert Aceituno. 
Not only did Aceituno win El Salvador's first Paralympic medal in Tokyo (bronze) but he secured their first World Champs medal with a silver in the men's up to 59kg. 
Meanwhile in the men's up to 54kg, David Degtyarev did the double and created history once again for Kazakhstan. 
Having won his country's first Paralympic gold in the sport at Tokyo, Degtyarev found victory once again with a solid lift of 178kg - marking Kazakhstan's first World Champs title in Para powerlifting. 
Amalia Perez and Sherif Osman build upon their legendary status 
To win one global gold in an athlete's career is an incredible feat. How does one then describe the immensity of winning four or five world titles?! 
That is the predicament Para powerlifting fans are in following the golden acts by Mexico's Amalia Perez and Egypt's Sherif Osman. 
Both Perez and Osman extended their domination in Tbilisi with victory in the women's up to 61kg and the men's up to 59kg. 
Perez matched her four Paralympic titles with a fourth Word title, thanks to a hefty lift of 132kg. Taking her tally of major championship wins to 14. 
Whereas, an almighty press of 195kg added a fifth world title and eighth global crown to Osman's resume. 
Iran's amazing heavyweights
Iran ruled the penultimate day of competition, winning four out of a possible six medals. 
There were unbelievable scenes of jubilation in the men's up to 107kg, as debutant Aliakbar Gharibshi set a new world record in style. 
Gharibshi dethroned the defending champion, Sodnompiljee Enkhbayar from Mongolia,  on his way to a historical 251kg lift. 
Iran featured heavily on the podium in the men's over 107kg, as Ahmad Aminzadeh and Mahdi Sayadi claimed the top two medals.
It was the perfect debut Worlds for Aminzadeh, who paid tribute to the late Siamand Rahman. 
China dominates Championships
The Chinese contingent continued their dominating ways by finishing top of the tables like they did two years previously in Nur-Sultan. 
China leaves Georgia with a total of 13 medals - five gold, four silver and four bronze medals - to conclude a very successful year for the Asian country.
Four out of the five fabulous golden moments for China were won in the women's categories.
Guo Lingling kicked things off with a win in the women's up to 41kg. This success was repeated by Cui Zhe (up to 45kg), Xu Lili (up to 73kg) and Xuemei Deng in the final women's event of the Champs (over 86kg). 
Gu Xiaofei was triumphant in the men's up to 80kg. 
Terrific Tbilisi
Tbilisi, Georgia, proved to be a magnificent host worthy of hosting many more Para powerlifting events. 
Despite having only organised its first World Cup in May, Tbilisi produced an amazing ninth edition of the World Championship and only second in Europe. 
Tbilisi also hosted the most athletes and nations ever present at a World Championships. A total of 475 athletes competed in Georgia representing 72 nations, including six newcomers: Cyprus, Haiti, Peru, Portugal, Senegal and Sierra Leone. 
It was a Championships filled with memorable moments and historical significance. 
The next Para Powerlifting World Championships will take place in 2023 with the host city yet to be officially announced.
Complete results of Tbilisi 2021 can be found on the World Championships microsite.