Tbilisi 2021: Chile takes final gold medal with Mixed Team triumph
Camila Campos, Jorge Carinao and Juan Carlos Garrido lead South Americans to the top of the podium as World Championships concludes in Georgia
06 Dec 2021
Imagen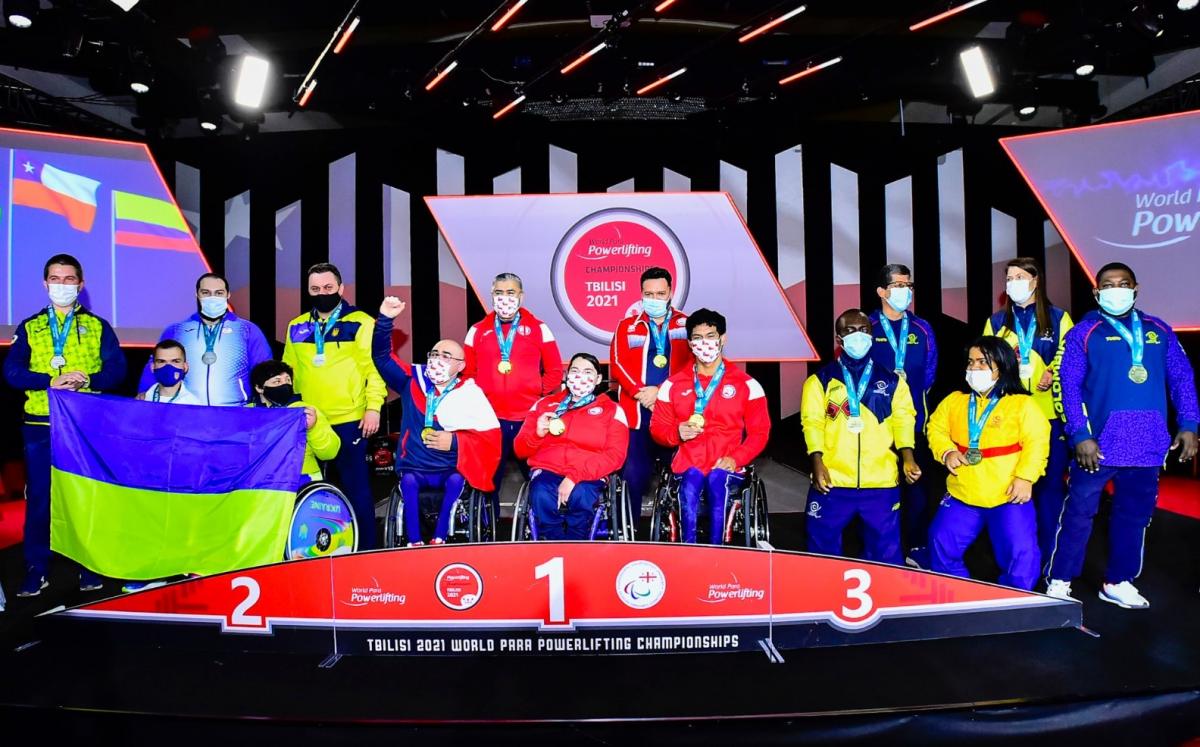 ⒸHiroki Nishioka for World Para Powerlifting
By Emma Logan and Filip Ozbolt | For World Para Powerlifting
Chile's anthem played proudly as their Mixed Team claimed the final gold medal of the World Championships in Tbilisi on Monday (6 December). 
Ten national teams took to the stage in a battle of strength and tactics. The champions and silver medallists from the previous Worlds two years ago, Egypt and Brazil respectively, did not register a team and so the title was for the taking. 
Camila Campos, Jorge Carinao and Juan Carlos Garrido executed the perfect performance to bag Chile the gold. 
"We were really united as a team, the three of us, and you could see that," said Jorge Carinao following their victory.
The South American team got off to a strong start in the opening heats, advancing through to the knockouts with over 30 points difference to the rest of the field. 
Chile faced France in their semi-final whilst Colombia went head-to-head with the bronze medallists from Nur-Sultan, Ukraine. 
It was a close encounter in both semi-finals, with the winners decided in the final lifts by just a few points. 
Ukraine edged ahead of Colombia with Anton Kriukov's final lift of 220kg and Juan Carlos Garrido's successful lift of 173kg pushed Chile into the final by a margin of 2.4 points. 
It was a Chile-Ukraine showdown for gold and both teams delivered a faultless three lifts but there could be only one winner. 
Despite Nataliia Oliinyk, Anton Kriukov and Kostiantyn Panasiuk's best attempts they could not match Chile's stellar performance and Ukraine fell short by 7kg to settle for silver. 
Camila Campos, Jorge Carinao and Juan Carlos Garrido recorded a total of 485 points to crown them World Champions. 
"We are really happy and satisfied with the results," commented Jorge Carinao. "We didn't want to have any nightmares in the competition and we played it intelligently."
CHINA TOPS MEDALS
The win for Chile marked the second time the country reached the podium in Tbilisi, as Juan Carlos Garrido took bronze in the men's up to 59kg.
It was a more convincing victory for Colombia over France in the battle for bronze. 
France got off to a shaky start with a failed first attempt, which meant that the Colombians simply had to keep their cool and record three successful lifts.
This they achieved and Ana Lucia Pinto, Bryan Balanta and Francisco Palomeque were awarded bronze.  
Australia, Turkey, United Arab Emirates, Chile's second team and both teams for Japan were unsuccessful in their bid for a medal, with their journeys ending in the heats. 
China topped the medals table at the Tbilisi 2021 World Championships with five gold, four silver and four bronze. Iran took the second position (three gold, three silver and one bronze) followed by Nigeria (three gold, one silver and two bronze).
Complete results and daily competition reviews of the World Championships can be found on the Tbilisi 2021 microsite.