Hosts Georgia celebrate first ever European title on final days at Tbilisi 2022
Akaki Jintcharadze hoists 228kg to win the title in the men's over 107kg, while Poland's Marzena Zieba sets European record among the female heavyweights
30 Sep 2022
Imagen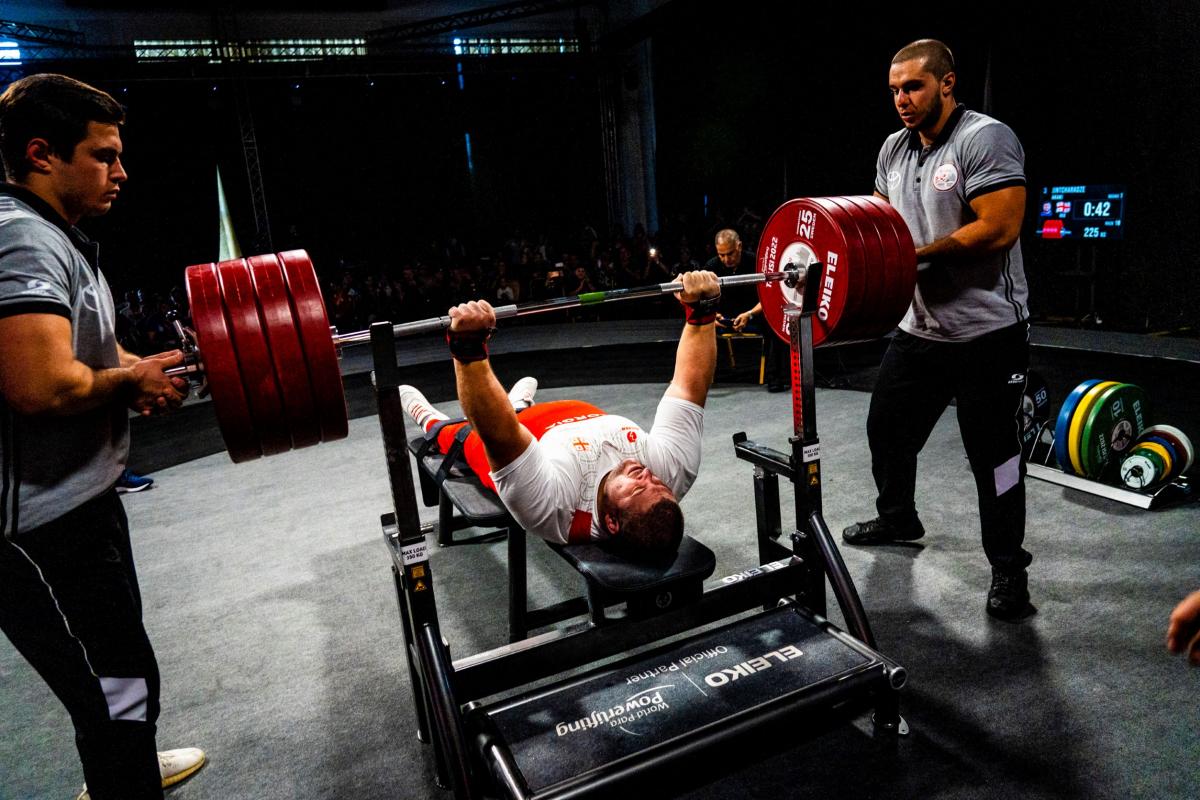 ⒸHiroki Nishioka/WPPO
By Lena Smirnova | For World Para Powerlifting
A hush fell over the competition hall when Georgia's hopes of winning the country's first ever European title in Para powerlifting were crushed by a mere two kilograms.
Georgia's Ahmad Razm Azar broke the European record in the men's up to 80kg on the third day of competition at the Tbilisi 2022 European Open Championships, almost assuring the hosts the long-awaited title. But with Italy's Donato Telesca taking back that record within minutes, the day finished on a melancholic note for local fans.
On Wednesday, 28 September those hopes were restored as heavyweight Akaki Jintcharadze pushed his way to victory in the final individual event at Tbilisi 2021.
Lifting 228kg in the men's over 107kg category, Jintcharadze brought new energy to Para powerlifters in Georgia, which was hosting a major international competition in the sport for the third time.
"I am still in shock and full of emotions," Jintcharadze said after receiving his gold medal. "For me, this was  the first time when I heard my national anthem and saw the flag. This is emotional because you have done so much to put your country in this position."
Jintcharadze has participated in all three Para powerlifting competitions that Tbilisi hosted previously, which include a World Cup and World Championships in 2021, and says his performance improved with each event.
"As an athlete I am rising up and the weight also is rising with me," he said. "I worked very hard to reach the place that I got now with the gold medal. I trained well and the mistakes that I had, I will fix them.
"Now I will work on breaking the European record and I will work on breaking the world record also. And the last goal will be the gold medal at the Paralympic Games in Paris (2024)."
Poland's Marzena Zieba has already accomplished one of these goals, breaking the European record in the women's over 86kg at the 2021 European Open Championships. The Para powerlifting heavyweight raised 139kg - an increase of one kilogram from the previous record - to regain her European crown after a seven-year wait. 
Zieba's gold medal also helped to take Poland to the top of the medals tally as Tbilisi 2022 came to a close. Polish athletes won 15 medals during the six-day competition, including five gold.
Medals for family
As for Jintcharadze, the victories in Tbilisi meant more than medals for Great Britain's Matthew Harding and Zoe Newson, who won the men's up to 72kg and women's up to 45kg events, respectively.
A former competitive swimmer, Harding switched his focus to Para powerlifting in in 2021 after he failed to qualify for the Tokyo 2020 Paralympic Games. 
The 2021 European Open Championships were his third international competition in the sport. Harding lifted his personal best of 179kg to win the gold, which he dedicated to his father Colin who passed away at the start of 2021.
"I lost my dad to cancer and I always wanted to show what I'm capable of to him," Harding said. "To win the Europeans, to hold on to that, thinking of his smile, that's who I'm doing it for. My family back home, they've always been supportive and it's been such a difficult year, and to actually have some positivity in this year, finally, I'm quite relieved."
Family was also on the mind of Harding's teammate Zoe Newson. The athlete, who won the won the women's up to 45kg event with a lift of 100kg, has a three-year-old son and two stepdaughters, ages 5 and 6. 
"Being a mom comes first," Newson said. "It is quite hard sometimes, trying to put (my son) out of my thoughts. And then I'm a stepmom as well so trying to fit them in and train and to have a normal life.
"I had about six months off when I was pregnant so trying to get back into it, it was a bit hard, but luckily I'm still able to be a mom and be an athlete as well."
We go together
Team events made their debut at the European Championships in Tbilisi. They were featured before at two World Para Powerlifting Championships and three World Cups, but Tbilisi 2022 marked the first time that they were included on the European Championships programme.
Ukraine dominated the team competition, taking gold in the women's and mixed events, as well as a silver in the men's event. 
Nataliia Oliinyk competed in two team events for Ukraine and now leaves Tbilisi as the most decorated athlete. In addition to the gold medal she won in the women's up to 86kg, Oliinyk also helped take Ukraine to the top of the women's and mixed team podiums thanks to her clean lift record.
Each of these successful lifts was followed by a small dance with the arms that she did as her wheelchair was taken away from the competition field.
"I am very happy," Oliinyk said. "I've only done it here (in Tbilisi). I haven't done that before. I do it out of joy and now it has become my signature."
France, Spain, Turkey, Kazakhstan and the Dominican Republic also took medals in the team events, with Spanish mixed team bronze medallist David Gomez Moreno and other athletes applauding the introduction of the new competition format.
"It's like another experience," Gomez Moreno said. "It was my second international so almost everything was new for me, but this connection with the teammates was something that I can't explain with words. It's a special connection where every single lift counts in the total classification so it's simply amazing."
The next regional competition are the African Open Championships which will be held in Cairo, Egypt from 27 to 30 October.
Results from Tbilisi 2022 are available on the World Para Powerlifting website. All events can be re-watched on the World Para Powerlifting Facebook page and Paralympic Games YouTube.