Turkey rises to the top as records continue to tumble at Tbilisi 2022
Italy's Donato Telesco loses and regains his European record in a matter of minutes during a dramatic men's up to 80kg final
27 Sep 2022
Imagen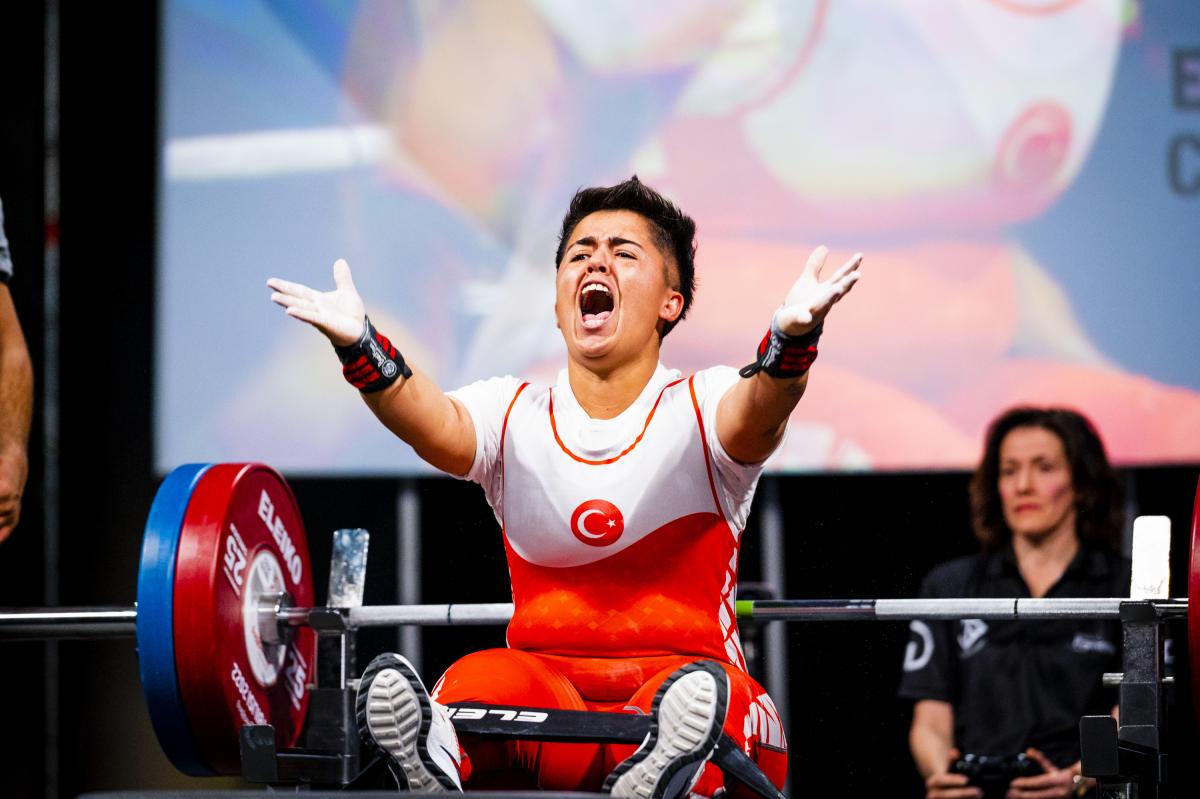 ⒸHiroki Nishioka/WPPO
By Lena Smirnova | For World Para Powerlifting
Turkish Para powerlifters roared to the top of the medals table as the European Open Championships hit the midway mark in Tbilisi, Georgia.
The third and fourth day of competition, which takes place from 24-29 September, saw three athletes from the host's neighbouring country take the top honours, with silver and bronze also added to the count.
As Tbilisi 2022 has shown so far, there is no lack of ambition on the Turkish team. After winning her first European title, in the women up to 55kg, Besra Duman lamented that she did so without breaking any records. 
Her three successful lifts and a best of 120kg were good enough to accomplish another milestone, however. Consistently second or third to Ukraine's Paralympic and world champion Maryana Shevchuk since the two athletes first came head-to-head on the international stage, Duman finally managed to surpass her long-time rival who ultimately finished with a bronze.
"Everything went very well today," Duman said. "Next time I will fight for the world (title) and Paralympics. I still haven't given up."
Meanwhile, the men's up to 49kg event demonstrated the depth and rivalries that exist within the Turkish team itself. Teammates Muhammet Kaan Akturk and Abdullah Kayapinar finished the competition one kilogram apart with Akturk taking his first major title with a lift of 164kg while Kayapinar upgraded from the bronze he claimed at the past European Championships in 2018.
"I'm very happy. I was unsuccessful the last international championship, but after this it will be really different," said Akturk, recalling his last performance in the Georgian capital when his attempts to lift 140kg at the Tbilisi 2021 World Para Powerlifting Championships were not counted.
"My coach really worked on this with me and it was really useful for me. If you are mentally relaxed, it affects all other things," Akturk added. 
Sibel Cam also added to Turkey's gold medal count with a victory in the women's up to 73kg. She lifted 123kg as the third of her three successful attempts, almost 10 kilograms more than silver medallist Britney Arendse of Ireland.
Warming up for Paris
The French team also had a breakthrough at the start of the week, taking two gold medals on Monday, 26 September and a silver the following day.
Tokyo 2020 silver medallist Alex Bourlon won his first European title, in the men's up to 54kg, with a best lift of 159kg. Four years before, Bourlon made his international debut at the home European Championships in Berck-sur-Mer where he came away with a silver.
"To have the gold medal and the title of European champion, it is something enormous," Bourlon said. "It is a goal that every athlete wants to reach, to be the European champion."
Bourlon faced tough competition at Tbilisi 2022 with Greece's Dimitrios Bakochristos finishing just two kilograms under and bronze medallist Kostiantyn Panasiuk attempting to upstage him in the final round with a lift of 158kg  - a tight battle that Bourlon relished.
"It was very close with the other athletes, and to have that competition makes for a good fight," the French athlete said. "The competition makes things interesting. It gives you a boost and it makes you work harder."
Meanwhile, his compatriot Souhad Ghazouani, the women's up to 73kg gold medallist from Berck-sur-Mer, ruled the women's up to 79kg class despite an arm injury she has had for three years.
"I am proud to be first because I am still nursing an injury so I had to go gently," Ghazouani said. "The nerve in my right arm weakened my force. I think this is what happened because I cannot push as hard as I used to push before.
"Now I am slowly coming back and trying to regain my strength, gently. I am pleased that I finished first in the European championships with this injury. That means that I can still progress."
Bourlon and Ghazouani's gold medal performances served as an inspiration for their teammate Rafik Arabat who upped his personal best by 10kg in the men's up to 97kg event. 
Arabat's 211kg lift in the third round set up a dramatic finale as the defending champion Petar Milenkovic was now forced to move up from his 210kg position. The Serbian athlete managed that with a lift of 212kg in the third round, but that only fuelled Arabat's ambitions further – he now wants to break a world record, Arabat said. The world record in his class currently stands at 243kg.
Double record in Tbilisi
Broken records were not only a goal but the reality for two athletes at the start of the week in Tbilisi.
For Georgia's Ahmad Razm Azar, the stage was perfect to try and break the European record in the men's up to 80kg. A top performance would secure the hosts' first ever European title in Para powerlifting and, to make the potential record even sweeter, the current record holder, Italy's Donato Telesca, was competing in the same event.
Razm Azar did not hold back, going for the record from his first attempt. The bar was set at 200kg to challenge the record of 199kg that Telesca set during the Tbilisi 2021 World Championships. 
While Razm Azar failed in his first attempt, instead of staying with the same weight, he added another three kilograms on his second try. The lift was successful, leaving Telesca scrambling to regain his record. A successful lift of 197kg in the third round earned the Italian a power lift for which the bar was set at 205kg.
With nerves on edge, Telesca performed the lift of a lifetime to regain the record and claim his first European title.
"I believed that I couldn't not do this, that I would win a silver and say, 'This is OK and next time we will win'. Before I did 197, my coach told me, 'Donato, probably we try to take a silver and don't worry, next time, we'll take the gold'. But after I took the silver, I told my coach, 'We try. We try to make 205'," Telesca said. 
"I told myself, 'You win or die'. In my mind it was impossible that I would give up. I wanted to try to win."
It was not only European records that fell in Tbilisi. Clara Sarahy Fuentes Monasterio set an American record of 100kg in the women's up to 41kg to win the Open title and Venezuela's first medal at Tbilisi 2022. 
The last individual events at the Tbilisi 2022 European Open Championships take place on Wednesday, 27 September while the three team events wrap up the competition on Thursday, 28 September.
Live streams and results from the competition are available on the World Para Powerlifting website. The competition can also be watched on the World Para Powerlifting Facebook page and the Paralympics YouTube channel.