Record Breakers: Tanni Grey-Thompson — Inspiring the next generation of Paralympians
'It's been an amazing journey to see where the Paralympic movement is today. For young people today we have to make sure they have an opportunity to get active and play sport.'
08 Aug 2020
Imagen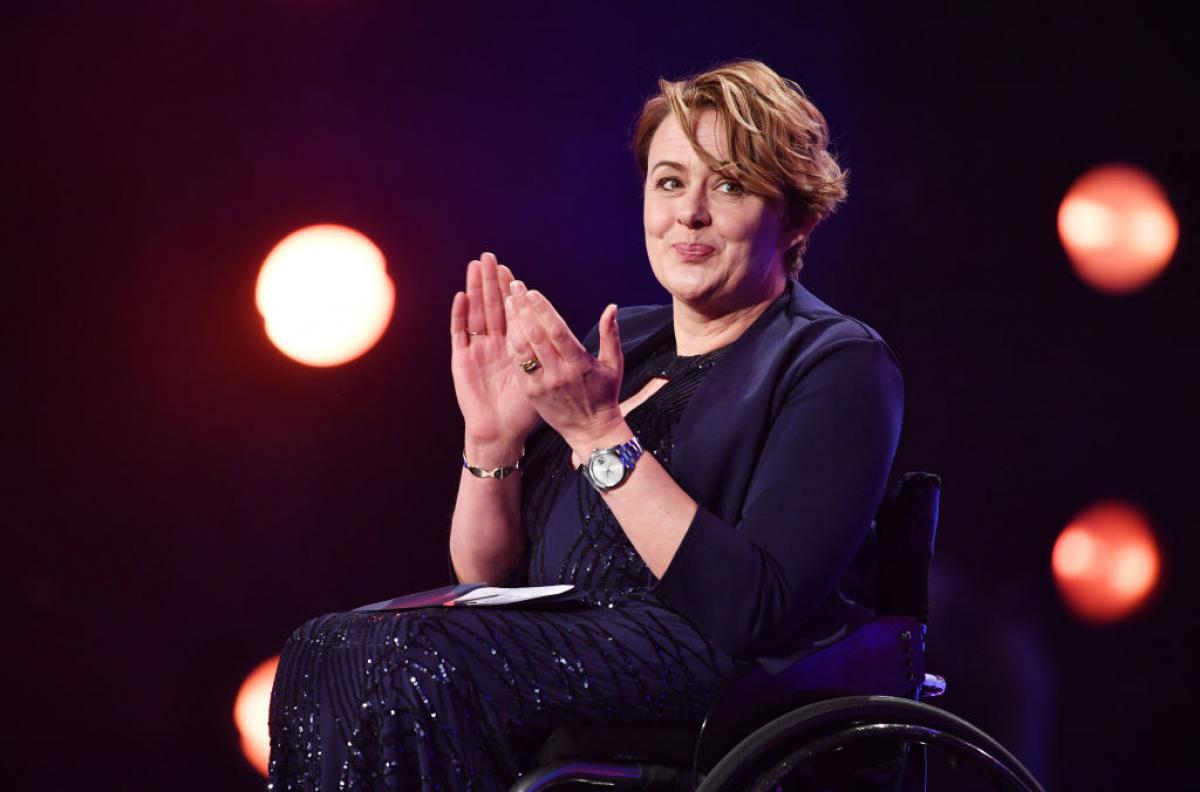 ⒸAlexander Koerner / Getty Images for Laureus
By Tokyo 2020
Tanni Grey-Thompson has been called Great Britain's greatest ever Paralympian. Her career as a wheelchair racer spanned more than 16 years with 16 Paralympic medals (11 gold, 4 silver and a bronze) across five Paralympic Games (Seoul 1988 to Athens 2004).
She also has 30 track world records to her name and won the Women's London Wheelchair Marathon six times between 1992 and 2002.
In 1993, Grey-Thompson was appointed as Member of the Order of the British Empire (MBE) for her contribution to British sports. She advanced to the Order of the British (OBE) in 2001 and was awarded a Dame Commander of the Most Excellent Order of the British Empire (DBE) in 2005, receiving this honour from the Queen of England herself.
In 2019, she was given the Lifetime Achievement Award in the BBC Sports Personality of the Year show. The award was presented to her by former Olympian track cyclist Chris Hoy.
"Growing up I tried multiple sports but I was so fortunate I found something I love and became good at it. There were so many people, volunteers, who gave up their time and I wouldn't be here without them so thank you so much," she said during the event.
"It's been an amazing journey to see where the Paralympic movement is today. For young people today, we have to make sure they have an opportunity to get active and play sport."
And with her stature in sport, she continues to inspire future generations of athletes whilst also helping to promote the Paralympic movement worldwide.
Stellar career
Grey-Thompson was born with spina bifida and has been paralysed since the age of seven. From a young age, she was encouraged by her father to put her focus on sports to be fit and healthy.
"It took me a while to find the one that I wanted to concentrate on, but from the age of 13, it was wheelchair racing for me. That's all I wanted to do," Grey-Thompson said in a 2012 interview with Laureus.
By the age 17, she became part of the British Wheelchair Racing Squad and made her debut at the Seoul 1988 Paralympic Games at 19, winning a bronze medal in 400m.
After Seoul, Grey-Thompson dominated at Barcelona 1992 with four gold medals including world records in both the 100m and 400m, the latter being an event where she became the first woman to break the 60-second barrier.
But Barcelona will always be her favourite Games for another reason.
"Barcelona just really set a standard for other Games to follow - it really raised the bar in terms of the public support."
"We had 80,000 people coming to the athletics, the atmosphere was brilliant, the facilities. For me, it was the first time that disability sport got a significant media coverage and in the subsequent Games, the Paralympics grew and grew and developed and just got better and better."
At Atlanta 1996, she settled for silver in three of her strongest disciplines, but won gold in 800m, which Grey-Thompson repeated again at Sydney 2000. However, of all the 11 gold medals she has accumulated throughout her career, there's one that she particularly will never forget.
"If I had to pick one medal out of the 11 golds that I won, it would be the 100m in Athens 2004 which was my final Games, my fifth Games."
"I had a really mixed Games up to then, completely bummed out with the 800m which was my strongest event. My 100m was technically my weakest event, and I won it by about that much.
"It was just technically one of the most perfect races that I've done and the one that gave me the more pleasure than anything else."
A star and champion of disability rights
Grey-Thompson announced her retirement in 2007 at age 37.  "For me it was the best thing ever. It kind of gave me freedom. It gave me the ability to travel, to meet people, to do a whole host of things that I never probably believed at the age of seven that I could."
After her retirement, she continued coaching young athletes and has become active in a variety of roles including being a board member for UK-based charities and is an independent peer in the British House of Lords. In her role as a peer, she casts a spotlight on issues including welfare reform, disability rights and British sports.
With Tokyo 2020 Games postponed, Grey-Thompson has been encouraging Para athletes to stay positive and refocus their goals.
"What athletes need to do is take the positive out of this. You don't have any pressure to compete this year - certainly for the next few months - so you can go back into a training block and concentrate on that," she penned for the Telegraph.co.uk this March.
"Some para athletes have very specific equipment, there'll be a small number who need special adaptations that will not be very easy to replicate away from training venues.
"I don't think it's devastating for the majority of Paralympic athletes, what they'll be experiencing will be largely the same as Olympians are. It is hard, but athletes are used to having to refocus their goals - and now can get on with it now we know what is going to happen."
In July, she also wrote to the United Kingdom's Prime Minister Boris Johnson to encourage the safe reopening of sports facilities in Wales, warning that delays will have an impact on health and jobs.
"The consequences of further delays and ambiguity are stark. More than 2,800 facilities are at risk of closure and more than 100,000 jobs are at risk, more than half of the workforce in fitness and leisure facilities. To lose these facilities in the midst of the biggest health crisis could set back public health for a generation. The loss would be catastrophic to communities," she told BBC Radio Wales.