Retired South Korean soldier Jaeheon Ha hopes to serve country again at Paralympics
Ha picked up Para rowing during rehab and wants to inspire others going through similar challenges
14 Apr 2021
Imagen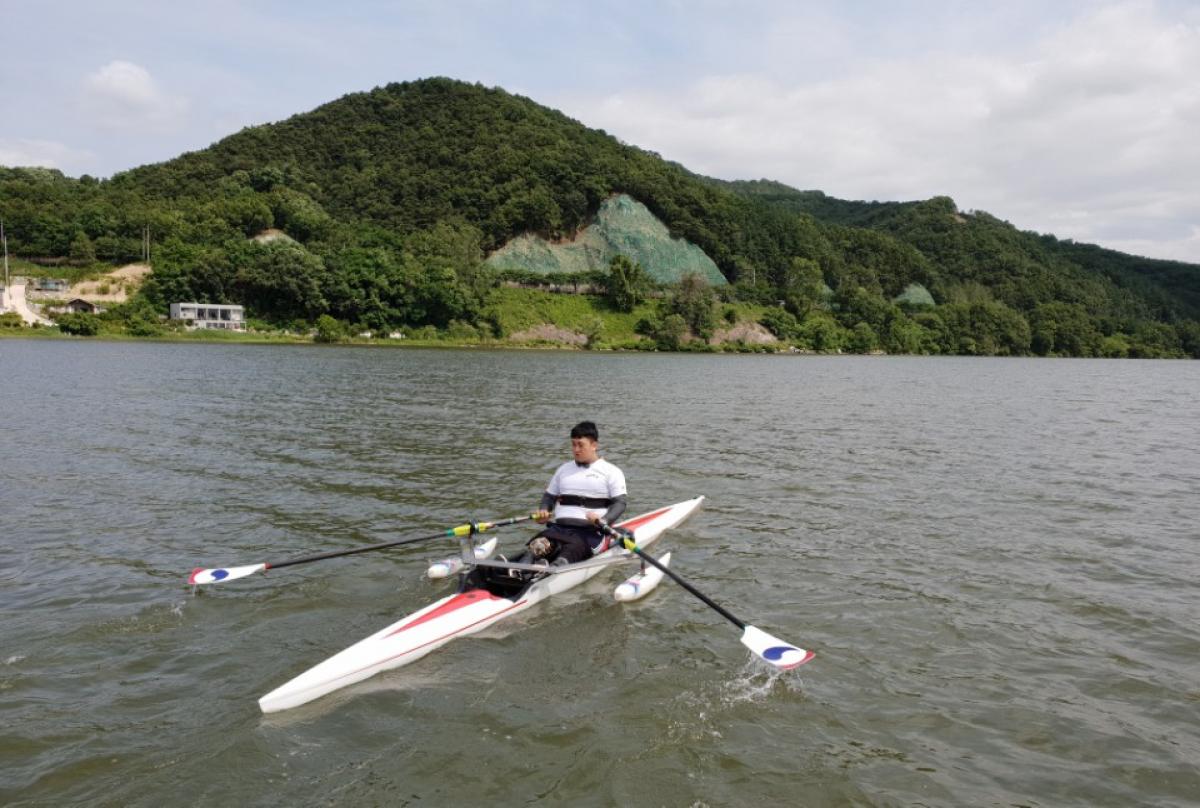 By EJ Monica Kim | For the IPC
On 4 August 2015, a landmine blast completely changed the life of South Korean soldier Jaeheon Ha. Having lost both his legs and followed by what seemed like endless surgeries, 23 in all, Ha found solace being out in the open water on a rowing boat.
It was that inexplicable feeling that motivated him to try representing his country on a new front – the Paralympic Games. 
"I represented South Korea by putting Taekgeukgi [South Korean flag] on my right arm in the military uniform. But now, I moved it to my left chest to compete on the global stage," said the retired sergeant first class Ha.
"I was introduced to the sport by my current club coach Myung-Woong Lim," Ha recalled. "I still remember my first attempt on the water. I loved to look around at the world from the water calmly." 
"As I had to focus on balancing my boat, I didn't have time to think about anything else. I was able to be in my own world apart from chaotic situations." 
Despite his potential, the 26-year-old at first was unsure about focusing too much on Para rowing. 
"My life as a military soldier was guaranteed for a long term, so it wasn't easy for me to abandon my comfort zone," Ha explained. "But at the same time, I also wanted to move onto the next chapter of my life."
He shared his experiences with many wounded soldiers and families who lost their sons, trying to console them while working in an administrative position at the Korean Armed Forces Capital Hospital. 
"Gradually, it made it more difficult for me to get over my own painful memories completely," Ha admitted.  
At the same time, he witnessed the PyeongChang 2018 Paralympic Winter Games take place in his own backyard. 
"I was invited to the Opening Ceremony, and it was the first time for me to see many people with an impairment from around the world," he recalled. "I always felt that disabled people in my society tried to stay hidden. But Paralympians looked very happy, so I wished to be part of that stage with them." 
Ha was discharged from the military in January 2019 in order to join the South Korean Para rowing team with the aim of qualifying for the Tokyo 2020 Paralympic Games. He made his international debut at the 2019 World Championships in Ottensheim, Austria, five months after committing to the sport. It showed him what more he can work on to reach the Paralympic level as he competed in the PR1 men's single scull (PR1 M1X).  
He hopes to secure his ticket to Tokyo 2020 at the Final Paralympic Qualification Regatta from 3-5 June in Garvirate, Italy. 
"I've been paying so much attention since the explosion of North Korean landmines," Ha said. "That is why I want to be a Paralympian, in order to inspire people who went through a rough time as well as to show how I overcame well.  My ultimate goal will be to stand on top of the podium at Paris 2024."