Skarstein, Polianskyi showcase Paralympic readiness at European Rowing Championships
Paralympic Qualification Regatta also held to decide last European boats for Tokyo 2020
12 Apr 2021
Imagen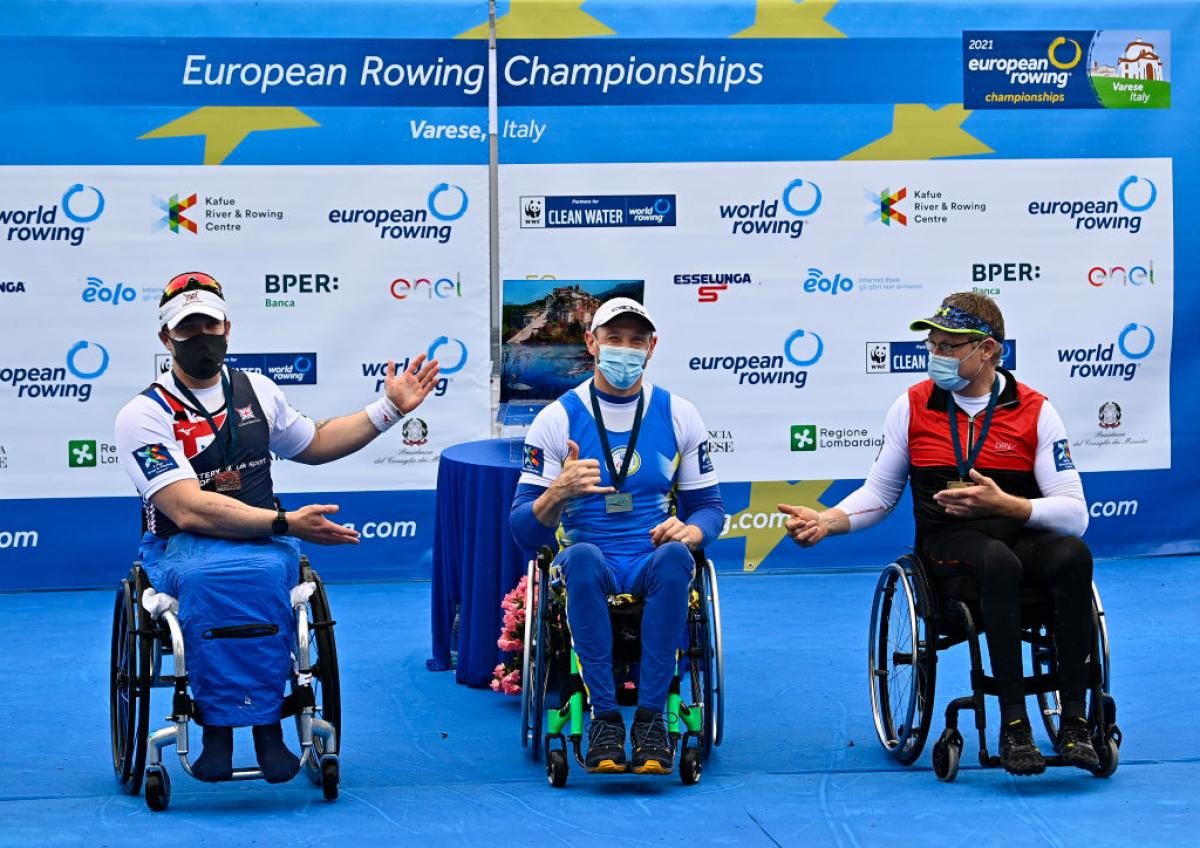 ⒸGetty
By World Rowing and IPC
Norway's Birgit Skarstein made her move just in time to overtake Israel's Moran Samuel in what could be a dress rehearsal for the Paralympic golden battle, as the 2021 European Rowing Championships wrapped up in Varese, Italy.
  
The competition, held from 9-11 April, brought together top European Para rowers, many will be vying for podium positions at Tokyo 2020 Paralympic Games, later this year. . The Championship was held four days after the Paralympic Qualification Regatta for the European region. 
Skarstein, who had already secured her country a Paralympic spot, still had to stroke hard to show why she is the reigning world champion in the women's single skull (PR1W1x). 
Her opponent Samuel was first to the 500m marker, but Skarstein remained close behind. Approaching the 1,000m marker, the Norwegian broke through for the lead and maintained her gap between Samuel to take the gold. Ukraine's Anna Sheremet held off France's 2020 European champion Nathalie Benoit for the bronze medal.
"The race was really hard, but I enjoyed it so much," Skarstein said. "I've been training a lot here in Italy and I was really excited to see if I had done enough and be able to perform. I am very happy with this result."

Rio 2016 bronze medallist Samuel said: "It's amazing to be racing again after 20 months without competition — thanks all for making this event possible in COVID time. I'm very happy to be able to race next to Brigit again and now it's all about getting ready for Tokyo."
Paralympic, world and European champion Roman Polianskyi is firm favourite for Tokyo in the men's single skull (PR1M1x), and he showed his worth by clinching back-to-back regional crowns. 
The Ukrainian made the early impression and was still up at 38-39 strokes per minute in the second quarter of the race. The close battle was for silver and bronze between Great Britain's Benjamin Pritchard and Germany's Marcus Klemp. The former took second while Klemp, took the third place in a tight finish. 
"I'm very pleased with the evolution of my race as I had a slow start," Klemp said. "I'm very happy to win a medal behind the two favourites."
Great Britain crowned two boats as European champions in Varese
Lauren Rowles and Laurence Whiteley stamped their authority from the start in the mixed double sculls (PR2Mix2x), leading out of the blocks and establishing a length lead ahead of the Netherlands' Annika van der Meer and Corne de Koning, who came in second. Perle Bouge and Christophe Lavigne gave France the bronze medal.
"We had no idea what to expect today," Whiteley said. "Due to lockdown, we didn't know where our competitors stood. But this is a good start to the season, it shows our training has been paying off."
Great Britain's reigning mixed coxed four (PR3Mix4+) world champion boat dominated their final. The crew of Ellen Buttrick, Giedre Rakauskaite, James C. Fox, Oliver Stanhope and cox Erin Kennedy held on to their comfortable lead ahead of France, who crossed the line second followed by Ukraine. 
"We came to set a new standard and show we hadn't lost anything over lockdown," Buttrick said. "I think our result which is not that far off our world record, shows we are on the right track towards Tokyo."
PARALYMPIC QUALIFICATION REGATTA

There were other reasons to celebrate in Varese, with athletes aiming to secure last-minute Tokyo 2020 Paralympic slots for their countries from 5-7 April. 
Only one Paralympic slot was available in the women and men's single skull. Belarus' Liudmila Vauchok finished ahead of Sweden's Ebba Einarsson, to keep her Paralympic dreams alive, as Spain's Javier Reja Munoz won his race to take the last European men's slot.