Michel Muñoz Malagón: 'Why be normal, if you can be extraordinary'
The motivational Mexican athlete hopes to make his rowing debut at the Paralympic Games next year
31 Aug 2020
Imagen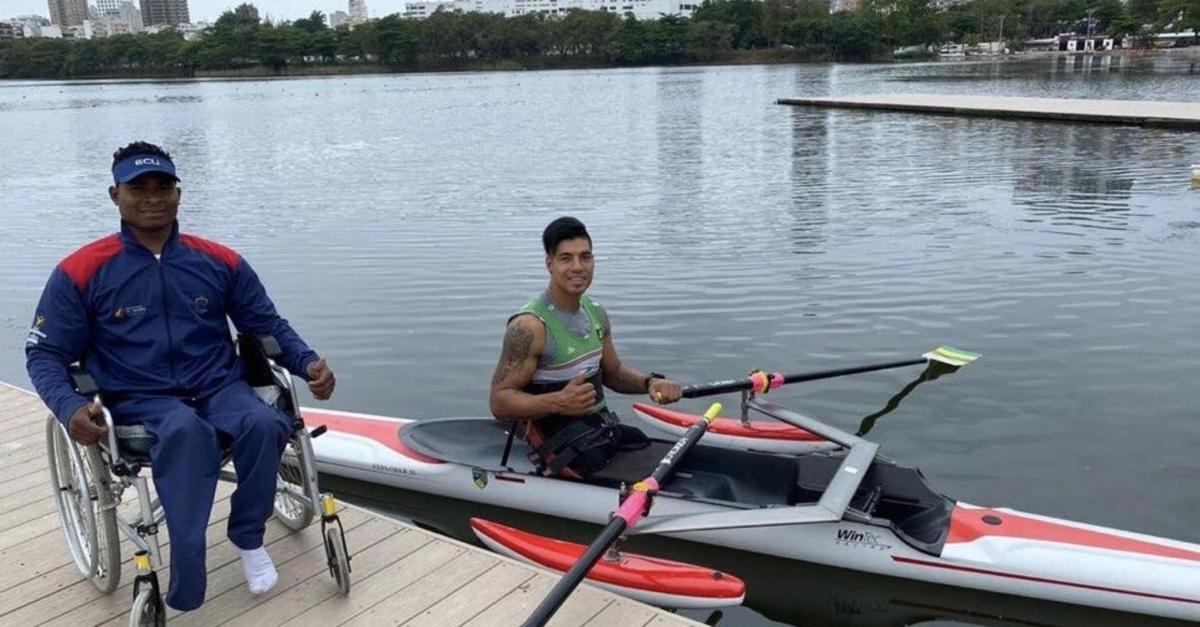 ⒸTokyo 2020
By IPC
Like many other Para athletes, the story of Michel Muñoz Malagón is one about overcoming adversities.
The Mexican athlete, who is currently preparing to compete in rowing at Tokyo 2020, was born with a congenital malformation that prevented his legs from developing. For most of his life, he has used a skateboard to get around independently. But that hasn't stopped him from trying out various sports, from football to weightlifting, and participating in marathons or tough obstacle races.
Born into a humble family in Naucalpan, Mexico, Muñoz Malagón grew up with limited financial resources. His childhood and adolescence were not easy. But sport helped him to grow and keep his enthusiasm.
He started playing football and lifting weights in the gym, and ended up becoming the first Latin American athlete without lower limbs to compete in a Spartan Race and an Ironman.
"I believe that we have to turn our weaknesses into strengths and knowing that I was missing something, I can use other tools, in this case my arms, as my legs. In this way, I am able to move and do my things by myself, without depending on anyone," explained the 34-year-old athlete.
A life on a skateboard
If there is something that characterises this intrepid athlete, it is his skateboard - the method he has used to move around instead of using a wheelchair since he was 11 years old.
"I have always been an independent boy," he said. "I have always liked doing things by myself. Where we live the land is hilly, and when my grandmother took me to school it was very heavy for her to move my wheelchair".
"I made the decision to use a skateboard in secondary school, in order to be more independent. As my arms were very strong, there was no impediment. The skateboard helped me because I moved much faster and could move around with less effort," he recalled.
Muñoz Malagón's introduction to the world of sport was playing football in a league for amputees. But when he made contact with the Mexican Paralympic Committee, he decided to take up weightlifting.
"From the age of 14, I trained in gyms and I always liked it. I was knowledgeable about weights, so it came naturally. After that, my passion for sport led to me getting a place at university, and I now have a degree in Physical Education and a certification as a personal trainer."
In 2018, he became the national powerlifting champion in the 59 kg category. But following this victory and with the aim of making it to Tokyo, he decided to change sports and focus on rowing.
"My arms are very long and rowing gave me a better chance of securing a spot in Tokyo. I did a test and my coach liked what he saw. And I said to myself, 'well, I'm going to train very hard every day to achieve my goal.'"
And for the past three years, Muñoz Malagón has achieved good results in rowing competitions.
In 2019, he had the opportunity to participate in the World Cup in Linz, Austria. There, he qualified for the final and was ranked first in the D final, in the PR1 M1x test.
"Finishing in first place motivated me a lot more. I realised I had what it takes to go to Tokyo," he said.
Now, rowing is his life.
In the International Brazilian Para Rowing Championship, which took place in December 2019, he was ranked third, and in the national regattas of Uruguay and Argentina, in the same year, he was ranked first and second, respectively.
The road to Tokyo
Muñoz Malagón's results meant he came very close to booking his ticket to Tokyo. In fact, he learnt about the postponement of the Paralympic Games shortly after returning from Brazil, where he had hoped to confirm his spot in Tokyo during the pre-Paralympic competition. But at the last minute, the event was cancelled due to the coronavirus pandemic. It meant the athlete had to return to Mexico quickly in order to avoid unnecessary risks.
"The news of the postponement was sad because we had prepared very well. As a high-performance athlete, knowing that you've reached the standard required to qualify for Tokyo and not being able to go, lowers your self-esteem," he commented.
"I have always been a person with very high self-esteem because I have never limited myself, despite being born with my disability. But seeing my dream curtailed could lower my self-esteem. But Tokyo is still the goal and we have to move forward."
As with the rest of the world, the COVID-19 pandemic has also affected Muñoz Malagón's day-to-day life. He has spent a few months at home in lockdown, training with a rowing ergometer that he received on loan from the National Commission of Physical Culture and Sports (CONADE) of Mexico.
A few weeks ago, he received a permit that enabled him to return to the gym, and now a friend takes him to training three times a week.
"After five months of just training with the ergo at home, it was no longer enough. I'm glad I can go to the gym now. I have not yet been able to go rowing due to the situation, but I hope to be able to soon," he added.
A champion at overcoming obstacles
In addition to weightlifting and rowing, Muñoz Malagón has also run marathons and participated in several Spartan obstacle races. He is only the second person without legs to take part in the competition.
"My first Spartan was a 7 1/2 km race with 20 obstacles. I finished it in three and a half hours and I didn't get up for three days. But after that, I said that if I can do this, I can do more. So, I kept preparing and was able to do 10 Spartan races so far. I like those challenges, knowing how far I can go."
The athlete also spends a good part of his time giving motivational lectures, aimed primarily at young people. Muñoz Malagón believes that his story can help others.
"I dare to do what other people do not dare to do for fear of failing, of not achieving. I like to say: 'Why be normal, if you can be extraordinary'. I like to motivate kids, a lot of people who don't even dare to go for a walk or jog. That is what moves me, what attracts me. It motivates me a lot, being able to help other people dare to do things," he said with conviction.
For now, and until the sports calendar gets back to normal, the Mexican will continue his preparations to be ready for the pre-Paralympic tournament, which will be held in Rio de Janeiro from 28 to 30 January 2021.
Once that competition is over, and with a ticket to Tokyo confirmed, the sky is the limit for this athlete, who has spent a lifetime proving that, with determination, the impossible can be possible.