Anna Grimaldi: Turning a negative into a positive
'I grew a lot as a person in the last three years, it kind of pushed me learn a lot more about myself and to explore those other parts of my life other than sport'
29 Aug 2020
Imagen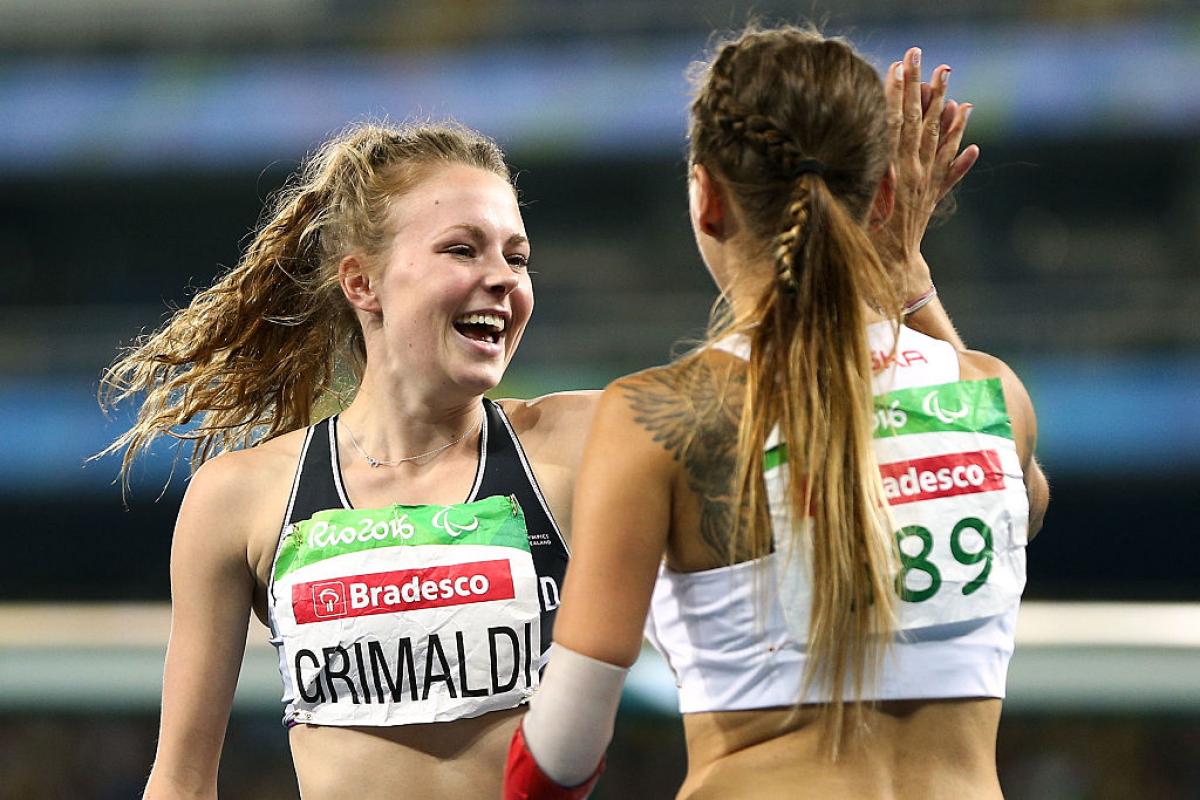 Ⓒ Hagen Hopkins/Getty Images
By Tokyo 2020
From unexpectedly winning New Zealand's first gold medal at the Rio 2016 Paralympic Games to suffering a stress fracture, Anna Grimaldi has learnt to turn negative experiences into positives.
Track and field athlete Grimaldi climbed to the top of podium after winning the long jump T47 at her first Paralympics at Rio 2016.
It was an unexpected win for the then 19-year-old who had previously joked about going to the Paralympics since she had only taken up the sport three years prior.
"It was just a massive surprise for everyone but mainly for me," Grimaldi said during an Instagram Live interview as part of the IPC's #WaitForTheGreats campaign. 
"It was never on my radar, I never once thought I would win gold there. I wasn't the best on paper... it still seems so surreal now thinking about it."
However, since becoming the Paralympic champion, it has not been all smooth sailing for the athlete as she turned her focus towards a four-year cycle to prepare for Tokyo 2020.
Overcoming injury

Grimaldi headed into the 2017 World Para Athletics Championship in London with a lingering foot issue - it had been there since January that year. However, she had no idea that she was actually competing on a stress fracture.
The Dunedin-native was forced to withdraw from her 100m and 200m events - and could barely walk after her 200m heat. Despite the pain she was suffering, the Kiwi athlete managed to finish in fourth place jumping just centimetres behind third-placed Angelina Lanza of France.
Originally needing to wait six months before she could begin rehabilitation, it slowly turned into two years of being sidelined from international competition.
"When I found out I had a navicular stress fracture in my foot, that was such an uncertain time for me and not knowing whether or not I would make it back - if I was ever going to be healthy enough to ever return to sport," Grimaldi said.
However, going through that tough phase, the now 23-year-old believes it has helped her get through the current COVID-19 pandemic situation especially, when New Zealand went into a nation-wide lockdown in March.
"I grew a lot as a person in the last three years. It kind of pushed me to learn a lot more about myself and to explore those other parts of my life other than sport," she said.
"Weirdly enough it felt kind of similar to lockdown, it was kind of the unknown, we didn't know what we could do - I was modifying my training like I did back when my foot was broken. So, to be able to transfer those skills I learnt through rehab and stuff into lockdown, it kind of made it feel a little bit easier."
Pressure to defend a title

Grimaldi was coming into 2020 off the back of a great season which had seen her win silver at the 2019 World Para Athletics Championships. She is in a good position to defend her Paralympic title from four years ago but then the Tokyo 2020 Paralympics were postponed.
However, Grimaldi has chosen to take the postponement in stride, which has given her a new direction and focus.
"Being at home for that long was challenging but it allowed me to slow down and re-evaluate what I want to do, where we wanted to go and focus on different stuff," said Grimaldi.
The New Zealand representative also admits that she hadn't thought about the pressure to defend her gold medal.
"There is always pressure but most pressure you get is from yourself so I don't try to think about it like I'm going to go on and defend my title," Grimaldi said.
"... with this extra year, there is a lot we could do with that. A year is a long amount of time to do something."
Impact of the Paralympics

Growing up she never met or saw anyone with one hand and felt as though she was the only person like this, having thoughts and feelings that she experienced.
"I was really lucky with the support I got from the school I was in but it was just not the same as feeling like I was part of a community that was designed and built for me and that is kind of what the Paralympics feels like," she said.
"Being part of the community is so motivating.
"It's definitely changed my life."