A silver medal gift for baby of boccia star Grigorios Polychronidis
Another second place finish for Greek star but the presence of little Valentina made it a happy occasion
01 Sep 2021
Imagen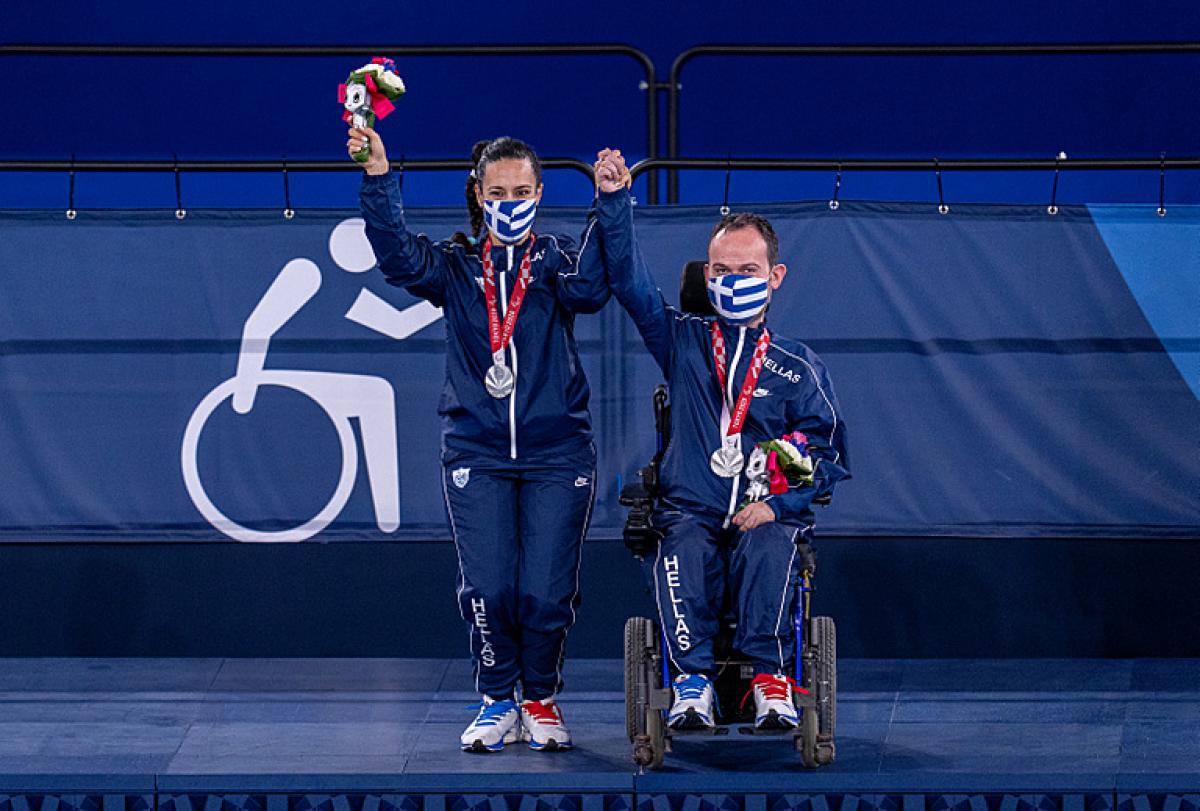 ⒸOIS
By Ruth Faulkner I For the IPC
While Grigorios Polychronidis was disappointed not to win the boccia individual BC3 gold medal match, coming second to Adam Peska of the Czech Republic, the first thing on his mind was his four-month-old baby Valentina, who was in the stands cared for by his mother.
The Greek beamed with pride as he talked about being able to play the final match in front of his young daughter. "It is great, it is amazing. Every game, before the game, during and after the game I was thinking for Valentina. I was playing for Valentina and Katarina my wife of course. Valentina was always in my mind.
Polychronidis's assistant Katarina Patroni is also his wife which allowed them to bring their baby Valentina to the Tokyo 2020 Paralympic Games.
"It's good to have your family here, it's good for the psychology," Polychronidis said. "There was also an incident yesterday (August 31) in the semi-final. We were playing tie-break again and just in the start of the tie-break Valentina cried, and for me it was like 'Go Dad, do your best'.
"After that, everything changed in my psychology and I played really well and I managed to win this tie-break and go to the final. Unfortunately Valentina did not cry this game," he laughed.
Bringing the four-month-old to Japan and managing her care while both parents train and compete hasn't been an easy road for the family. "For Valentina, it is really tough for her to be away from her parents and during the first days she was angry, mostly to her mother but even me because (normally) she always smiles to me and these days she didn't smile. This proves that it was very tough for her. But fortunately we won a (silver) medal so this will be a gift for her."
Katarina Patroni's schedule as Polychronidis' assistant is just as demanding, adding to the difficulties. "It is a huge responsibility because she's only four months old, she needs me, and I have problems with her because she doesn't want me that much, I can't even breastfeed her because she want to eat from me now. But we'll go over this, step by step, and she will understand when she is older," she explained.
"We worked really hard even through my pregnancy. We used to go to the venue when our baby was ten days old and she was coming with us every day."
The decision to bring her was not made lightly and the couple are happy they did it.
"There was a day in the beginning (of the Games) that we visited Valentina in the hotel and she was crying all the time. When we left I told Katerina that in Athens I didn't know if this was the best decision, we just followed our logic.
"But now I am sure that it's so good that we took her here as if she is feeling this way for just being apart from us for just a few hours, what will happen if we left her for twenty days, she would have terrible feelings that she lost her parents," Polychronidis said.
"I think it's special for her dad and myself that she's also here during all the games, cheering for us. She was our energy," agreed Patroni.
Having debuted at his home Paralympic Games at Athens 2004, Polychronidis has competed in each Games since, but has never been able to secure the individual title. Now the family have their sights set on Paris 2024.
"She will come again with us to Paris, hopefully, and we will target to win gold. What I told to Greg, after the game, was 'Come on, we go to Paris'. Valentina will be older so she will understand better what is happening around her, so it will be better to win gold in Paris then in Tokyo," Patroni said.
Perhaps it is fate that Polychronidis' elusive individual gold medal will wait until little Valentina is old enough to remember it.