Boccia bond connects Polychronidis and Patroni
Paralympic silver medallists celebrate Rio success by getting married.
16 Aug 2017
Imagen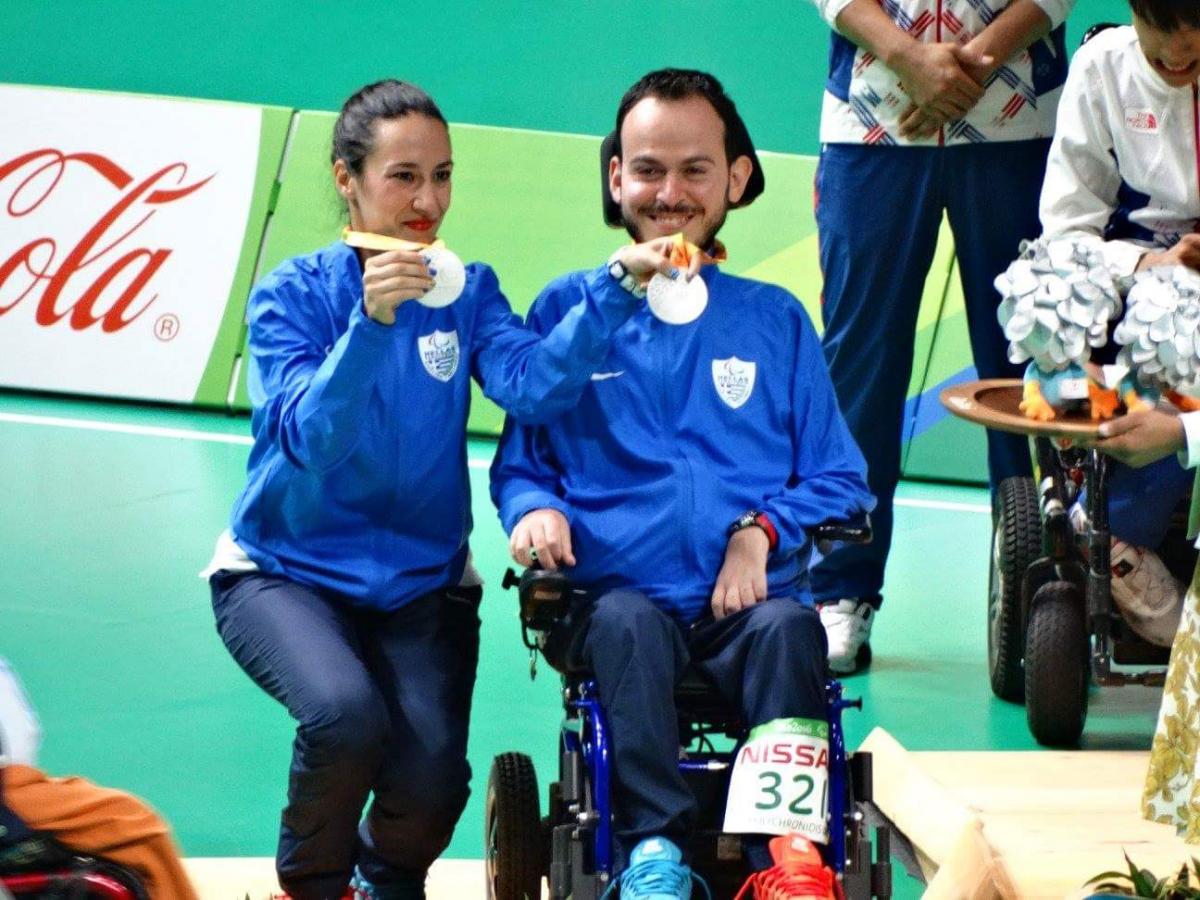 ⒸKaterina Patroni
By Ros Dumlao | For the IPC
"I think the most extraordinary thing about my proposal was my anxieties. It made me do a lot of silly things."
After the Paralympic Games, many athletes have another important event to prepare for: weddings.
Greece's Greg Polychronidis and Katerina Patroni are among the Paralympic couples who have been looking forward to just that after winning two medals in boccia from Rio 2016. It was Polychronidis' fourth Games, but his first with Patroni as his sport assistant.
The fact that they spend a lot of time together, not just in training, makes a difference in their sport, the soon-to-be newlyweds said.
"You cannot play boccia in the BC3 category with someone you have not trained a lot with. And when I say a lot, I mean a lot," Polychronidis said. "Katerina must understand 10 actions with one word because we have limited time during the game and I cannot spend a lot of time explaining to Katerina what to do."
If he says "spasimo," Patroni automatically knows what to do:
"That means I have to put on the extensions for his ramp, take the correct ball for his movement and put the ramp in the correct place…"
Polychronidis slyly interrupted: "… And correct angle."
"…And without touching the floor," Patroni continued.
"I also have to put the correct position of his pointer, and hold the ramp so that it does not shake [because of the weight of the ball]," Patroni continued, as Polychronidis cannot throw the ball with his hands. "And other specific details that I have to manage in order to do the shot."
They met at a sports conference in Athens after London 2012.
While Polychronidis said he made a "typical classic proposal." But Patroni said it was special.
"I think the most extraordinary thing about my proposal was my anxieties," Polychronidis said. "It made me do a lot of silly things."
They were at a fancy restaurant with a city view of Athens.
Polychronidis spoke with the restaurant manager beforehand to put the engagement ring in the champagne glass.
"When I came back to the table, Katerina asked whom I had been talking to, and I said he was my classmate," he said.
Patroni did not believe him:
"He was 65 years old, and I said 'c'mon.'"
A waitress then came over and asked if they wanted champagne.
Again, his nerves got to him: "I told her, 'No we won't drink.'"
But the waitress pushed a bit.
"I was happy for the champagne, and then I saw the ring in there, and he told me so are you going to marry me?" Patroni recalled.
They scheduled the wedding date after Rio 2016.
After taking bronze in the BC3 pairs in their first event at Rio, Patroni and Polychronidis were hoping for nothing less than gold in the individual event.
Silver lining
Polychronidis remembered the feeling of finishing with individual silver at Beijing 2008. On paper, anything higher than a bronze from Rio appears an improvement. But Polychronidis wanted his fiancée to be emotionally prepared.
"I remember what it felt after losing the game, when I knew I could not win, that was after my last ball in that game," Polychronidis recalled his last shot in the finals at Beijing 2008. "My thought was that's it. Four years, and that is the moment when you can do nothing else. You lost the final.
"So before the Rio finals … I told Katerina that you will see that if we win silver you will be sad. You will be one place higher, but you will be sad."
He reminded her of the hundreds of athletes from the 2015 World Championships trying to qualify for Rio and wishing they stood where they were standing.
On the podium, Patroni looked away, forcing a smile but her eyes holding back tears.
"The next day we were in our room in the Paralympic Village," Patroni recalled. "I was crying but then that evening we told ourselves, 'Let's go out and walk through Rio. And we walked around and finally I started feeling better and I realised Greg has more experience than me in the Paralympic Games. This [silver] is huge."
Polychronidis added: "The best part is that feeling lasts forever."
In a week's time, they will prepare for another feeling that will last long.
It will not be shared on a podium, but rather at a church with a seaside view in Athens.