Polychronidis aims for gold at boccia Euros
4-time Paralympic medallist wants to improve on Rio 2016 performance.
26 Jun 2017
Imagen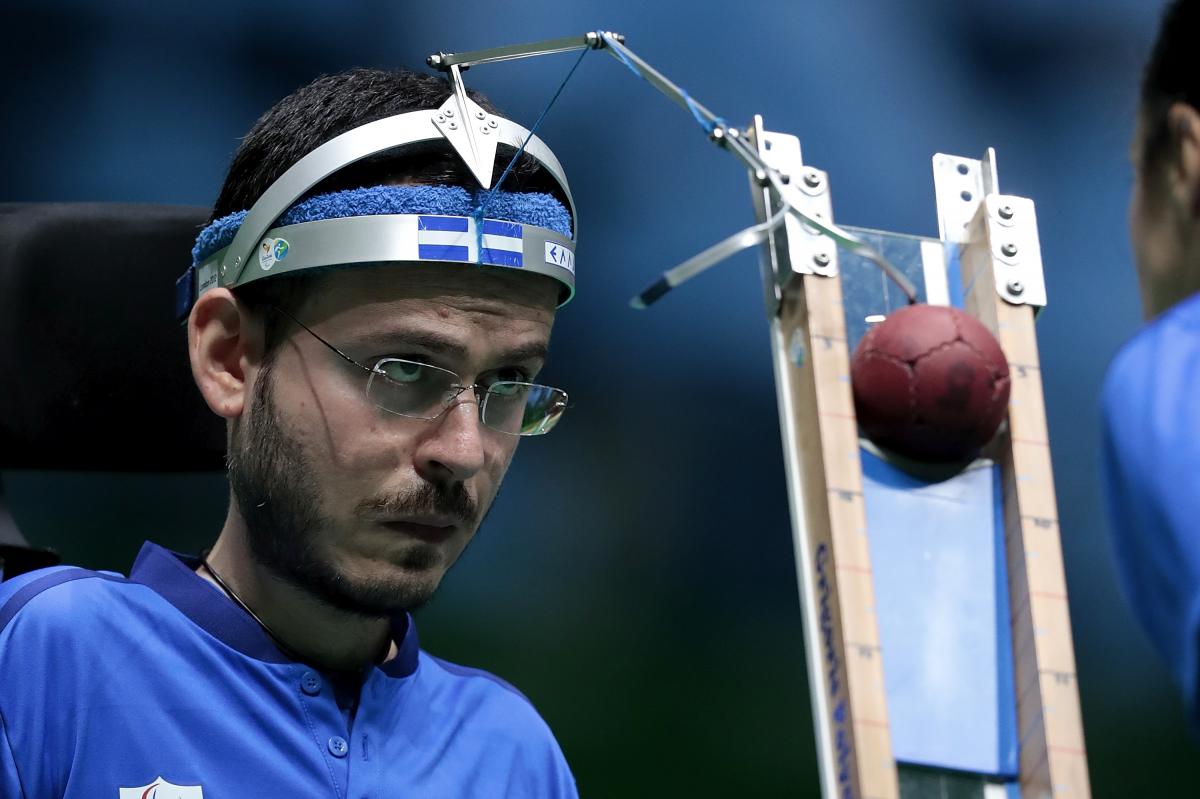 Ⓒ2016 Getty Images
By Sophie Feng | For the IPC
"Winning gold is the most difficult thing for an athlete to achieve and, of course, I have failed more times than I had succeeded."
Greece's Grigorios Polychronidis has been training six hours every day with his sport assistant, Katerina, ever since he came home from the 2016 Paralympic Games in Rio de Janeiro.
"We are also brainstorming for new tactics, ways of training and becoming more effective during each game. It is very difficult for us and consumes almost all our time," he said.
For the 35-year-old Athens native who first became the world No.1 in 2007, the goal at every tournament is the same: Polychronidis always aims for gold, although his biggest challenge is to perform the way he expects himself to.
"This [winning the gold medal] is the most difficult thing for an athlete to achieve and, of course, I have failed more times than I had succeeded. Though, as long as I believe I am properly prepared and as long as I feel myself competitive, I will always aim and give the best of me in order to win gold in every competition," he said.
As an athlete can only compete in a maximum of four sanctioned events of the Boccia International Sports Federation (BISfed), this year, Polychronidis is preparing for the World Open in Spain in August, the World Open in the United States in September and the European Championships in Portugal in October.
"Tokyo [2020] is my main goal and I will do my best to achieve it," he added.
The BC-3 athlete had already won a silver medal at the 2008 Beijing Paralympic Games when he clinched his first Paralympic title at the 2012 Paralympic Games in London, England. The Hellenic Paralympic Committee selected him as Greece's flag bearer at the Opening Ceremonies for the 2016 Paralympic Games.
"As the flag bearer I had some extra publicity and that made me even more anxious about my results. I have noticed though, that anxiety makes me more effective and careful during the competitions, so I feel that it gave an extra boost to my performance," he said.
In Rio de Janeiro, Polychronidis extetnded his illustrious career when he won two more medals – silver in the mixed individual event and bronze in the mixed pairs event.
"We managed to win two medals in a very competitive sport, with great and powerful opponents. There were times during the competition that we could have been knocked-out and yet we succeeded to win the medals. I am very thankful for that," he said.
Today, Polychronidis is happy with boccia's expansion in his country and excited for the future of the national team on an international scene that becomes more competitive every year. This year, a total of 105 Greek athletes participated in the nationals.
"Many athletes do their best in order to get a spot in the National team and this helps the overall level to rise. I am confident that Boccia's growth will get even bigger and this will also help in the publicity of the sport," he asserted.
As a member of the Greece's first national boccia team, the 4-time Paralympic medallist considers building a healthy relationship between veterans and newcomers to be "a big factor of success for everyone."
"As a veteran, I am always trying to encourage newcomers, share my experience with them and learn them to always respect their opponents. I don't like to interfere to their style of play, since it will make them better to find it on their own and it will offer them more perspective," he explained.