Singapore's tireless campaigner Yip Pin Xiu still pushing for change
She might have already served in parliament and won three Paralympic swimming gold medals but Yip Pin Xiu is not done yet, in or out of the pool
03 Dec 2020
Imagen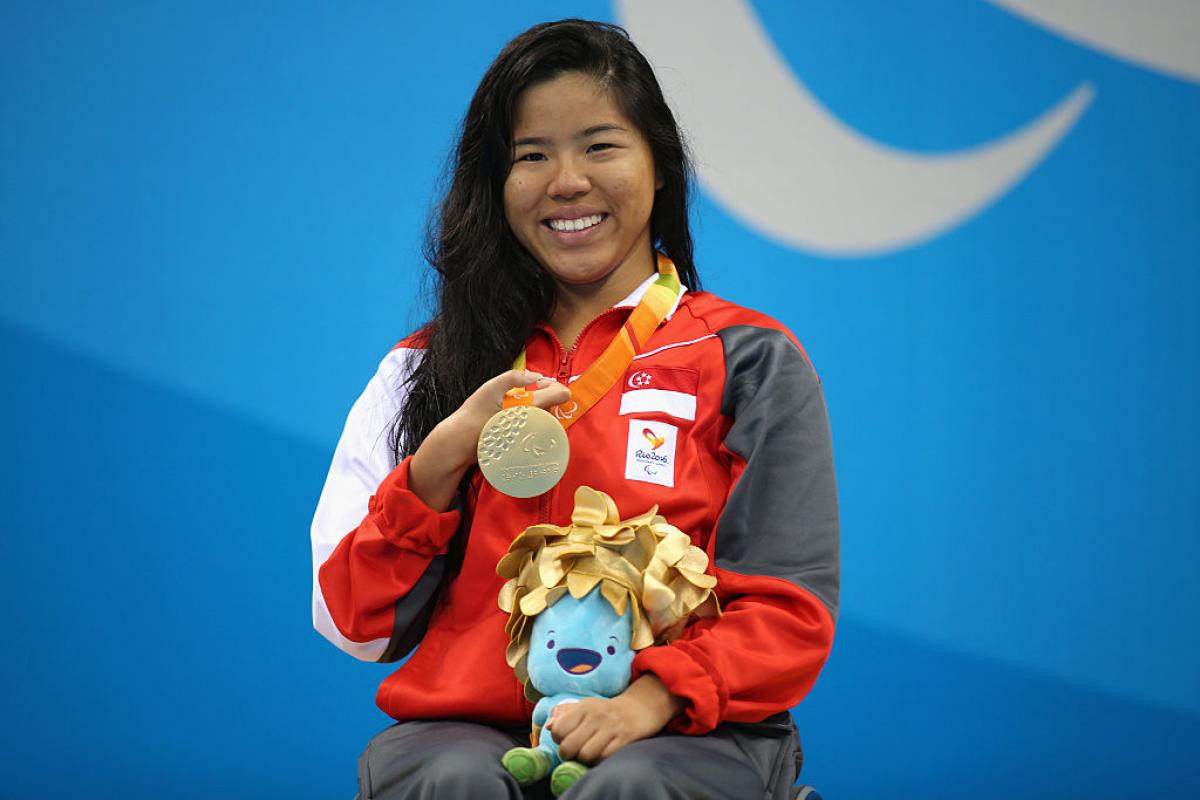 ⒸFriedemann Vogel / Getty Images
By AMP Media | For the IPC
Yip Pin Xiu is a whirr of focused, determined movement – both in the swimming pool and on land.
The 50m and 100m backstroke Paralympic champion may have already increased media representation for Para sports across the board in Singapore, challenged public opinion and driven genuine societal change but she wants more. Much more.
"One thing I hope that can change would be for more people with disabilities to be out and about," she said on the eve of the International Day of People with Disabilities [3 December].
"As of now we don't really see people with disabilities as much I would like to, possibly because they are not as confident to want to come out. It's important for us to be seen so that more people think, 'Actually we do need to think of them when we are planning stuff'.
"I would like to encourage people to not be afraid, try everything once. Try making a friend, try talking to someone, try going out. The end results will be a lot different to what you expect."
Yip is living proof of the power she sees in everyone. The S2 athlete lost the ability to walk aged 11 due to muscular dystrophy but she is yet to stop moving forwards. In 2018 she became, at 26, one of the youngest Singaporeans to enter parliament, taking up a role as a nominated member to provide non-partisan views.
Determined to drive a greater commitment to inclusivity and encourage better integration between Para and able-bodied sport, she modestly reflects on progress made.
"The more tangible things would be [for example], in the past Para sports used to be under the 'Home' section of the newspaper. So it was really more felt like a charity thing, like, 'Oh, people with disabilities doing sports'," she said.
"However, now it's in the sports section. It's a bit more competitive. There's competition, there's training and they know it's similar enough to able-bodied sports. Also personally I see a lot more people giving recognition to our athletes compared to the past when I started out."
She may have left parliament in July this year but Yip's influence to affect such change has not dimmed: she now serves on her country's National Youth Council, and has a role on the Safe Sport Commission.
"I am still very much trying to make a change and advocate on things I'm passionate about," Yip said, before quickly declaring that "everything else revolves around training".
It is a balance she has learned to negotiate with some style. The world record holder in both 50m and 100m backstroke S2, the relentlessly competitive athlete in Yip emerges when she declares "there is no such thing as too many championship titles, too many gold medals".
Now 28, Yip will certainly be in Tokyo next year, ready to extend her role as Singapore's most decorated Paralympian. And she is adamant she wants to compete in Paris in 2024 too. But in between and indeed after, she will be at the forefront of change in her society.
"When I first started out people had this general mindset that people with disabilities couldn't do much," Yip explained. "But over the years, we've had more representation in media [and] as we do more things, Singaporeans are starting to see that it's not true.
"People with disabilities can do much."