Sledge Spotlight: Gregory Leperdi
Italy's Greg Leperdi can be credited for much of ice sledge hockey's growth in Italy, as he helped organise this week's tournament in Torino.
06 Feb 2013
Imagen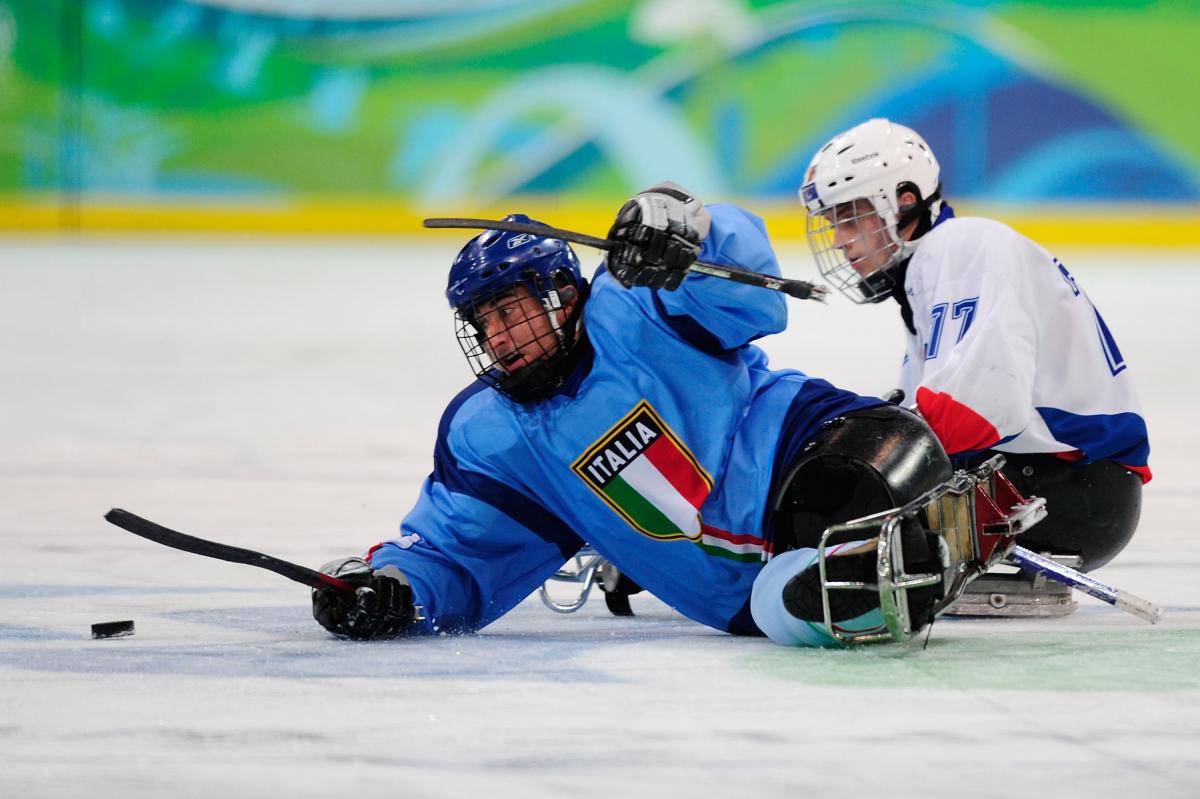 ⒸGetty Images
By IPC
"We have a group of experienced players still playing from Torino 2006 and younger talented athletes, too."
Editor's note: Every Wednesday in the lead-up to the 2013 IPC Ice Sledge Hockey A and B Pool World Championships this season, Paralympic.org will publish its Sledge Spotlight, allowing the public to meet the faces behind the helmets. Each week, we will feature one ice sledge hockey player, giving fans a chance to get to know them better.
This week, Italy's ice sledge hockey team are hosting an international exhibition tournament in Torino, playing against national teams from the Czech Republic, Japan and Russia.
All of the games are being both nationally broadcast and live streamed by Rai Sport thanks to Italian player Gregory Leperdi, who has helped organise the tournament.
Leperdi has been on Italy's squad since it formed prior to the Torino 2006 Winter Paralympics, which took place in his hometown, and he was part of the reason the team won the 2011 European Championships.
He has been a major reason for the growth of the sport in Italy, as well as the growth of para-snowboard, for which he has helped organise competitions and set rule standards for the sport in his country.
Italy's ice sledge hockey team finished sixth at last year's A-Pool World Championships in Hamar, Norway, and they're hoping to better that this year with more experience under their belt.
"We have a group of experienced players still playing from Torino 2006 and younger talented athletes, too," Leperdi said. "We are now working to be ready physically and mentally in Korea.
"Of course, we know teams such as US and Canada are still a step in front of us. They have so many players to choose from. In Italy, we have only four teams, however we have demonstrated in the past that we can play with absolutely no fear against anyone."
In addition to the tournament in Torino this week, Leperdi and his Italian teammates will compete at the Paralympic Winter World Cup from 1-3 March in Solleftea, Sweden against teams from Estonia, Norway and Sweden.
"These will be very good tests for us in order to be fit enough for the next World Championships in Korea in April," Leperdi.
"Of course our main target is to qualify directly for Sochi, therefore to be in the first five at the Championships."
Here's a closer look at Gregory Leperdi ...
Loves to play against: No one in particular. I'm just happy there are more and more nations involved. As I have dual citizenship, I'm also helping to grow a French team.
Wears jersey number: 73
Pre-game meal: Carbohydrates
Post-game meal: Proteins
Pre-game music preference: AC/DC, NO-FX, Millencolin, reggae
Favourite quote: Perfection is unattainable, but trying to achieve it we can get to excellence … or at least we would know we had given our best.
Most memorable game: The Italy-Germany, semi-final at the 2009 World Championships, with a bid to the Vancouver Games on the line. It was 1-1 at the end of overtime, and then in the shootout we were down by one. I had the survival penalty on my sticks. I didn't miss it and we went to Vancouver, and not as a host country this time like at Torino 2006.
Pet peeve: I'm usually very calm …
Name of first pet: My dog Popper
Worst haircut: In my youth, I had long hair … my mom was not happy at all.
Keep my medals in/at: The locker room of my club team, the Sitting Bulls.
Best travel experience: Vancouver was a great place to play a Paralympic tournament. Hockey is their national sport, but Torino, as it's the city where I grew up and where my first Paralympics were, was an awesome and unforgettable experience.
Most admired person: In my youth, I had posters hanging in my room of Michel Platini and Magic Johnson – two different athletes playing for the show and the crowd rather than only focused on winning the game.