Sledge Spotlight: Steve Cash
Goaltender Steve Cash has been a crucial part of USA's success on the ice this season and hopes to continue the team's run at the World Championships.
27 Mar 2013
Imagen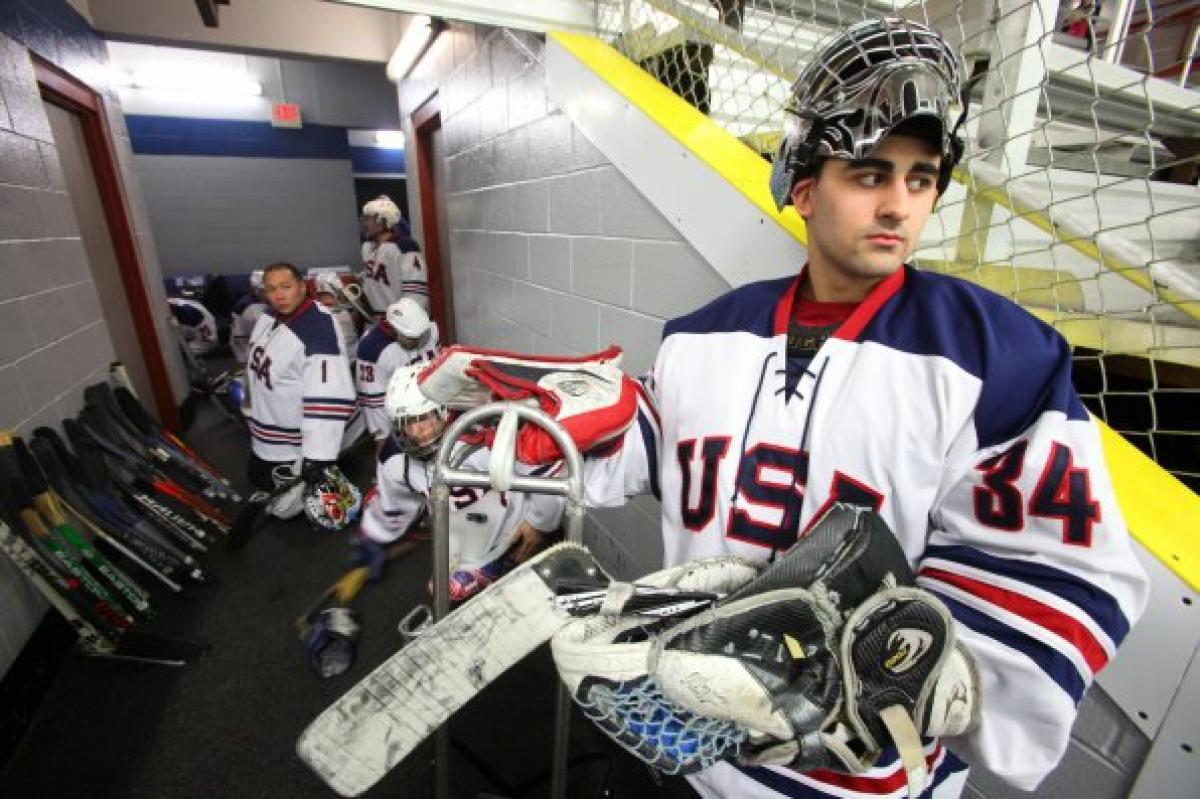 ⒸIPC
By IPC
Goaltender Steve Cash has been a crucial part of USA's success on the ice this season and hopes to continue the team's run at the World Championships.
Editor's note: Every Wednesday in the lead-up to the 2013 IPC Ice Sledge Hockey A and B Pool World Championships this season, Paralympic.org will publish its Sledge Spotlight, allowing the public to meet the faces behind the helmets. Each week, we will feature one ice sledge hockey player, giving fans a chance to get to know them better.
USA's ice sledge hockey team have yet to lose a tournament this season, heading into next month's 2013 IPC Ice Sledge Hockey World Championships A-Pool in Goyang, Korea.
Steve Cash, whose team DASA St. Louis Blues won the US Championships last week, can be credited for a lot of the national team's success on the ice this year.
The USA won the World Sledge Hockey Challenge in December, the USA Hockey Sled Cup in January and took two of three games against arch-rival Canada in February's exhibition series.
"It's been a tell-tale sign of how we've been performing and how we've been training," Cash said.
"I'm pretty confident going into the World Championships and feeling pretty good. I feel like my performances have been better than ever with the national team."
The 24-year-old has had huge success on the international stage already, stopping all 33 shots that came his way in five games at Vancouver 2010, including a penalty shot attempt by Japan in the gold-medal game.
At last year's World Championships, he was named to the All-Tournament Team after recording a .923 save percentage in goal.
Cash said he personally measures his individual success based on the team's success, which means good things for him, but also that other teams will have an extra motivation to slip the puck past him into the net in Goyang.
"I think we have a huge target on our backs," Cash said. "We've been revered as the top team in the world for the past few years, and just that title alone is enough for teams to want to beat us more than other teams."
Here's a closer look at Steve Cash …
Toughest team to play against: Canada is a pretty tough team and they have a lot of depth and guys that can really shoot the puck.
Wears jersey number: 34
Pre-game meal: Pasta, meat or chicken and maybe some vegetables. Nothing too fancy.
Post-game meal: I don't eat a lot after game, but I'll definitely have some chocolate milk and maybe some fruit or vegetables.
Pre-game music preference: I listen to country, rock, rap, everything. Anything that will get me pumped up before a game.
Worst haircut: My first year on the national team we went to Germany and they always give haircuts to rookies, so they shaved a racetrack around the top of my head and then took chunks off the back. I got a bunch of stares and funny looks. That was definitely something that I'll never forget.
Most memorable game: I tell people most about the gold-medal game in Vancouver because that's what they ask about … it's been the biggest game of my career as well as the careers of my teammates.
Preferred Paralympic summer sport: Swimming because I really respect people that can be in condition like that and commit so much time to the sport.