Sochi 2014: Sweeney leads USA's military veterans
Josh Sweeney leads a group of five USA ice sledge hockey players with military ties who will try to defend their country's Paralympic and world titles.
07 Mar 2013
Imagen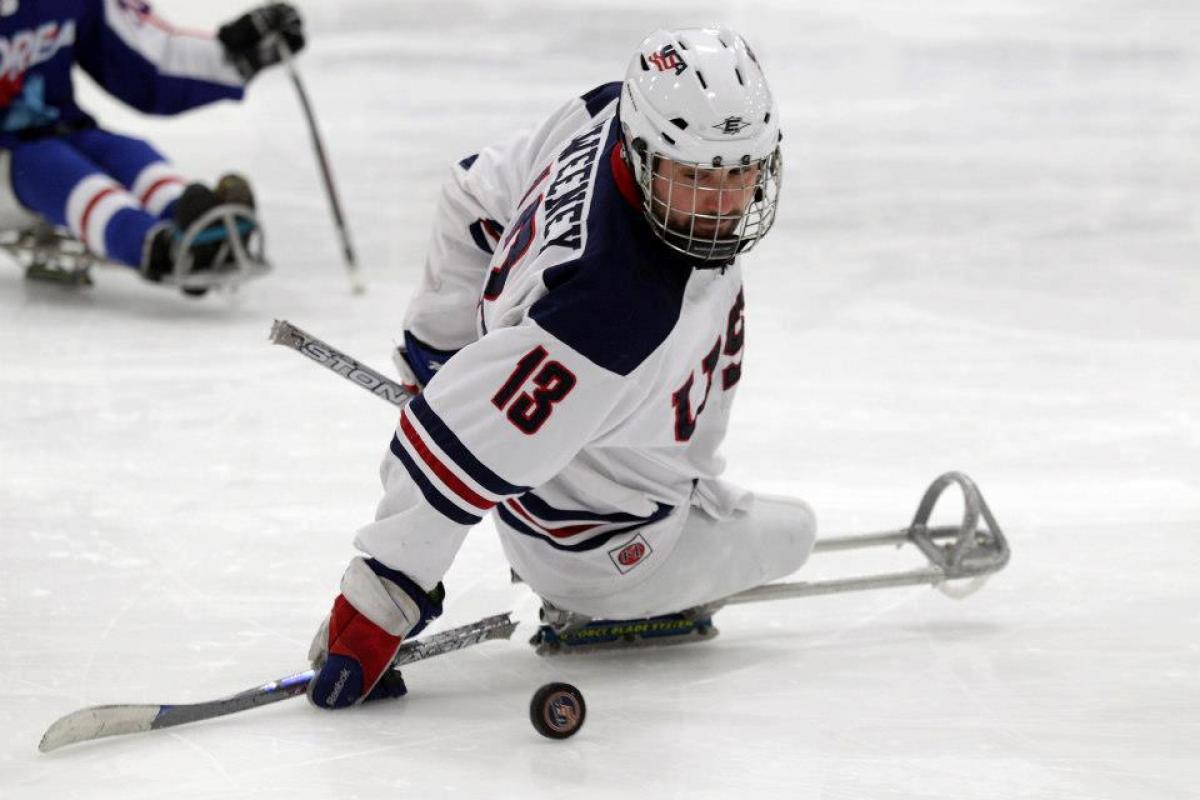 ⒸUSA Hockey
By IPC
"Sledge hockey's definitely given me some direction to help pick my life back up and just improve myself."
Josh Sweeney was deployed to Afghanistan in September 2009 to serve as a US Marine Sergeant.
Just one month into his deployment, on 28 October 2009, Sweeney stepped on an improvised explosive device in the Afghan town of Nawzad, which would change his life forever.
"My buddies patched me up, and two hours later I was on a helicopter to a camp in Afghanistan where they did a little more patching up," Sweeney said.
Upon returning to the USA, Sweeney underwent more than a dozen surgeries and started life again back home as a bilateral amputee.
Now, a little more than three years later, Sweeney is one of five military veterans on USA's ice sledge hockey team that will be favoured to repeat as Paralympic champions at Sochi 2014.
Picking up the pieces
Sweeney recovered from his accident in San Antonio, Texas, where he spent nearly seven months working with a physical therapist at the Brooke Army Medical Hospital until all of his limbs closed up.
Prior to his deployment, he played ice and roller hockey, but only casually with friends.
"I had never thought of hockey playing such an important role in my life, and then a week after I was injured, I was telling my mom, 'Oh man, I'm not going to be able to play hockey anymore,' and it was a huge hit," Sweeney said.
At that point, it felt his life had just been turned upside down.
"Where am I? Who am I? What am I doing now with my life?" Sweeney asked himself during rehabilitation.
"You can kind of fall into a slump when you're going through rehab or after being injured," he said. "You go from doing all of these things in the Marine Corps to now being injured and not being able to do those things anymore."
That's when one of the physical therapists introduced Sweeney to ice sledge hockey – a sport he hadn't heard of previously.
He picked up the sport in no time, spending his first year playing for a local club, the San Antonio Rampage, before trying out for USA's national team.
Sweeney was shocked when he first made the national squad for the 2011-12 season, as he knew his puck handling skills and agility weren't up to par, but he was told his previous hockey knowledge for the game was enough to get him started and the rest would come with time.
"Sledge hockey's definitely given me some direction to help pick my life back up and just improve myself," Sweeny said.
"I went out and tried it out, and I fell in love with it. It was the same feeling as before, it was just a little more co-ordination needed than I was used to with the regular stand-up hockey."
Going for gold
USA's ice sledge hockey team defeated Japan for gold at the Vancouver 2010 Paralympic Winter Games, but at that point in time, Sweeney was still in rehabilitation.
He was fortunate enough, though, to be a part of the team last season when it won gold at the IPC Ice Sledge Hockey World Championships A-Pool in Hamar, Norway, and he is planning to compete at Sochi 2014.
"It's been a lot of hard work," Sweeney said. "I'm still working every day to improve my game, and it's been a pretty interesting journey."
Sweeney and his four teammates with military ties – Rico Roman, Paul Schaus, Craig Brady and Jen Yung Lee – will now try to defend their title at this year's World Championships, which run from 12-20 April in Goyang, Korea.
Team USA veterans Taylor Chace, Alexi Salamone and Steve Cash have bonded well with these five, and Sweeney said the chemistry among the players this year is much improved and that a "weak line" on the ice doesn't appear to exist.
"It's my second year now, and I just feel I've grown leaps and bounds from where I started," Sweeney said.
"The fact that I was in the military means my teammates have a lot of respect for me.
"I think definitely with our military work ethic, we come in there and we come to work every time, so nobody else on the team really has the choice to slack off."
Related Images