Stranded in Ukraine, Sharad Kumar keen to stay positive
'I will have to chalk out a different plan to keep myself competition-fit'
05 May 2020
Imagen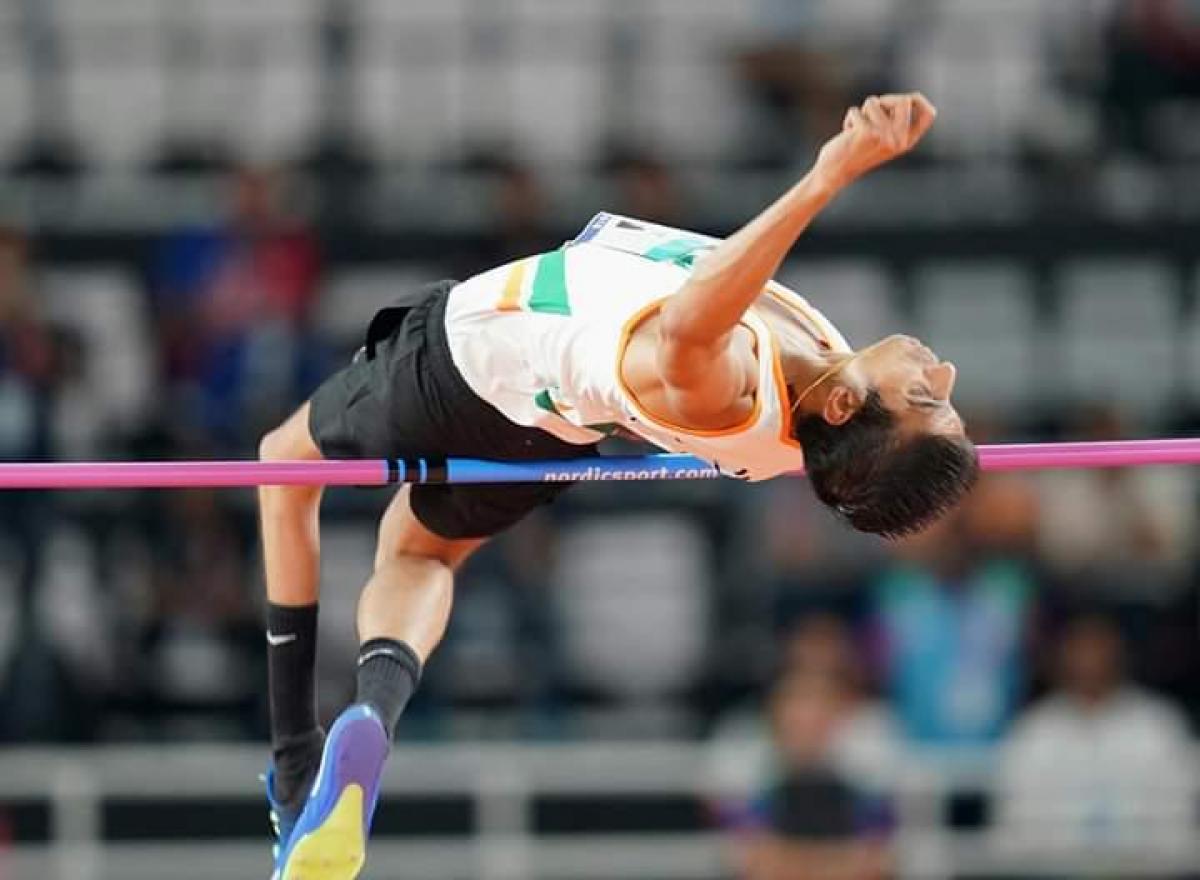 ⒸAsian Paralympic Committee
By Jasvinder Sidhu | For the IPC
With the COVID-19 pandemic leaving the world in disarray and postponing the Tokyo 2020 Paralympic Games, India's leading Para high jumper Sharad Kumar is distraught.
Having spent three relentless years training to be 100 per cent ready for Tokyo 2020, Kumar's dreams have hit a roadblock, for now.
To add to his woes, he is stuck alone in Ukraine and is feeling homesick.
Sitting helplessly in his room at Khtz Stadium since 3 March, Kumar spoke on how he was dealing with the isolation.
"I recently got in touch with the Indian embassy here and requested the officials to accommodate me, if there was any flight to evacuate Indian students from here," said the T42 classified athlete, who since 2017, has made Ukraine his base training under the watchful eyes of coach Evgeny Nikitin.
Kumar earned gold medals at the 2014 and 2018 Asian Para Games and silver medals at the 2017 and 2019 World Para Athletics Championships; and had emerged as a favourite for the Tokyo 2020.
However, with Ukraine enforcing the lockdown, there is little Kumar can do. He managed to visit home in December before the pandemic struck. 
"I want to go back to India because there is nothing to do here. My intention was to stay here until the Tokyo Paralympics. But with the Games postponed and everything closed here, I'm missing home terribly and just want to be with my family as soon as possible," said the 28-year-old, who missed out on the podium at Rio 2016 and had to be content with a fourth-place finish.
Ever since Kumar reserved his seat for the Tokyo 2020 last November, following his silver medal at the World Championships in Dubai, UAE, he had beefed up his training programme. The chaotic situation has put his schedule off-track and that is hurting him the most.
"It is frustrating to say the least …" said Kumar. "Now, I need to restart, re-plan, and reshape myself. But I can't complain much and have to move on and try to adapt. This is a crisis that the world is dealing with but definitely, the feeling isn't right. It's a sinking one, at times; maybe because I'm alone here," said Kumar.
When he was a toddler, he contracted polio and his left leg got paralysed. But he found his way int Para sports, and also is an assistant coach with the Sports Authority of India. Kumar was also called upon by Indian Prime Minister Narendra Modi to rally the people around in the fight against COVID-19.
"What athletes like me and most around were hoping was a few days of lockdown, has gone into months now. When you are busy, you don't feel anything and you are looking at the task at hand.
"My training used to start from 8:30 a.m. till noon. Every day, of the training was great fun. But now, with the stadiums shut, I am not training and life suddenly looks empty. It is a very different situation as I am sitting at home and waiting for time to pass, something that I have not done in years," said Kumar.
Though Kumar is hungry to get that elusive Paralympic medal, regaining his peak fitness is one of his major concerns. Additionally, he wants to switch back to academics and make the most of his time on hand.
"I'm 28 now and this was my best chance of taking a shot at a medal in Tokyo. I was in best shape and would say I was at the peak. The 17 months of postponement does make a huge difference for senior athletes like me. It is a very long period and that's scary.
"I would be lying if I say I'm not worried or it is not playing at the back of my mind but we all need to stay upbeat and find positives to inspire each other," said Kumar. 
"With training out of question, I was looking forward to preparing for the UPSC (Union Public Service Commission in India) exams but I missed out on my form submission. Let's hope something works out. Meanwhile, I will have to chalk out a different plan to keep myself competition fit."