Strong Australia hope to consolidate position on table
Australia sending its largest contingent for an overseas Paralympic Games
18 Aug 2021
Imagen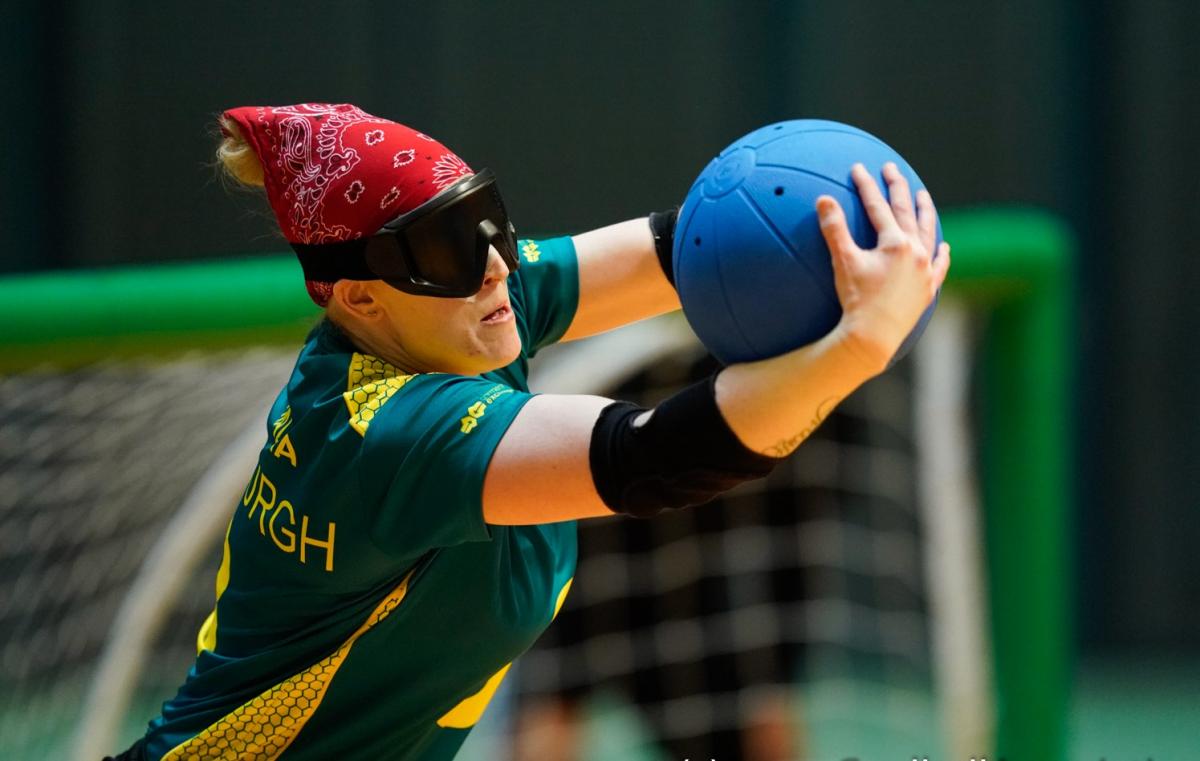 ⒸJapan Goalball Association
By IPC and Paralympics Australia
With 179 participants, Australia is sending its largest contingent for an overseas Paralympic Games, hoping to improve on its fifth-place finish in the medals tally at the previous four editions.
At Rio 2016, a 176-member Australian contingent bagged 81 medals - 22 golds, 30 silvers and 29 bronze. The country had its best haul at the home Games in 2000 when it won 149 medals (63-39-47) and topped the table.

The Tokyo delegation includes 84 debutants while Para athlete Christie Dawes and Para table tennis player Daniela Di Toro will be participating in their seventh Paralympic Games. Fifteen-year-old swimmer Isabella Vincent is the youngest member and 60-year-old Para archer Peter Marchant the oldest.

In the Japanese capital city, Australia will be participating in 18 of the 22 sports on the programme. However, it will be looking to its traditional strongholds like swimming, athletics and cycling for most medals and achieve its target of finishing fifth or above in the medal table.

"Australia has an incredibly proud tradition at the Paralympics. We finished on top of the medals tally at Sydney 2000 and have finished fifth at each Games since then. We believe we've put together a team for Tokyo that has the capacity to match that level of performance and we're all very much looking forward to playing our part in a great global celebration of the human spirit," said Australia's Chef de Mission Kate McLoughlin.
 
"I think most of my colleagues around the world would agree that the resilience shown by Para athletes to keep training hard, qualifying for Tokyo, and just getting there to compete amid all the challenges of the past 18 months or so is one of the great achievements in the history of the Games."
Para table tennis player Daniela Di Toro Ⓒ Getty Images

Just like their counterparts around the world, Australian Para athletes have also gone through tremendous hardships to keep themselves ready for Tokyo 2020 - maintaining their well-being and fitness during the one-year postponement caused by the COVID-19 pandemic.

Said McLoughlin: "Our athletes here in Australia have been magnificent and there has been exceptionally strong competition for places. We have a really impressive group of swimmers, our women's goalball team who are heading to their third Games in a row, and our largest boccia team in over 20 years.

"We have a small but strong Para canoe team led by reigning gold medallist Curtis McGrath, while Janine Watson has been confirmed as our first taekwondo Paralympian. We've also confirmed Rio 2016 medallist Jonathon Milne on our Para archery team. The first athletes named for Tokyo 2020 were 10 of our top Para athletics competitors, including Jaryd Clifford and Michael Roeger, who each broke the marathon world record earlier this year," she added.
Three-time wheelchair tennis player Dylan Alcott is one of the most well-known faces in the Movement. The 30-year-old seeks to repeat his double gold medal performance from Rio 2016, where he won in quad singles and doubles.
Wheelchair tennis player Dylan Alcott Ⓒ OIS Photos

Wayne Phipps becomes the first Australian to compete in Para judo since Beijing 2008 while the Australian Gliders, the women's wheelchair basketball team, returns to the Paralympic competition for the first time since 2012.
The 11-strong Para table tennis squad – that includes two-time dual Paralympic and Olympic representative Milly Tapper – is Australia's largest since the Tel Aviv Games in 1968. Shae Graham becomes the first woman to play at a Paralympics for the Steelers, Australia's wheelchair rugby team, who will be aiming for an unparalleled third consecutive gold medal.

Australia's track and field squad include mainstays Madison de Rozario and Michael Roeger, who have each competed in three Paralympic Games. Vanessa Low has been named after winning the long jump T61-63 at the World Championships in Dubai last year. Low won a gold medal and a silver medal for Germany at the 2016 Rio Games before moving to Australia.
Australian Vanessa Low Ⓒ Luc Percival for World Para Athletics

Eliza Ault-Connell competed in five events at the Athens Paralympics in 2004, stepped away from the sport to start a family, and qualified for Tokyo with a bronze medal in the 800 metres T54 at last year's World Championships.

Rheed McCracken, dual World Championship gold medallist Jaryd Clifford and Rio silver medallist Deon Kenzie are all aged under 25, while sprinter Rhiannon Clarke, discus thrower Sarah Edmiston, and Corey Anderson, who won a World Championship gold medal last year in the javelin F38, will compete at their first Paralympics.

Australia will also be hoping for a medal in boccia for the first time since 1996 as after a long time they are a team at a competitive level, according to Dan Michel, who competed in Rio in 2016 and is ranked No. 4 in the world in individual BC3.
 
"This is the first time in a long time that we're going to have a team at a competitive level. It's exciting to be part of that. It's a great opportunity to bring boccia to the forefront in Australia and get more people talking about it, more people involved, and to grow the sport," he said.

The country will hope to garner most of its medals from the 32-strong swimming team. It features 15 debutants along with some of the most successful swimmers in Australian Paralympic history, including six-time gold medallist and winner of 15 Paralympic medals Ellie Cole, seven-time medallist Matthew Levy, and Brenden Hall, who has won six Para swimming medals including three golds so far.
Swimmer Ellie Cole Ⓒ Bob Martin for OIS

Also among those named are Lakeisha Patterson, winner of six medals at the Rio 2016 Paralympics including two gold, and Tiffany Thomas Kane, who won four medals in Rio including one gold. Levy, 34, is the most senior member of the swimming team and will now prepare to compete at his fifth Paralympics, having started his journey at Athens in 2004.

Para canoe 2016 gold medallist and 10-time world champion Curtis McGrath will lead the four-member canoe squad. "We're quite a small team but we all debuted at the last Games, which is important and gives us a lot of knowledge about how the Games are going to play out and what to expect when we get there," said McGrath, who became a double-leg amputee after a mine explosion while he was serving in Afghanistan in 2012.

"We also all went over to the Test Event in late 2019, so we were lucky to have the chance to race on the course and in the same time frame as to when the events at the Games will be held. So it's not going to be foreign to us.
Curtis McGrath Ⓒ ICF

"The place was still under construction when we were there but the buzz was amazing. People were talking about the Paralympics and it was really good to go there, to feel it and see it. It's a shame the stands won't be full of people when we compete this time. But it's all about racing in your lane and worrying about doing your best," he said.