Teenage runner Misoya spreads joy and family pride from dirt tracks in Malawi
Poverty and lean training conditions no obstacle for 17-year-old runner determined to bring pride to his large family and remote village in southeastern Africa
15 Dec 2022
Imagen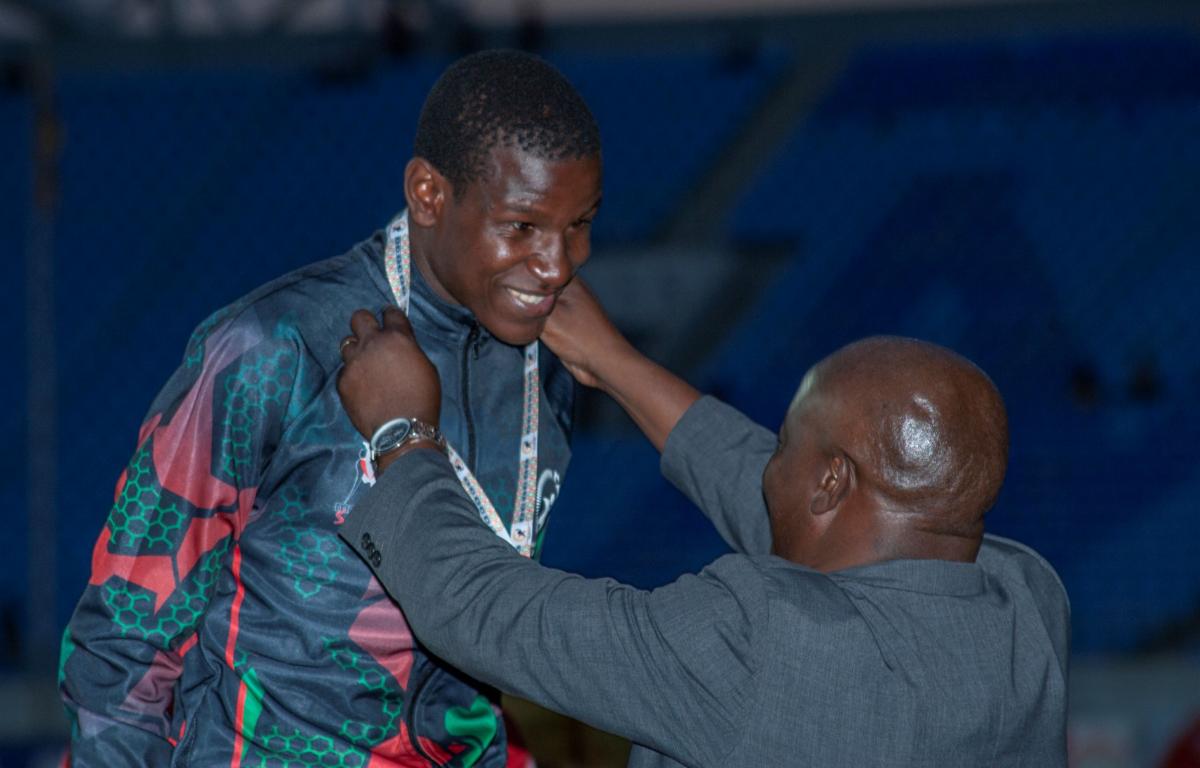 ⒸAmos Gumulira
By Lena Smirnova | For the IPC
Moses Misoya has a big smile on his face every time he steps out onto the running track in his home village in Malawi and prepares to run.
That running track is a common country road - rocks, grass and mud - and potentially treacherous for an athlete with a severe vision impairment. But for the 17-year-old these low-key training sessions have proven life-changing since he first started running two years ago.
The sport gave Misoya an opportunity to leave his village for the first time and then, to cross the nation's borders and race at international competitions where he has already won two medals.
More than the hardware, however, Misoya praises sports for helping him support his large family who have never known the advantages that their son and brother is now able to experience as a competitive athlete.
Running without sight
Misoya is one of eight children in his family. There are four boys and four girls.
Two of Misoya's siblings, as well as his grandmother, have the same eye condition that he was born with. This condition progressed into vision loss due to an infection he contracted as a child.
"I was very young. I cannot even remember when it happened," Misoya said. "There was a disease where I came up with these sores and then after some time, another one, so that was the starting point and it affected the whole of my body. I was born with a vision impairment, and this disease just added (to it)."
Despite not being able to see well, Misoya started going for casual runs in his village about two years ago. That effort did not come easily.
"I was nervous to run in the first days. I needed courage to run," Misoya recalled. "The challenge that I find is that because of the sight, sometimes while running, I may miss the line, so that's a problem that I face."
A bigger, more hurtful, obstacle the teenager encountered were the negative comments he receives from passersby during his runs.
"Sometimes other people are saying bad words about me," Misoya said. "When they see a vision impaired person running, they start saying, "Ah, why are you wasting time? You have a big problem. Maybe you'll end up injuring yourself because of the exercise'. There are insults from other people".
A whole new world
Negative comments from passersby stem from a culture of over-protectionism that is prevalent in the broader African region where Misoya comes from.
In Malawi and neighbouring countries, it is common for parents of children with disabilities not to allow them to take part in sports. Sometimes the parents may even keep their children in the house for lengthy periods of time in an effort to give them greater care.
For Misoya, however, things at home were quite different.
"It was the opposite," he said. "I come from a poor family. I come from a very rural area, one of the districts that is not as good as the other districts in terms of the financial set-up.
"One reason why my parents were not all that protective, especially after I started the Paralympic sports, is they knew that I would be assisted financially and maybe psychologically I would be OK. That's why they had to let me go."
Misoya's family was enthusiastic when the Vice Secretary General of the Malawi Paralympic Committee, Memory Enson Chauluka, spotted him during one of his runs. Chauluka then arranged for Misoya to take part in three training camps and several school competitions.
After the third camp, Misoya was selected to represent Malawi at the 2021 Region 5 Youth Games in Maseru, Lesotho where he ultimately took a silver medal in the men's 400m T13. 
"I started because I was just interested, and my passion grew as I saw others running and enjoying the running," Misoya said. "I love sport because when I went to Lesotho, and when I go to other places, I interact with other people and I learn things. That interests me."
Running for family
When Misoya came back from Lesotho, there was a warm reception for him. The silver medal he gave to his mother to keep. 
His family is always on his mind and a big reason for why he runs, the athlete said. While his parents are not able to support his athletic career financially, they give him great motivation. 
"Because the family members are poor, much as they would have loved to assist me financially, they cannot," Misoya said. "What the family does instead at the moment is encourage me, psychologically, supporting me by saying, 'Please go'. Whether to the training, go to the training. Whether to the Games, go to the Games. So encouragement is what comes from my parents."
In return, Misoya hopes his sporting career will become a way to help his family. 
"It could help, very much," he said. "My family would be assisted in the sense that some things I may pay for on my own. For example, when we go to a competition, we get some allowances. That can help pay for school fees and other things, which would be a relief to my parents.
"I might also assist the family to buy other things, which would be a relief to the family and that would make the family happy with me. I would be somebody who is assisting his family. Instead of only parents assisting me, now it would be the other way around."
A student and a teacher
Misoya trains five times per week, for one to two hours, to become a better athlete. His specialties are the 200m and 400m distances. 
When at home, he trains alone as there is no local coach to support him. The national coach sometimes makes a training plan for him, but it is up to Misoya to carry it out.
The young athlete also does not have a track to run on or starting blocks to train with.
In spite of these challenges, Misoya not only managed to successfully structure his own training, but also caught the attention of his schoolteachers.
"Because of the way that I do the training at the school, teachers chose me to be a coach for running events for all students, including those without disabilities," he said. "I have some skills so I'm coaching other students at the school."
Misoya does not want to become a teacher, however, and says he will focus on his competitive career instead. A bronze medal in the men's 400m T13 at the home Region 5 Youth Games, held in December 2022 in Lilongwe, was a big boost to his motivation.
"All this time, I didn't take this very seriously, but this event has made me more serious than before," Misoya said. "I feel that I can encourage somebody if the (Paralympic) values of determination, courage, equality are put into use.
"I have a message to other people with disabilities. I want to say, it looked like a simple thing when I started, but now there are results coming out of it and if you do sporting activities, and you do them in the right way, there is a possibility that you can prosper. Your life might change, so I plea with others with disabilities to also take part in sporting activities so that maybe they can experience what has happened to me."