Para sport awareness reaches new heights in Malawi
African nation celebrates Tokyo 2020 Paralympic participation and I'mPOSSIBLE Award
08 Oct 2021
Imagen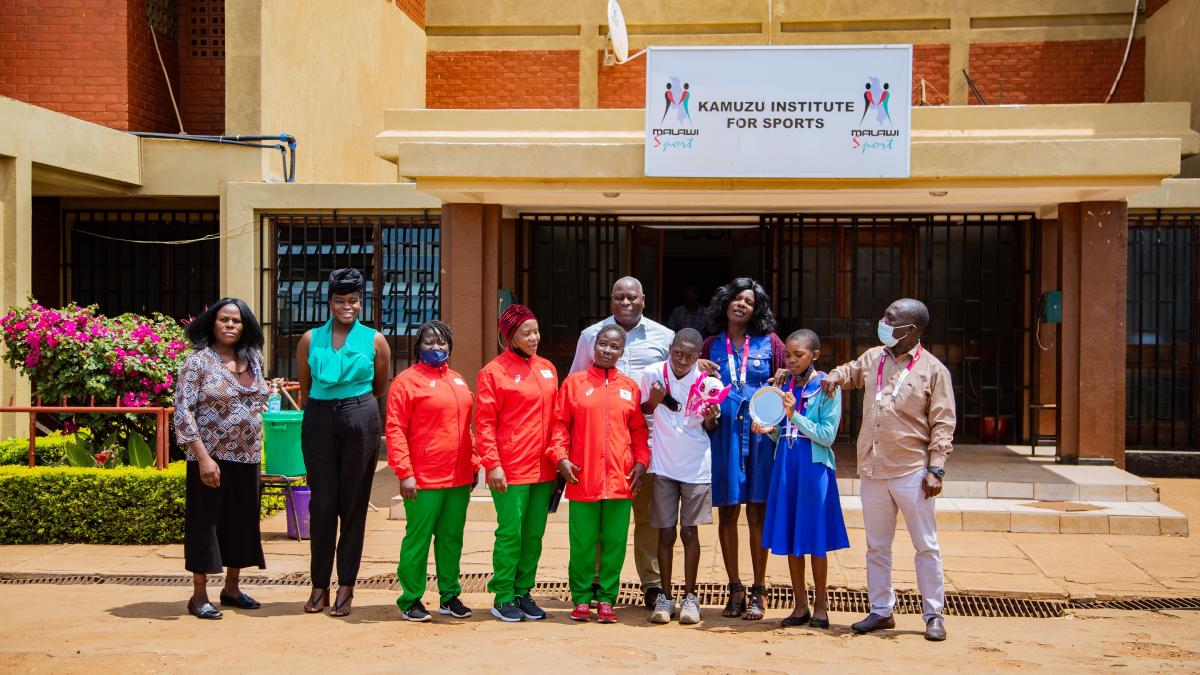 ⒸUniversity of Malawi
By IPC
Malawi's recent Para sport success did not go unnoticed and is grabbing headlines in the African nation. 
The Tokyo 2020 Paralympic Games saw vision impaired middle-distance runner Taonele Banda, the country's first and only Paralympian, competing at her second successive Games.
Some days later at the Closing Ceremony, Malawi's Lilongwe LEA School was recognised by the International Paralympic Committee (IPC) for their commitment to disability inclusion and the successful implementation of education programme I'mPOSSIBLE.
In late September, a press conference was held at the Kamuzu Institute for Youth in the Malawian capital city of Lilongwe to celebrate these achievements. Educational and sporting personalities, and members of the national media were in attendance.
Noel Mwango, Ministry of Education Director of Special Needs Education, said: "I am telling the whole nation that when we say it is possible, they should really take it seriously. Those kids that have disabilities should not be kept in the houses but go to school. 
"Look at the innovation Noel Kenani made (ball with sound to include classmates with vision impairments), that went and stood for the nation in Japan and won this award for us as a nation. We are a proud of what he has achieved."
Lilongwe LEA School has taken the Paralympic values of courage, determination, inspiration, and equality and applied them daily in their classrooms. I'mPOSSIBLE has had a strong impact on students' self-esteem to realise their potential, breaking down barriers between students with and without disabilities, and inspiring teachers encouraged by the changes seen in their students.
"The award is testimony to the strong wish of the school to lead in creating an inclusive society in Malawi," said Charity Sondo, teacher at the Lilongwe LEA school. "I'mPOSSIBLE is a vital tool in fighting discrimination, while at the same time, giving hope to millions of people with disabilities in Malawi, and beyond. I'mPOSSIBLE naturally fits in the school curricula, by using simple, local and adaptable materials and ideas to train both teachers and learners, making co-existence a must for everybody.
Lilongwe LEA School will also receive an IPC grant to buy sport equipment since they were unable to travel to Tokyo and attend the Closing Ceremony to receive this award.
Malawi Paralympic Committee Vice President Joseph Galanje added: "We have a double celebration, as NPC but also as the Malawi nation. 
"Firstly, because Taonele represented us and she managed to lowered her time. She is 10th in the world for the 1,500m race, and 3rd in Africa. But we are also happy because our school, Lilongwe LEA won an international award for the I'mPOSSIBLE programme innovation that our pupils created."
The I'mPOSSIBLE programme aims to spread the Paralympic values and the vision of the Paralympic Movement to young people throughout the world. Through education of inclusion, it aims to challenge and change the perceptions of how young people perceive people with an impairment, thus bringing about a more inclusive society.
Lilongwe LEA School student Noel Kenani said: "I am very happy that we have won because we people are looked upon because they say 'what can these ones do…' Here we have shown that we are able to do things."
University of Malawi Professor Mufunanji Magalasi added: "Because of this award, we are now on the map of the Paralympics and Para sport world."