I'mPOSSIBLE Educator Online Course welcomes participants from four countries 
Global Paralympic education programme spreads across the globe
02 Jul 2021
Imagen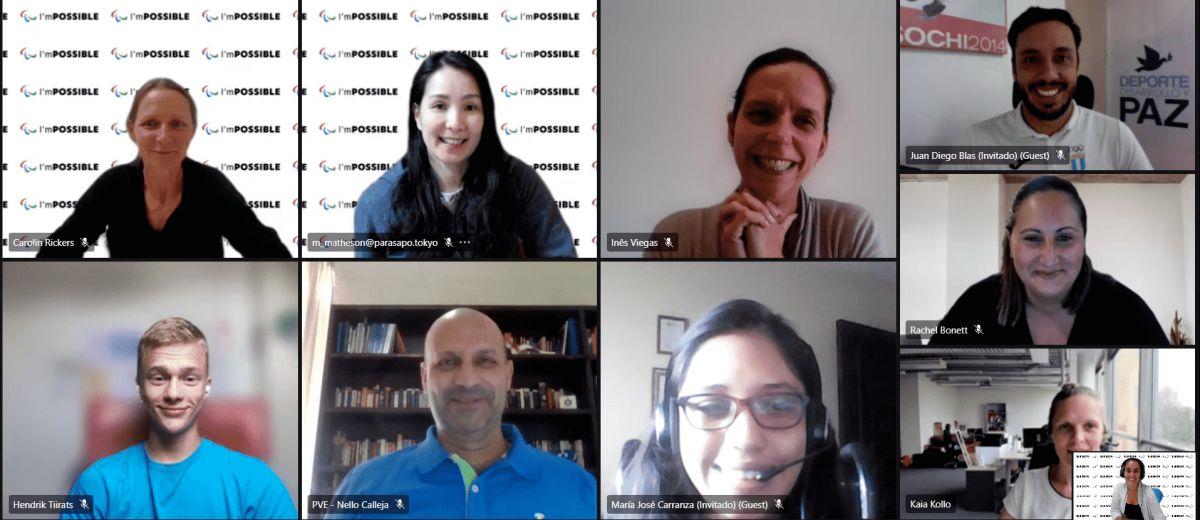 By IPC
Seven I'mPOSSIBLE Educators from Estonia, Guatemala, Malta and Portugal have committed to implementing the global Paralympic education programme across their countries after taking part in an online course between 17-22 June.
The course was led by I'mPOSSIBLE Global Instructor and Japanese Paralympic champion Miki Matheson, International Paralympic Committee (IPC) Membership Programmes Senior Manager Carolin Rickers and IPC Membership Programmes Manager Maria Lourdes Gonzalez.
The seven educators will support their National Paralympic Committees (NPCs) and conduct Teacher Trainings throughout their countries, bringing the Paralympic values into the schools through the I'mPOSSIBLE toolkit.
Matheson said: "The five-day long online training session was a huge success. It was different from face-to-face sessions in the past, but all instructors and participants shared the I'mPOSSIBLE spirit throughout the course and that was the ingredient for success. 
"I am certain that all participants will make a huge impact within their territories. It was not just knowledge transfer or preparation to be a better educator; we learnt from each other, exchanged challenges we faced, learned from good practices. We now have more enthusiasts on board to spread the value of the Paralympic education through I'mPOSSIBLE. I am honoured to be part of this great Movement."
Participant Rachel Bonett of Malta added: "I am very proud to have completed the I'mPOSSIBLE educator course. The past few days have been very enriching on both a personal and professional level and I am very much looking forward to put all that I have learnt into action."
Guatemalan participant Juan Diego Blas said: "This is an excellent course that gives us the necessary tools to be able to provide teacher trainings in the best way possible for the correct implementation of I'mPOSSIBLE. 
"It teaches us to adapt our teachings according to the type of learners that the participants are and to use methodologies that promote better teaching. Many thanks to the International Paralympic Committee for this great opportunity."
The I'mPOSSIBLE educational toolkit is developed by the IPC to spread the Paralympic values and the vision of the Paralympic Movement to young people throughout the world. 
The toolkit is designed for teachers to educate learners aged 6-18. The toolkits provide a range of easy-to-use lesson ideas introducing learners to inclusion through the Paralympic values, Para sports and the inspirational achievements of Para athletes from around the world. 
The IPC provides the core toolkit and supporting resources to implementers, including NPCs, to activate I'mPOSSIBLE in their territory.  I'mPOSSIBLE is now implemented by 37 NPCs and three Organising Committees of the Olympic and Paralympic Games world wide, and since its start 20 I'mPOSSIBLE Educators have be trained.