Estonian university students get involved in I'mPOSSIBLE
Initially meant to engage youngsters, IPC's global education programme also engages future educators  
25 Nov 2020
Imagen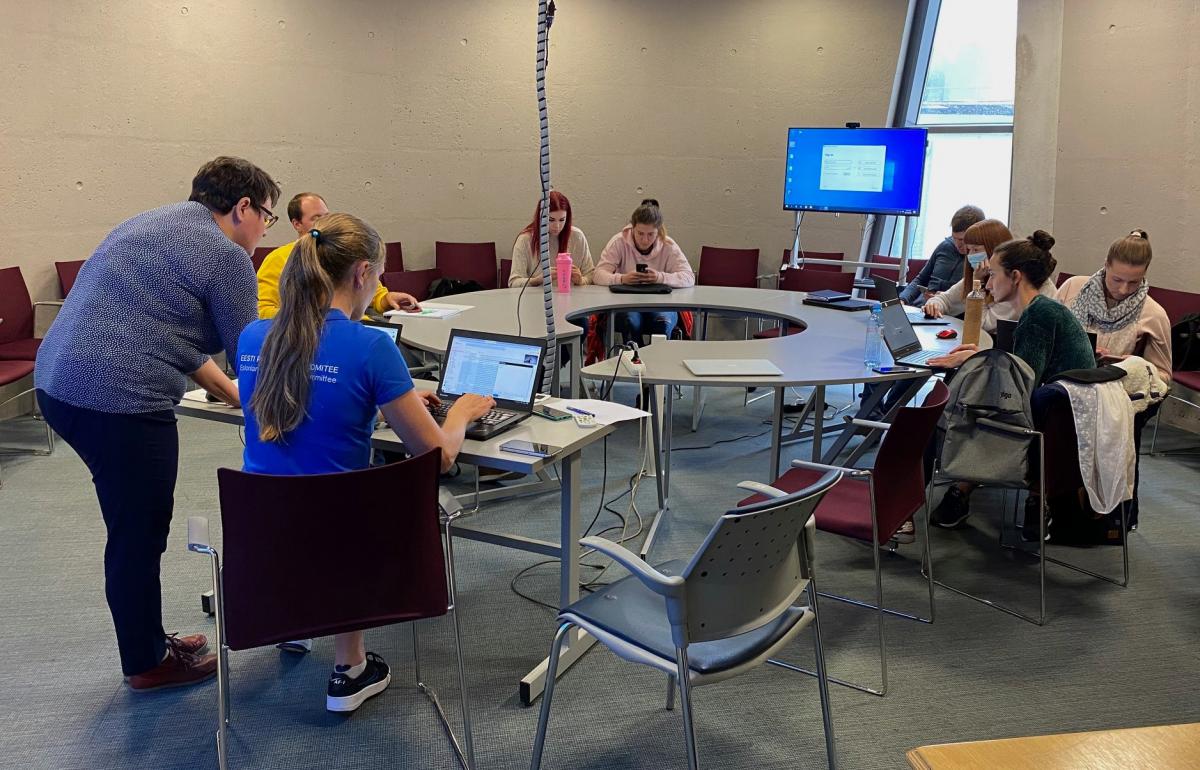 ⒸNPC Estonia
By Ros Dumlao | For the IPC
Kirsti Maesepp and Kristjan Tamme are sports coaches in Estonia and can attest in the rising need to make their programmes more inclusive. 
They just did not know where or how to start. 
Maesepp, a swimming coach, has noticed more youths with different abilities joining. Tamme has not yet faced Maesepp's situation. But he wants to be ready as a football coach. 
At the moment, both are also students at Tallinn University (TLU), and one project opportunity caught their attention: I'mPOSSIBLE, which is the IPC's global education programme including and a toolkit of resources for teachers to engage future generations in the history, Para sports and values of the Paralympic Movement. Launched three years ago on 3 December, I'mPOSSIBLE hopes to make for an inclusive society for all. 
"Every year we have kids with different needs joining, but we do not have knowledge on how to work with them, so I hoped that the I'mPOSSIBLE project would help," Maesepp said.  
Both Maesepp and Tamme are studying physical education. While the I'mPOSSIBLE programme  is meant to help educators create lesson plans for young students aged 6-18, the two university students have themselves become the recipients.  
A DIFFERENT APPROACH 

Kaia Kollo, who coordinates all the local activities for the National Paralympic Committee (NPC) of Estonia, wanted to raise awareness and change perceptions on disability in the country. She wanted to start with youths, and upon her initial research, she came across I'mPOSSIBLE. 
But to implement the education programme in her country, she needed the materials in Estonian language, not English. So that is when she thought about getting the university involved. 
TLU offers an alternative method called "LIFE" (Learning in Interdisciplinary Focused Environment), which Maesepp and Tamme among with several other students from different studies are translating the I'mPOSSIBLE material. That includes several pages of a teachers handbook, worksheets, lesson plans, fact sheets for 6-8 year olds, and the same set for 9-12 year olds.  
"Translations are quite expensive, so that was when I reached out to Tallinn University and proposed this project to work with the students," she explained. "I thought this was a win-win-win situation. The students will get their credits while working on a wonderful project; I will have a set of materials to put together with students; and with support from the IPC we can spread the vision." 
"The students have changed quite much when talking about disabilities," she continued. "They are more free and less hesitant because now they know more. They know about the Paralympics and went out to search for local Para athletes to make I'mPOSSIBLE come more alive in Estonia." 
TRANSFORMING EXPERIENCE  

The translation process has allowed Maesepp and Tamme to soak in the material themselves.  
"It is too early to say what the impact is, but for me I really like the four Paralympic values that I'mPOSSIBLE tries to teach the children: courage, determination, inspiration and equality," Tamme said. "I used them in one of my teaching sessions with first grade kids. At the end, I asked them which values they applied. I found this really useful and helpful." 
Awareness of the different Para sports such as boccia and sitting volleyball was a practical way to engage youths, Maesepp explained. 
"The project shows us how Para sport could be part of our daily life, in school P.E classes and sports training groups," Maesepp said. "I also wanted to create and be part of something that will help the teachers and coaches in the future in their work of physical education." 
The process began in September, and once the hard work has been completed, the next step is to find Estonian Para athletes who can help manifest the learnings; plan seminars for teachers and coaches that introduces I'mPOSSIBLE; and distribute the material needed to implement the programme.  
"Society is changing every day and we must adapt as coaches and teachers, and be able to work with different people," Tamme said. "It doesn't matter what kind of disability or needs they may have; you can find a way to work with them. That is why I chose this project, to educate myself or be able to work with different people."