More than 30 African athletes undergo vision impairment classification in Malawi 
Three-day classification opportunity aims to support the journey of a number of athletes from Africa to compete internationally 
07 Dec 2022
Imagen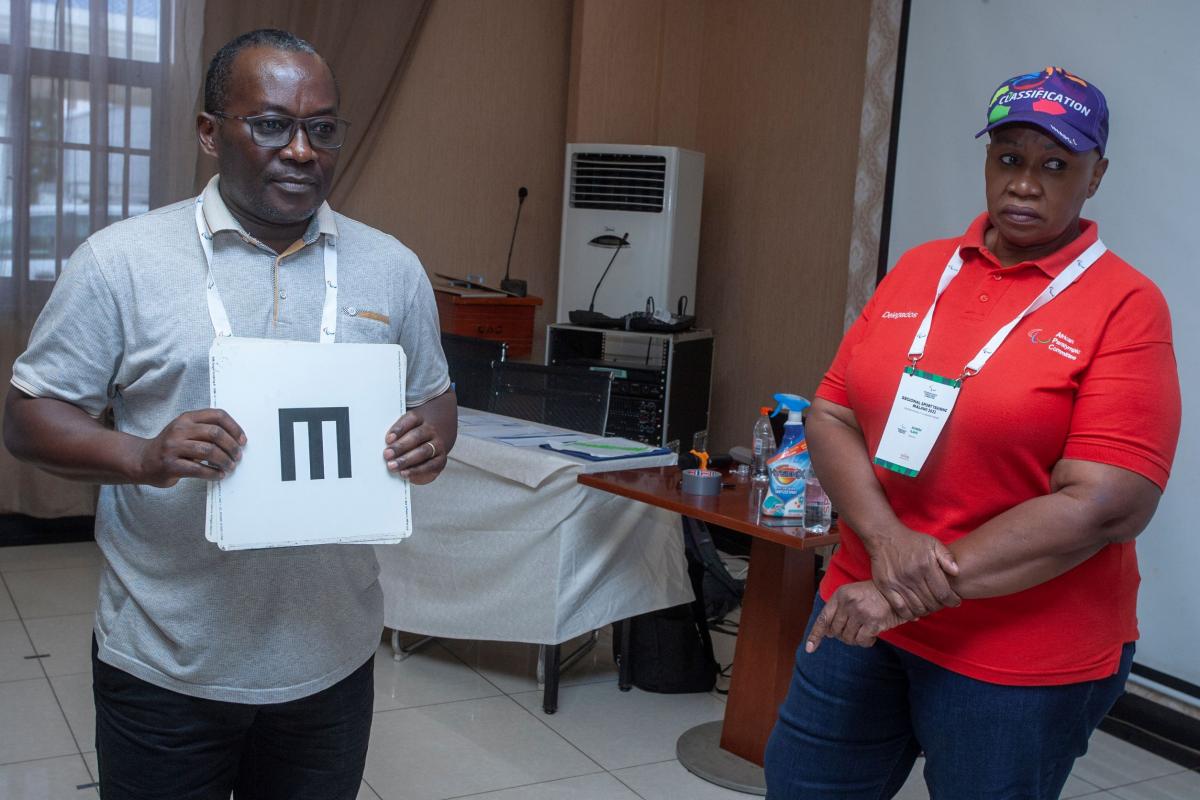 ⒸAmos Gumulira
By IPC
The International Paralympic Committee (IPC) facilitated three days of classification for athletes with vision impairment (VI) in Lilongwe, Malawi last week to increase opportunities for athletes in the region to get classified and potentially compete internationally. 
Thirty-one athletes from eight African countries underwent classification from 1-3 December in front of a two-member panel of international classifiers from Africa. Once allocated a sport class by an international classification panel, the athletes are able to compete at sanctioned international events.  
The effort is expected to help grow the number of Para athletes in the region by bringing classification opportunities closer to people with vision impairments. 
"Having more athletes be classified means that the region will expand more in terms of events and will have more competitions and maybe in the future even Africa will host big events, like world events, because they'll have more athletes participating," said Rono Kipkemboi, an international VI classifier who was on the panel in Malawi. 
A new approach
Fewer classification opportunities and competitions for athletes with vision impairments were carried out in Africa in the past, as compared to the other continents. This meant that athletes had to travel long distances to undergo the classification process and subsequently compete.  
This, in turn, limited the development of Para athletes in the region with additional challenges to identify new talent and ensure they are able to attend international classification and competition elsewhere in the world. 
"In terms of where classification is carried out, there are very few events that happen within Africa," said Dunera Ilako, the second panel member. "In order for any athletes from Africa to be classified, they would have to go to one of those (big events) like World Championships, very few of which are organised within the African region. And in order to qualify, they'd have to travel those distances to get that classification done." 
To address these concerns, one of the new efforts initiated with VI classification is to offer classification opportunities out-of-competition. That is, instead of being linked to a competitive opportunity, VI classification can now also be a standalone event.  
The aim is to bring classification closer to the athletes, before they go to big international events, and remove the stress of having to undergo classification so close to their competition. 
"Many countries would opt to take their usual athletes who have been classified (to competitions). They would shy away from bringing new athletes because of fear," Kipkemboi added. "The risk is that they don't pass through the classification, and they don't compete, so you'll find that they'll always take their usual athletes and not bring up the new talents. And now, having such events, you'll have more athletes being classified within their region." 
A plan for Africa
Vision impairments are particularly widespread in Africa where there is often limited access to medical equipment so common eye conditions do not receive proper treatment, Ilako said. 
"Africa is the one that carries the burden of vision impairments worldwide," Ilako said. "There are so many reasons why. First, of course, is the manpower of eyecare workers within the region. There's the burden on the number of eye workers to the population within Africa. The other thing is accessibility and affordability to all those things people require." 
Para sport helps people with vision impairments to integrate into society, but motivation to take up sports can be low if athletes are not able to get classified early in their sporting career. Classification is a mandatory step for participating in sanctioned international competitions. 
Classification opportunities, such as the one in Malawi, can therefore also increase the number of people who practise Para sports. 
"You might be able to interest more people. First of all, just get that interest that there's now classification in your area. Why don't you come and try out?" Ilako said. "With that, now the young and talented ones will come up, and eventually (people) will be able to know that I don't have to be visually impaired and do nothing. I can actually do a sporting activity that will be meaningful because I can be classified and maybe I can be in the World Championship. I think that would really help." 
Following the international VI classification in Malawi, the next step is to explore how the IPC can best support the National Paralympic Committees (NPCs) and International Federations (IFs) to facilitate more classification opportunities in the continent, covering other regions, such as east and west Africa. 
"A good plan is to have zone classification in the regions in Africa so that we may have more countries participating because, as we speak now, there are even some countries who don't know that the Paralympic Games are conducted or, if they are aware, they don't want to take athletes very far away for classification," Kipkemboi said.
"But if classification is brought near to the region, they may now bring in the athletes because the economic burden is no longer there, so that's how you'll have more participation from many countries."