Belarus brilliance on opening day in Madeira
Ihar Boki breaks world record in his first final while Italians take seven gold at the European Open Championships on Sunday
17 May 2021
Imagen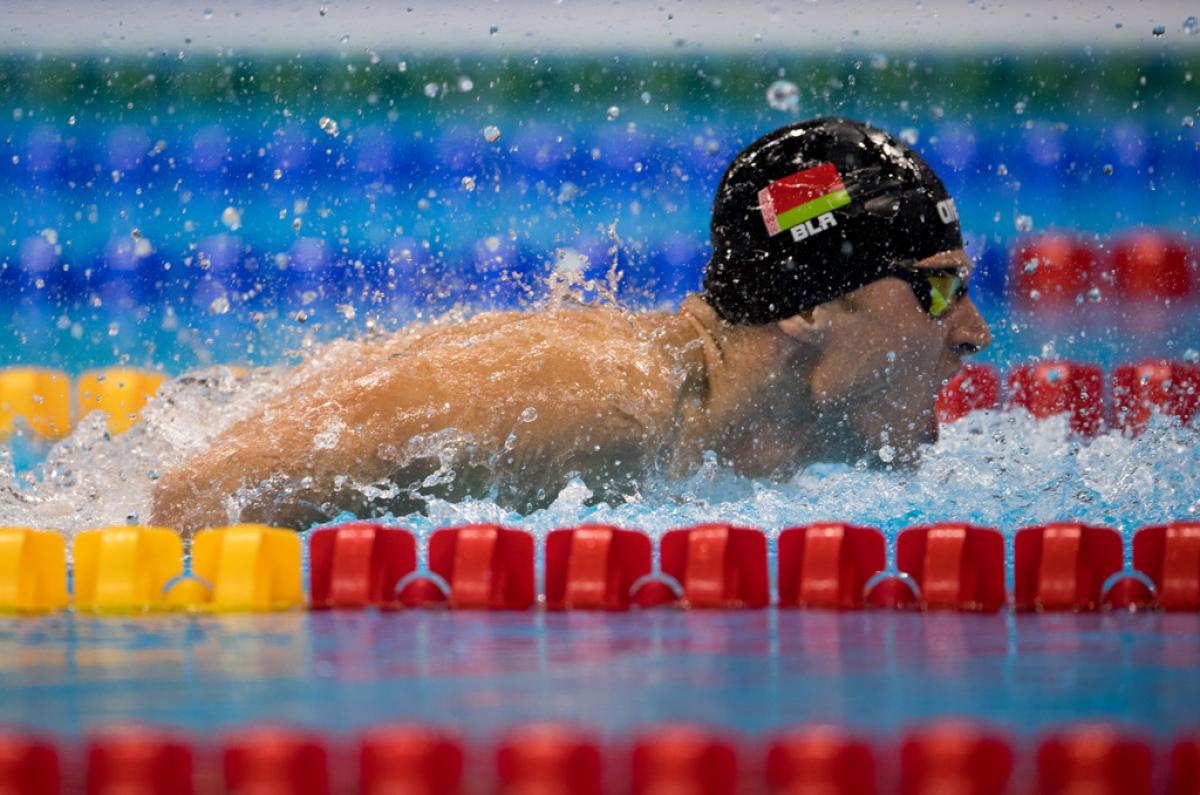 ⒸBob Martin for OIS
By Mary Barber and Filip Ozbolt| For World Para Swimming
Belarus' Ihar Boki got the Madeira 2020 European Para Swimming Open Championships off to a flying start by taking gold and lowering his world record in his first race of the year. 
The 26-year-old, who is aiming to retain the seven European titles he won in Dublin 2018, hit the wall first in the men's 100m butterfly S13 in 53.72, smashing the record he set at the Rio 2016 Paralympic Games. 
It was also three seconds ahead of his nearest rival Ukraine's Oleksii Virchenko* followed by France's Alex Portal.
"I am happy because in the next six days I have six more starts. It was my first race of the year and this is not a bad start of the competition for me," said Boki, who is also an 11-time Paralympic champion.
"I know this will be a tough season and to start it like this is amazing. I am looking forward to the future and also to the Tokyo Paralympics."
New European records
Two European records were also broken at the Penteada Olympic Pools Complex in the Madeira capital Funchal on the first day of the week-long Championships on Sunday (16 May).
Italy's Guilia Terzi secured the women's 200m individual medley SM7 and broke the European record with a time of 3:08.12. Ukraine's Anna Hontar took silver and Russia's Milana Shchelokova bronze.
Her gold medal was among seven the Italians won, on what was another strong showing from the world champions. They ended the first day on top of the medals table, followed by Russia with five golds and Ukraine four.
The Italians got off to a dream start thanks to European champions Xenia Palazzo's stunning victory in the women's 400m freestyle S8 and Stefano Raimondi's in the men's 100m breaststroke SB9. 
Carlotta Gilli also added to her world and European titles when she won gold in the 100m butterfly S13 in 1:03.71. She landed ahead of Daria Pikalova of Russia and fellow Italian Alessia Berra.
"I am very happy to be competing at the European Championships. I hope that the other events will also be like this one today," she said. 
"There was a big break between the competitions over the past year and this is a fantastic comeback to the swimming pool. This season I hope only for the good results."
Italy also notched up golds in the men's 50m freestyle S5, men's 50m breaststroke SB2 and women's 50m freestyle S10.
Switzerland's Nora Meister also broke the European record in the women's 100m backstroke S6. The 17-year-old recorded a time of 1:21.78, which was just inside the time set by Germany's Verena Schott, who came second in the race.
"I really didn't expect the European record. I was really surprised when I got to the finish line," said Meister, who won two European titles in Dublin 2018.
"For sure, this result is a big motivation for me. I can't wait to have more races here in Madeira and to keep on growing day by day until Tokyo."
A hundred days to Tokyo
Sunday marked 100 days to go to the Tokyo 2020 Paralympics and many of the 380 athletes competing in Madeira are still after qualification for the Games.
For others, the Euros are a chance to get more races under their belts ahead of the trip to Japan in August. Among those was veteran Spanish swimming sensation Teresa Perales who won gold in the 50m freestyle S5 in 38.78 ahead of Monica Boggioni from Italy and 17-year-old Sevilay Ozturk from Turkey.
"I was a little bit afraid because of the pain in my shoulder, but it was an important race for me," Perales said. "I started great, although very careful because I need to have my shoulder ready for Tokyo, but I am really happy with the outcome."
She also thanked the Spanish team for its support: "I am very grateful. I have been with the national team for 23 years now and it's amazing to have all of them with me. They support me and I feel like they are a confidence boost for me." 
Perales' triumph was the second for Spain. Sarai Gascon won gold in the women's 100m breaststroke SB9. The same race gave hosts Portugal their first medal at the Euros with Renata Pinto's bronze. Hungary's Bianka Pap took silver.
The competition is also open to non-European athletes ahead of the Paralympics. Brazilian Gabriel Bandeira had an outstanding race in the men's 200m freestyle S14 landing first in 1:55.37. The European title was awarded to Russia's Viacheslav Emeliantsev, with silver to Great Britain's Thomas Hamer and bronze to Russia's Mikhail Kuliabin.
Great Britain also celebrated a win in the women' 200m freestyle S14. Jessica-Jane Applegate, who won silver in the event in Dublin 2018, looked in control of the title this time round. She touched in at 2:12.26 ahead of Pernilla Lindberg of Sweden.
France (Laurent Chardard, men's 100m backstroke S6), Lithuania (Edgaras Matakas, men's 50m freestyle S11), Azerbaijan (Raman Salei, men's 100m backstroke S12) and Hungary (Fanni Illes, women's 100m breaststroke SB4) also celebrated a gold medal on day one.
The European Championships continue on Monday (17 May) with 22 finals in Madeira. Full results and a complete schedule can be found on the Madeira 2020 website.
You can watch day two live on World Para Swimming website and Facebook page (with geo-block restrictions in Spain and the United Kingdom).
* CORRECTION: This article was first published on 17 May 2021 at 1:30 AM (CEST) and has been amended to inform that Oleksii Virchenko represents Ukraine, and not Russia as initially published.