Berlin 2018: Leo Pekka Tahti vs. Kenny van Weeghel
Fifteen year-rivalry has its latest instalment at the Euros
14 Aug 2018
Imagen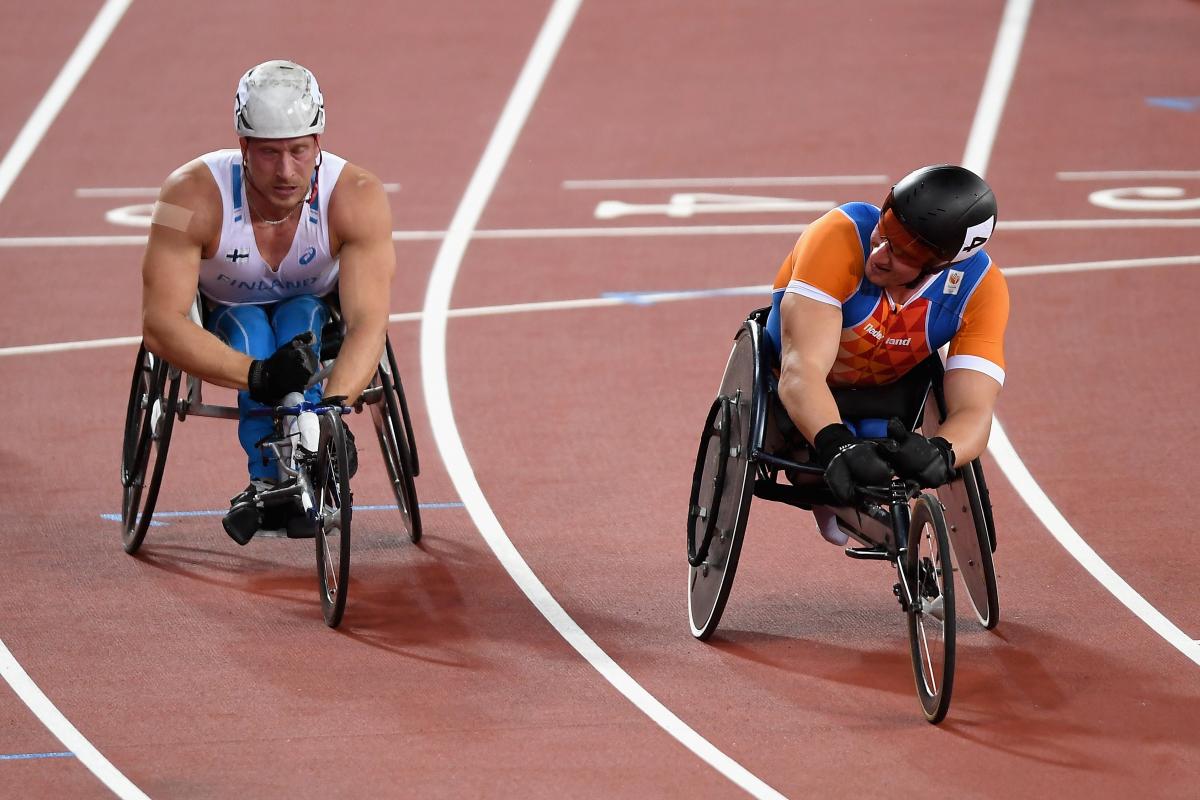 ⒸGetty Images
By IPC
When it comes to long-standing rivalries, look no further than Leo Pekka Tahti and Kenny van Weeghel. The pair meet on the track once again at this month's World Para Athletics European Championships, reigniting a captivating rivalry that has lasted over 15 years.
Back in 2005 at the European Championships in Espoo, Finland, local man Tahti – then just 22-years-old - claimed two titles, winning the 100m and 200m T54.
Dutchman van Weeghel wasn't far behind – he won 100m silver and 200m bronze (as well as bronze in the 400m).
The results set the scene for numerous encounters between the two wheelchair racers over the following years.
Too close to call
To date, Tahti has claimed four Paralympic and three world titles over 100m, while van Weeghel's vast medal collection includes three world titles in the 200m as well as two Paralympic golds over one lap.
The last time the pair raced against each other on the European stage was at Swansea 2014, with Tahti claiming 100m T54 gold ahead of van Weeghel.
The order was reversed in the 200m however as the Dutchman led the way, adding gold in the 400m for good measure; Tahti – more the man for the shorter sprint – finished fourth.
History has shown that Tahti dominates the 100m – he set the world record of 13.63 at the London 2012 Games - while European record holder van Weeghel is the man to beat over 200m.
That form continued this year at the Nottwil Grand Prix in Switzerland as van Weeghel finished fastest of the two in the 200m, but the 100m provided a fascinating twist as van Weeghel chased the world and Paralympic champion right to the line. Both athletes were awarded the same time of 14.13.
Tahti went on to improve on that time in June, clocking 13.98 back home in Finland – a time that puts him at the top of the European - and world - rankings this year.
New face on the block
A further twist comes in the current European 200m rankings.
It's not van Weeghel at the top; he lies third. It's not Tahti either – he sits in second place.
The man occupying the number one spot is Briton Richard Chiassaro, who was in terrific form in Nottwil and will be hoping to build on his success from Grosseto 2016 where he won 200m T54 gold and silvers in the 100m, 400m and 800m.
Chiassaro has said that his focus will be on the longer distances in Berlin – but he's also made it clear he wants to podium in every event he's entered in – from 100m up to 1500m. Tahti and van Weeghel better watch out.
Did you know… In the off-season Leo Pekka Tahti has been known to play wheelchair basketball – he was a highly accomplished player in the Russian league for St Petersburg.